Hemant: Will give befitting reply to opponents at right time
Tribals had fought for a separate Jharkhand state but, when achieved, it was mostly ruled by those who didn't care for these people, alleges CM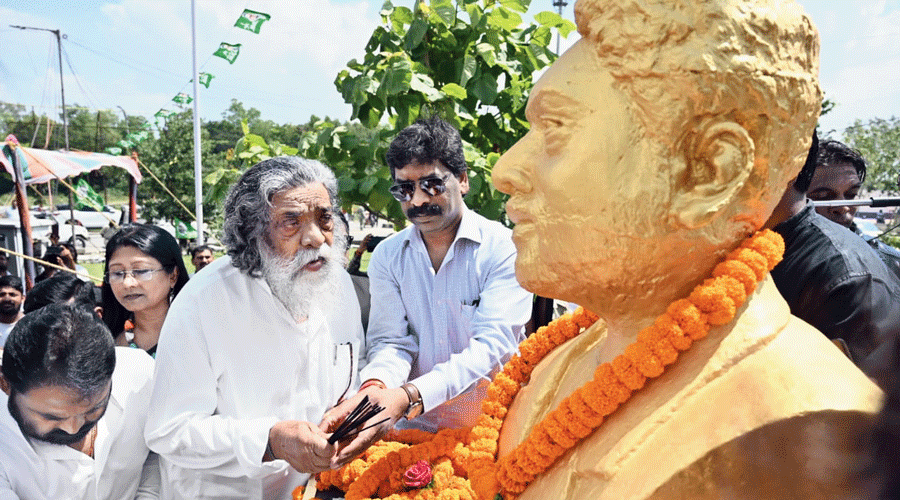 Hemant Soren and his father Shibu Soren pay tribute at Durga Soren's statue to mark his 54th birth anniversary in Ranchi on Saturday.
The Telegraph picture
---
Ranchi
|
Published 12.09.22, 01:56 AM
|
---
Jharkhand chief minister Hemant Soren not only sounded unfazed by the prevailing uncertainty over his status as an MLA but also asserted they would give a befitting reply to their opponents at an appropriate time.
"The tribals and permanent settlers had fought for a separate Jharkhand state but, when achieved, it was mostly ruled by those who didn't care for these people," he alleged, without naming the BJP while addressing a large crowd that had gathered in Ranchi on Saturday to observe the 54th birth anniversary of his elder brother Durga Soren who also took part in the statehood movement.
Hemant  alleged that their opponents could not take it easy when they finally won the mandate of the people for running the state in 2019 and "wanted to destabilise our government by hook or by crook".
"Not only us, but they also didn't spare our respected Guruji," he added, referring to his octogenarian father and JMM supremo Shibu Soren who is also a Rajya Sabha member.
Although Hemant did not spell it out, it was clear he was mentioning the complaints lodged by the BJP that involved him and his younger brother and Dumka MLA Basant in office-of-profit cases and their father in a disproportionate asset case.
"But there is nothing to worry about," Hemant told the gathering, comprising JMM workers and supporters among others, and asked them to work sincerely so that the benefits of different government schemes reach the needy.
"We have not retaliated till now but will give our opponents a befitting reply at an appropriate time," he added.
While senior Soren was asked by the Lokpal to appear before him in the case, the Election Commission of India (ECI) already conducted a hearing in Basant's case and also learnt to have sent its opinion to Jharkhand governor Ramesh Bais on Friday.
The BJP had complained that Basant did not disclose his association with a mining company as one of its directors while contesting the Dumka bypoll after Hemant who had won two seats had vacated it while retaining the Barheit seat.
The ECI opinion in Hemant's case was received in a sealed cover in Ranchi's Raj Bhavan on August 25 but its content was not disclosed till the filing of this report and speculations were rife that the ECI had recommended disqualification of Hemant as an MLA. There was, however, no such strong buzz about Basant's fate as an MLA immediately.
Meanwhile, the silence of Raj Bhavan continued to surprise all concerned.
"The government is running smoothly and it also proved its majority in the state Assembly the other day," state's rural development minister Alamgir Alam, who is also the leader of the Congress legislature party in the state Assembly, told the media in Pakur on Saturday.
Alam said the governor should disclose the opinion of the ECI about the chief minister's case without further delay, whatever it be.