Why Mayawati mentioned the 'guest house case' in Mainpuri
The rift between Mulayam and Mayawati goes back to 1995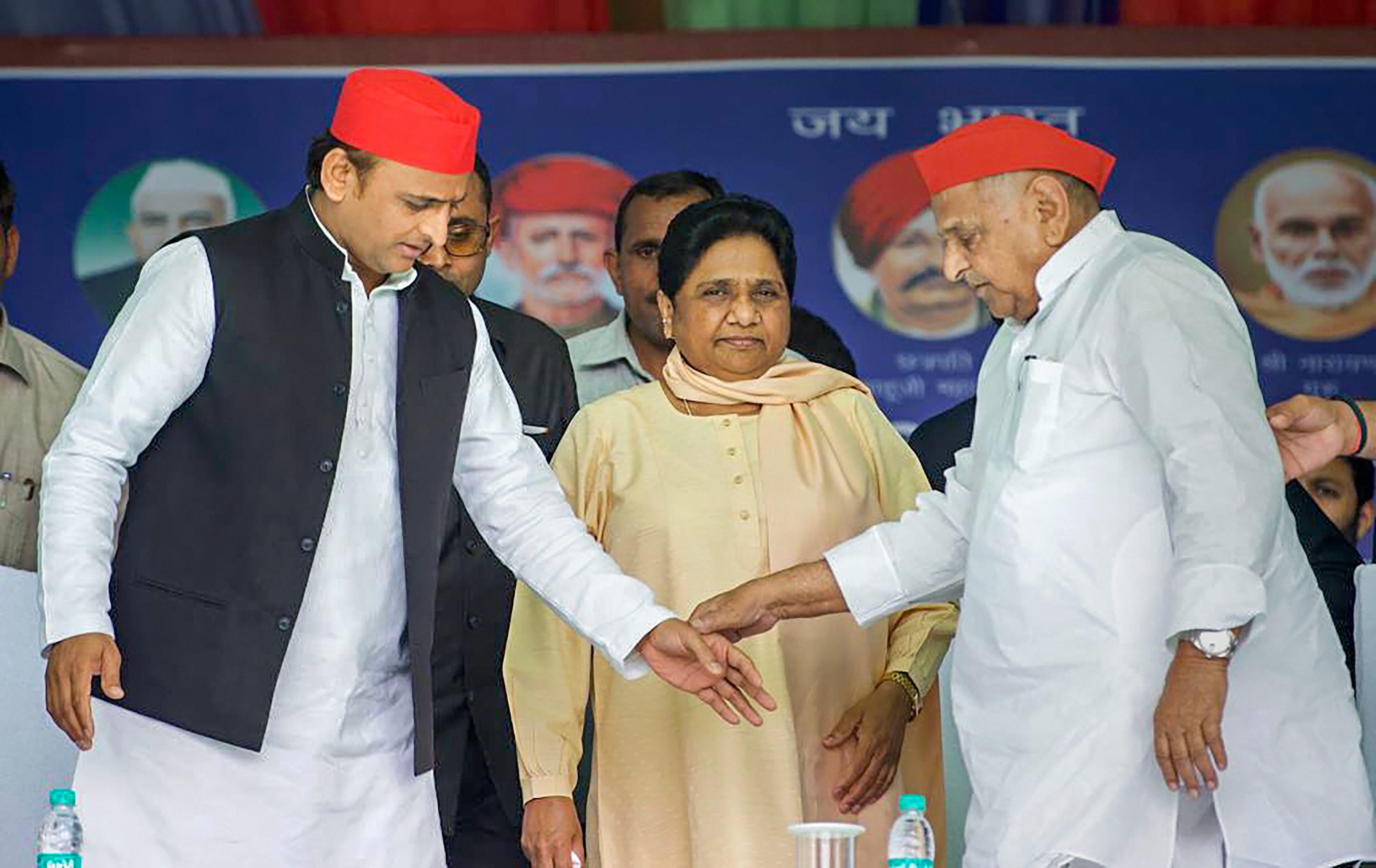 Akhilesh, Mayawati and Mulayam at the Mainpuri rally on April 19.
PTI
---
New Delhi
|
Published 19.04.19, 03:41 PM
|
---
The "guest house kaand" that Mayawati referred to in the Mainpuri rally happened when the BSP and the Samajwadi Party were allies.
On June 1, 1995 then Uttar Pradesh chief minister Mulayam Singh Yadav learnt from a note delivered to him that the Bahujan Samaj Party was planning to pull the plug on the coalition government.
The BSP-SP government had been in power for about a year and a half. The parties, like now, had allied to keep the BJP from coming to power.
In the Assembly elections in 1993, the SP-BSP alliance won 176 seats – the Samajwadis got 109 and the BSP 67. The BJP with 177 seats was the single largest party but failed to cobble together an alliance to reach majority. Mulayam formed the government.
The coming together of Mulayam and Kanshi Ram, the BSP founder who was Mayawati's mentor, happened at the time the heartland state and the country were recovering from the jolt of the Babri Masjid demolition and the Bombay serial blasts. The alliance had sparked slogans such as "Mile Mulayam Kanshiram, hawa ho gaye Jaishri Ram (Mulayam and Kanshi Ram are together, and the Jai Shri Ram brigade has vanished)".
But soon after the formation of the government, there were murmurs that suggested Mayawati was talking to the BJP behind Samajwadi's back.
On June 2, Mayawati called BSP MLAs to a government guest house in Lucknow.
Samajwadi Party workers reached the guest house and attacked it.
Mayawati and a few BSP leaders locked themselves up in a room.
In a case registered later against Samajwadi leaders, Mayawati alleged that the SP workers had wanted to kill her.
The BSP alleged that senior police officers and bureaucrats refused to act even after receiving frantic calls from the BSP members.
The next day governor Motilal Vora sacked the Mulayam government. That evening, Mayawati was sworn in as the chief minister of Uttar Pradesh. Mulayam was reduced to being a spectator.
The BJP provided outside support.
The case of the guest house attack reached the Supreme Court. Charges were registered against Mulayam, his brother Shivpal Singh Yadav, Azam Khan, Beni Prasad Verma, Masood Ahmed, Dhani Ram Verma and others.
Petitions challenging the quashing of charges against top SP leader were accepted by the Supreme Court in January 2009.
The alliance now between the Samajwadi Party and the BSP this time too is to keep the BJP out of power. The Rashtriya Lok Dal is the third partner in the coalition for this election.