Who are the women contesting in Bengal
Like perhaps nowhere else in the country, women have become the lead act of the election battle in Bengal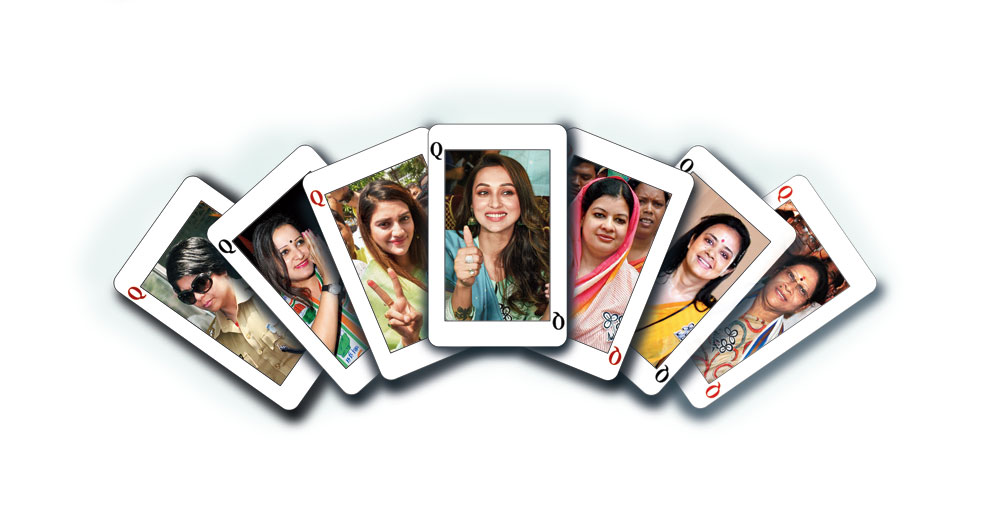 The sketches of a few prominent faces in the arena today
File pictures
---
Calcutta
|
Published 28.04.19, 02:13 AM
|
---
In March, on the occasion of International Women's Day, Bengal chief minister Mamata Banerjee tweeted: "While the Women's Reservation Bill has not yet been passed in Parliament, I am proud that our party has 35 per cent women MPs in the 16th Lok Sabha. We have also reserved 50 per cent seats in local bodies for women candidates (sic)."
Soon after, when Trinamul announced its candidates for the 2019 Lok Sabha elections, 41 per cent were women — 17 of 42 candidates. The Women's Reservation Bill, which proposes reserving 33 per cent of all Lok Sabha seats (180 of 543) and all state legislative Assemblies for women, was passed in Rajya Sabha in 2010. It has been close to a decade and Lok Sabha is yet to vote on it.
The 15th Lok Sabha had been historic in that for the first time since Independence, there was more than 9 per cent women's representation — 59 MPs or 10.87 per cent. In the outgoing 16th Lok Sabha there are 65 women — BJP has 31, Congress four, though Mausam Noor has since defected; but the second highest number belongs to Trinamul, with 12 woman MPs. The 17th is unlikely to be radically different. BJP has fielded 45 women out of a candidate count of 374, Congress 47 out of 343.
Once the various political parties started to come out with their candidate lists, BJP's Shaina NC said she was "upset and appalled" to know that other than Banerjee and Biju Janata Dal's Naveen Patnaik — it has given 33 per cent to women — "all other parties only pay lip service to our cause". Shaina also said, "All political parties need to wake up. Women are 50 per cent of the electorate."
Less than a decade ago, there were woman chief ministers in more than one state. There was Sheila Dikshit in Delhi, Mayawati in UP, Vasundhara Raje in Rajasthan, Jayalalithaa in Tamil Nadu. When Raje lost in 2018, Dikshit said: "I am happy that Mamata Banerjee represents all of us women at the moment... she will have a role in the upcoming elections." Indeed, today, of all the 29 states, only one has a woman head of government.
Bengal has had women representatives in Parliament since the very first Lok Sabha. There was Renu Chakravartty of the Communist Party of India (CPI), who won from Basirhat — well over half a century before Trinamul's Nusrat Jahan's debut from the same place. Chakravartty had spoken on 109 subjects in the first Lok Sabha, "higher than the score of her male counterparts", according to the 1993 edition of Women Parliamentarians in India. Then there was Ila Pal Choudhury of Congress who had won from Nabadwip in Nadia district. Trinamul's Mahua Moitra, who is contesting from Krishnagar — not far from Nabadwip — is a relation.
Mausam Noor, who left Congress to join Trinamul, is the party's choice for Malda North these elections. She is up against Congress's Isha Khan Choudhury and BJP's Khagen Murmu. But in the second Lok Sabha, the MP from Malda (this was way before delimitation) was Congress's Renuka Roy.
Down the years there were many others. There was CPI's Geeta Mukherjee, seven-time MP (1980 to 2000) from Panskura. Post delimitation, this constituency ceased to exist and in its place came Ghatal. These elections, in Ghatal, BJP's Bharati Ghosh, the former top cop, is locked in a face-off with Trinamul's actor candidate Deepak Adhikari or Dev.
The 17 woman candidates fielded by Trinamul come from a mix of backgrounds. There are actresses, an investment banker, a theatre artiste, the wife of a slain party MLA, a corporator, some community representatives, some dynasts… Of CPI(M)'s 31 candidates in the state, six are women; Congress has eight out of 42, while BJP has five.
The fact that the ruling party in the state is led by a woman with so many woman candidates does not mean they are going easy on women with political affiliations different from their own. Less than a fortnight ago, Locket Chatterjee, the president of BJP's women's wing, accused Trinamul goons of ransacking her Hooghly haunt. In time though, Trinamul said an "internal feud of the BJP" was responsible. The former actress is contesting from Hooghly.
A day after Bharati Ghosh filed her nomination as a BJP candidate, the former IPS officer was grilled at a stretch by Bengal police. Now the Supreme Court has ordered her to provide her present address to the state government that reportedly wants to send her summons in connection with criminal cases. And CPI(M)'s Nandini Mukherjee lashed out at Calcutta mayor Firhad Hakim when he invoked the popular Bengali lyrics Ke Tumi Nandini — direct translation, Who are you, Nandini — suggesting that the old guard had found themselves a nobody candidate. Mukherjee shot back, "The minister is voicing a lumpen's language. You can only understand the condition of the state."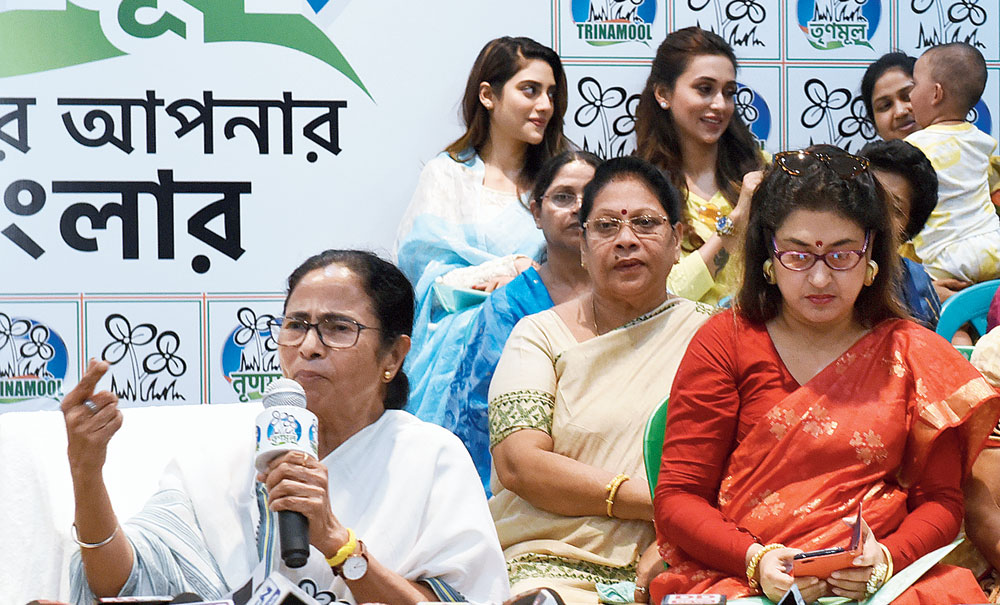 Meet the Didis

Bharati Ghosh, Former IPS
Party: BJP
Constituency: Ghatal
Ghosh has MBA and LLB degrees, and among her alma maters are Harvard and the London School of Economics. She served the United Nations (UN) in different capacities across locations, was a UN commander in Kosovo, and has six UN medals for the time she was with the global organisation. She was promoted from the West Bengal Police Service to the Indian Police Service and, beginning 2012, was posted in West Midnapore for the next five years. She is credited with handling Naxal unrest and in 2014 was given the chief minister's medal for "commendable service". At a rally in 2016, she hailed Mamata Banerjee as Jangalmahaler ma (the mother of Jangalmahal) and the "architect of a new Bengal". A year later she resigned from service after a reported fallout with Banerjee. Earlier this year, she joined the BJP.
Mita Chakraborty, Entrepreneur
Party: Congress
Constituency: Calcutta South
After a bachelor's degree in Physics, Chakraborty did a BTech in Computer Science, and worked for a brief while in India before moving to Switzerland and then England. She is MD of MSR, a tech consultancy firm, which she set up. She became part of the All India Professionals' Congress that was set up in 2017, and was thereafter mentored by Shashi Tharoor who was its chairman. Last year, after Somen Mitra assumed charge as the president of West Bengal Pradesh Congress Committee, Chakraborty was brought in as the person in-charge of the state unit's social media cell.
Nusrat Jahan, Actress
Party: Trinamul
Constituency: Basirhat
The BCom graduate started out as a model and was crowded Miss Kolkata 2010. She debuted in Bengali films with Shotru. That was 2011. Since then she has come to much fame and success. In Srijit Mukherji's 2016 film Zulfiqar, based on Shakespeare's Julius Caesar and Antony and Cleopatra, Nusrat played Rani Talapatra, a character that is said to be the Cleopatra equivalent. In 2012, her name came up in connection with the Park Street rape case. It was reported that one of the accused, Kader Khan, was her fiance. Police said they had proof that Nusrat was in touch with Khan while he was at large — her name never appeared in the chargesheet — but the actress denied this stoutly. She makes her political debut with these Lok Sabha elections.
Mimi Chakraborty, Actress
Party: Trinamul
Constituency: Jadavpur
Originally from north Bengal, this English Honours graduate became a household name in the state with the 2010 TV serial, Gaaner Opare. Thereafter, she has made a niche for herself in the Bengali film industry. Like her colleague Nusrat Jahan — who calls her a "3am friend" — Chakraborty too is making her political debut in these elections. She is replacing historian Sugata Bose as the Trinamul candidate from Jadavpur, which is also the very seat Mamata Banerjee herself contested from in 1984. That year she defeated the late Somnath Chatterjee of CPI(M). Chakraborty was much trolled recently when a photograph of her from the campaign trail went viral. In it she is seen shaking hands with the masses with her gloves on. Mimi, of course, clarified later that she had sustained some scratches and burns, and the gloves had been a temporary protective measure.
Mausam Noor, Lawyer
Party: Trinamul
Constituency: Malda North
She has a law degree and has practised in the Supreme Court. Noor is the niece of the late Congressman, Abu Barkat Ataur Ghani Khan Choudhury, and Malda is quite the family bastion. She joined politics in 2008 when her mother, Ruby Noor, died and the Sujapur Assembly constituency fell vacant. Noor fought on a Congress ticket and won the by-elections. The following year, she contested and won Malda North. That year she was the second youngest MP in Lok Sabha — the youngest being Agatha Sangma from Meghalaya. Earlier this year Noor joined Trinamul. In one of her first rallies she said: "This is the only party that can stop divisive forces and we have joined hands together. It is unfortunate that the state Congress leaders have failed to realise it."
Mahua Moitra, Former investment banker
Party: Trinamul
Constituency: Krishnagar
Started her career as an investment banker with J.P. Morgan Chase & Co. after graduating in Economics and Mathematics. Was posted in New York and then London. Returned to India in 2008 and joined Congress. Was part of the party's grassroots effort, Aam Aadmi Ka Sipahi programme. In 2010, she joined Trinamul and, in 2016, she fought and won her first Assembly elections from Karimpur in Nadia district. Trained on the trading floor, Moitra is known never to pull her punches. (She filed an FIR against BJP's Babul Supriyo when on national TV he said to her — Mahua, are you on mahua?) In her capacity as a private citizen, she has filed more than one petition in the Supreme Court against the Centre's attempts to encroach on the privacy of citizens in the name of security.
Mala Roy, Chairperson of Kolkata Municipal Corporation
Party: Trinamul
Constituency: Calcutta South
Roy had become a Congress councillor in 1995 under Mamata Banerjee. And then in 2000, she became a Trinamul councillor. Five years later she quit the party and joined Congress again. In 2012, she criticised the CM for her remarks on the Park Street rape case. She also toed the state unit line and protested against Congress leader Kapil Sibal's decision to accept Trinamul's brief in its appeal in the Supreme Court in the Saradha probe. In the 2014 Lok Sabha polls, Roy fought Trinamul's Subrata Bakshi from Calcutta South and was defeated. She returned to Trinamul in 2015. Flip flops notwithstanding, she has been councillor of Ward No. 88 — an administrative division of the city civic body covering a part of south Calcutta — since 2005 and has also earned a reputation for her sustained developmental work.