When in Bengal, speak Bangla- Mamata Banerjee's remark on imposing Bengali in the state stirs debate
Twitterati from across spheres have laughed, cried, and become wary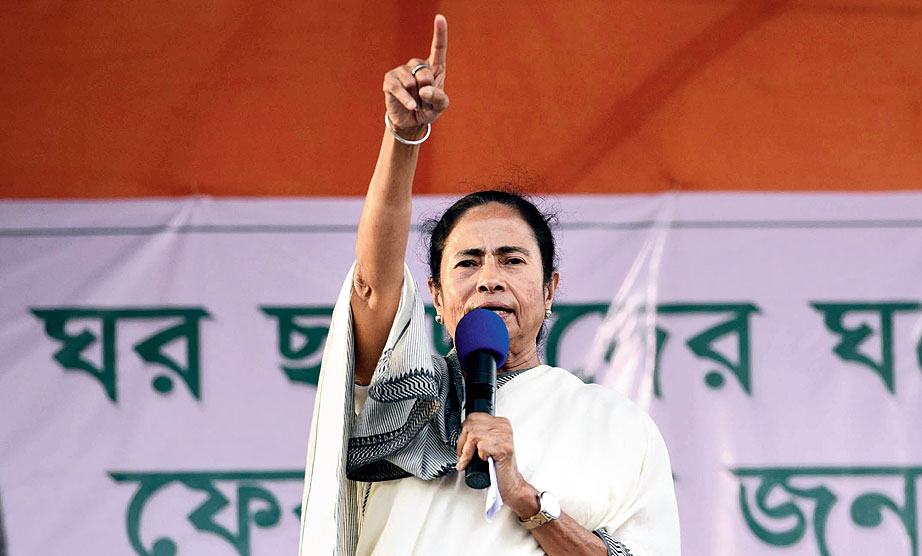 ---
Calcutta
|
Published 15.06.19, 01:33 PM
---
Chief Minster Mamata Banerjee said on Friday that those living in Bengal must learn to speak Bengali, intensifying her movement against the BJP which she accuses of trying to defame Bengal and its culture. The chief minister vowed not to allow the BJP to "corner" Bengalis and the minorities by importing its "Gujarat model".
The topic is now trending on social media, an Twitterati from across spheres have laughed, cried, and become wary. Netizens both within Bengal and across the country are worried about Banerjee's ultimatum to 'outsiders' when she said she would 'never allow Bengalis to become homeless in Bengal'.
Bangalore-based author and historian Vikram Sampath reacted to Mamata Banerjee's ultimatum to 'outsiders', whom she asks to speak in Bengali if they wanted to stay in the state
Anshul Saxena, a Programmer known to have become a celebrity overnight after he launched a cyber attack on those who posted hate comments on the terrorist attacks in Pulwama, The 'Hacker followed by PM Modi spoke about the chief minister's Kachrapara speech on the imposition of Bengali.
-NRC in Assam:

Mamata sent TMC delegation in Assam, warned of civil war & blood bath to protect illegal immigrants

-700 doctors resigned in Bengal:

Mamata called it Outsiders' hand; said speak only Bengali in Bengal. Though her 'insiders' Rohingyas in Bengal don't know Bengali

— Anshul Saxena (@AskAnshul) June 15, 2019
Others like actress Koena Mitra and author Shefali Vaidya condemned Banerjee's order, and expanded on the communal angle.
Koena Mitra took snippets from the speech and said that the chief minister's 'appeasement politics' will 'destroy' her and her 'Urdu speaking goons'.
"When I go to Bihar, UP, Pujnab, I speak in their language, if you are in Bengal you have to speak Bangla"~ Crazy Mamta Bano.
No one has to learn Urdu in WB, No one will !! Your appeasement politics will destroy you and your urdu speaking goons. #MamataBanerjee @MamataOfficial pic.twitter.com/58Rh17X3Jk

— Koena Mitra (@koenamitra) June 15, 2019
Shefali Vaidya, author and speaker, posted a picture of the chief minister's letterhead which read in Bengali, Hindi, Urdu, and English, and said that the chief minister's imposition of Bengali contradicts her use of Urdu on her letterhead.
Yes, people, if you want to be in Bengal you must only talk in Bengali as fatwa-Ed by Begum @MamataOfficial, meanwhile SHE can use Urdu on her letterhead. pic.twitter.com/xnPK5Gkyfn

— Shefali Vaidya ஷெஃபாலி வைத்யா शेफाली वैद्य (@ShefVaidya) June 14, 2019
The Governor of Meghalaya, Tathagata Roy however took a jab at Banerjee and told her that his state has a large population of Bengali, Assamese, Hindi, and Nepali-speaking people who cannot speak the local languages Khasi and Garo, and that it was a matter of 'great concern' as governor.
A matter of great concern to me as Governor of Meghalaya: W Bengal CM Mamata Banerjee says those living in Bengal will have to learn to speak in Bengali. My state has a large Bengali,Assamese,Hindi and Nepali-speaking population who cannot speak Khasi or Garo. What about them?

— Tathagata Roy (@tathagata2) June 15, 2019
Former UNESCO Chair of International Water Cooperation and professor of peace and conflict research at Uppsala University Ashok Swain said that the situation will be worrisome for the union government, as the Bengali language was rooted in the divide that made Bangladesh an independent country.
If a 'Bengali' movement takes momentum in West Bengal, Delhi will have a lot to worry about! That language had made Bangladesh an independent country in 1971. https://t.co/WE4LNo65YM via @timesofindia

— Ashok Swain (@ashoswai) June 15, 2019
Others like satirist Akash Banerjee, who is a host at the YouTube show TheDeshBhakt, a popular political and social satire platform, used his humour to lighten the mood.
Forget Hindi, Gurmukhi, Nepali, Urdu & Oriya that is spoken in Bengal - this move will come as big blow to Salt Lake Bongs - who speak Bengali with a heavy accent of English (if at all) 😛@MamataOfficial needs help - that is why #DoctorsStrike must end ASAP! https://t.co/nUd2LXwXYi

— The DeshBhakt (@akashbanerjee) June 15, 2019