Wayanad hopes to see more of Rahul Gandhi
Constituency expects MP will have more time now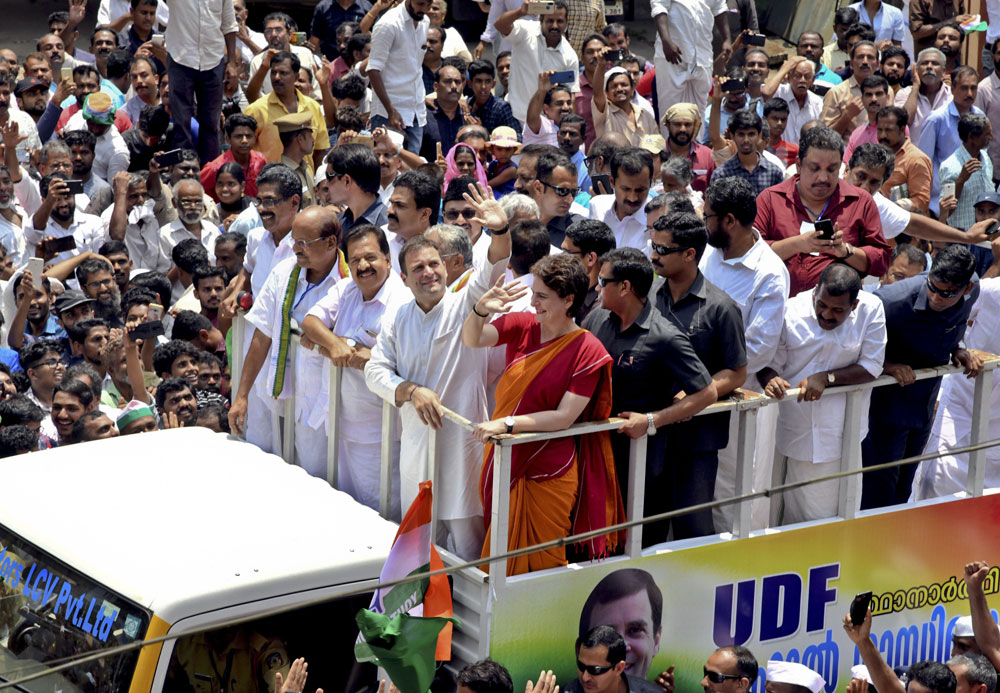 ---
---
Rahul Gandhi's decision to quit the Congress president's post may have caused heartbreak elsewhere, but the people of Wayanad are smiling in anticipation.
Everyone from his nurse Rajamma Vavathil to Congress workers feel that Rahul would be able to focus more on his constituency and its needs, now that he is free from the responsibilities of the party president.
Although they had elected him with a record margin of more than 4.5 lakh votes expecting him to become the Prime Minister, the electorate has no complaints about him stepping down.
"Wayanad would have loved to be known as the Prime Minister's constituency. But now that he has quit the party chief's post, we will get to see him more often," P.C. Assainar, a booth president of the Congress, told The Telegraph on Thursday.
"The people of Wayanad will love him and support him all the time. But it would be nice to see him here addressing the issues that we need to solve," said Assainar, who met Rahul in Delhi on Tuesday.
Rahul is expected to spend a few days in Wayanad after the ongoing Parliament session.
Rajamma, the nurse who was among those who held Rahul when he was born at Holy Family Hospital in Delhi on June 19, 1970, would be among those waiting for him to resolve the ailments of the constituency.
"When I met him (in Kalpetta on June 9 this year), the only thing I spoke to him about was better health services. He will now spend time here," the 72-year-old told this newspaper on Thursday.
T. Mohammed, the Wayanad district vice-president of Congress ally Indian Union Muslim League (IUML) who was also the chairman of Rahul's campaign committee in Sulthan Bathery (one of the seven Assembly seats in Wayanad), has no doubt that Rahul would concentrate more on his constituency.
"I recently met him in Delhi to discuss the problems we need to address here. He was brimming with enthusiasm and promised all help and said he was getting expert opinion in finding solutions," Mohammed said.
The people of Wayanad had submitted several memorandums to Rahul seeking solutions to their woes. Farm loans, better roads and irrigation, a medical college and round-the-clock connectivity with neighbouring Bangalore were among the main issues they want addressed.
Separated from Bangalore by the Wayanad-Bandipur forest range, which remains closed from 9pm to 6am every day to prevent road kills of wild animals, the people of Wayanad expect a way to ensure uninterrupted connectivity as the Karnataka capital feeds much of the local tourism sector.
"Moreover, the people of Kerala are different from those living in the north. We always maintain close links with our elected representatives. While that may not be possible because of his (Rahul's) SPG cover, spending more time would do a world of good," Mohammed said.
According to him, Rahul wants to open two offices, one in Mukkam (Kozhikode district) and the other in Kalpetta (Wayanad district), to reach out to the people of the constituency, which spans the solitary Assembly constituency in Kozhikode and three each in the districts of Wayanad and Malappuram.
A holiday resort owner in Kalpetta, however, was not too optimistic. "It remains to be seen if his party will allow him to spend so much time here. I for one am badly hit by the ban on night traffic (through the Wayanad-Bandipur forest range) and don't see things changing any time soon," said the entrepreneur, who declined to be named.
Taxi driver Hamza, who is based in Kalpetta, the district headquarters of Wayanad, termed Rahul's decision to quit the party chief's post a "blessing in disguise".
"I can only say it is a blessing in disguise. He has earned more respect by taking responsibility for the defeat. Now he can spend more time in his constituency and listen to our problems," said Hamza, who wants roads that last and health care for the residents, who now have to go to Kozhikode, 70km away.