Vote will help identify who is with us: Farmers
Issuing an appeal to all MLAs through a video, Rakesh Tikait of the Bharatiya Kisan Union (Tikait) urged them not to side with the BJP-JJP government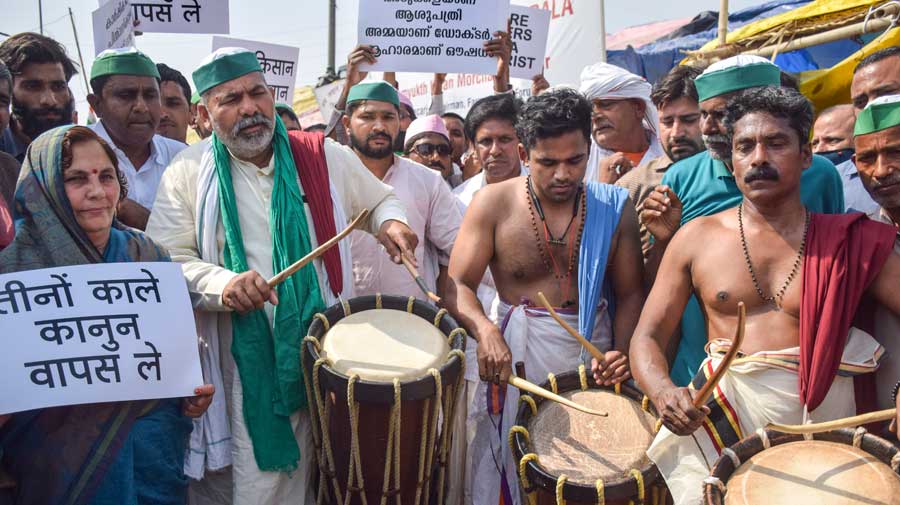 Rakesh Tikait plays Chanda Melam with protesters from Kerala during an agitation against new farm laws at the UP Gate in New Delhi on Sunday.
PTI
---
New Delhi
|
Published 10.03.21, 01:49 AM
|
---
Farmers have urged Haryana MLAs to support their cause by voting against the Manohar Lal Khattar government during Wednesday's no-confidence motion in the Assembly.
Given the way the numbers are stacked, the farmers are not particularly optimistic but went through with the appeal, issued by the Samyukta Kisan Morcha, to force the MLAs to stand up and be counted. 
"This vote will help us identify who is truly standing with the farmers. We will give a boycott call for all those legislators who do not vote for the motion moved by the Opposition," said a farmer leader.
Since all parties have issued whips for the vote and defiance can lead to disqualification, farmers are promising legislators that MLAs who bite the bullet would get their full support, which would be enough to be elected back as Independents.
Issuing an appeal to all MLAs through a video message, Rakesh Tikait of the Bharatiya Kisan Union (Tikait) urged them not to side with the BJP-JJP government during the vote.
Gurnam Singh Chaduni of the BKU (Chaduni) said in his appeal that this was the only time farmers and workers were seeking the vote of MLAs. "If they do not vote for the motion, then they are effectively voting for corporates. Such MLAs should not come to us seeking votes the next time. Go to your corporate friends. We will boycott them and chase them away from our areas," Chaduni said.