A vicious campaign that saw BJP leaders hauled up for repeated hate speeches and communal remarks ended in an anticlimax on Saturday, with just about three out of every five voters in the capital casting their ballot till late in the evening.
According to figures released by the office of Delhi's chief electoral officer (CEO), 61.53 per cent people had voted in the Assembly election.
At some booths people voted till nearly 10pm and the CEO's office said there could be a fractional variation in the final figure.
The turnout in the Lok Sabha elections last year was 60.6 per cent, while 67.47 per cent had voted in the 2015 Assembly polls.
The ruling Aam Aadmi Party — which won 67 of the 70 Assembly seats in 2015 — is banking on its bouquet of welfare schemes, despite setbacks in civic and parliamentary elections in the last five years.
Less than three weeks before the polls, the BJP had changed tack from garnering votes for the Centre's regularisation of slums in the capital — not a traditional party vote bank — to attacking the AAP and the Congress for their opposition to the new citizenship regime.
That had forced the AAP to advise protesters to call off stirs like the one at Shaheen Bagh amid incidents of firing at protest venues.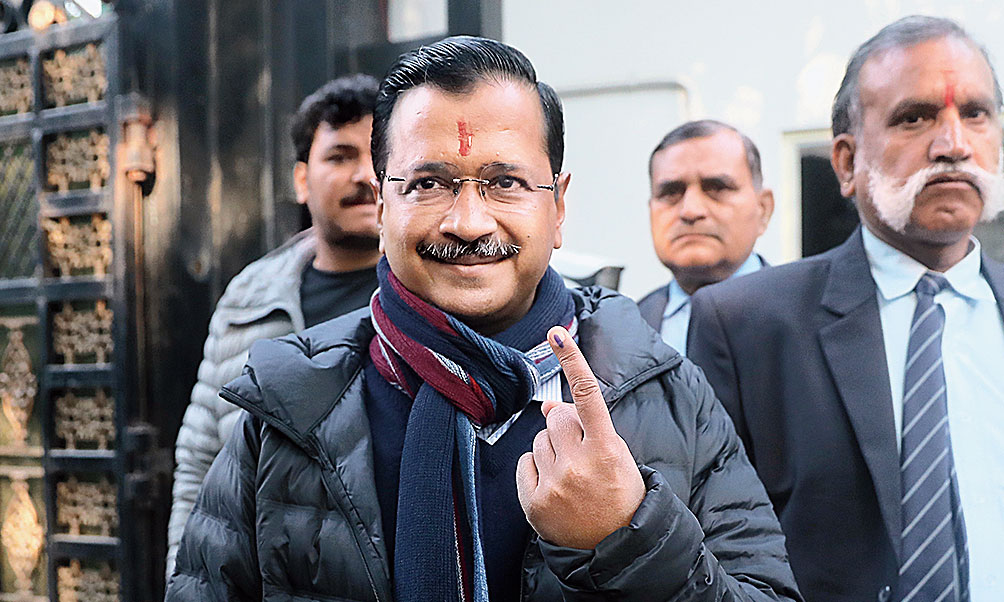 Chief minister Arvind Kejriwal shows his inked finger after voting on Saturday. Picture by Prem Singh
Chief minister Arvind Kejriwal even recited the Hanuman Chalisa on television, in what appeared to be a bid to prove his party's Hindu credentials.
Former AAP minister turned BJP candidate Kapil Mishra was barred from campaigning for two days, and an FIR filed against him, for calling the Delhi polls an India-Pakistan clash and Shaheen Bagh a mini-Pakistan.
Union minister Anurag Thakur was barred too — for three days — for urging a crowd to shoot "traitors".
BJP MP Parvesh Verma was barred twice, cumulatively for five days, for saying that anti-citizenship act protesters might enter homes and rape and kill women, and for calling Kejriwal a Naxalite.
A deputy commissioner of police was transferred after repeated incidents of firing at protest sites and another DCP was censured for a comment that suggested a party's links with one of the shooters.
No FIR was filed, apart from the one against Mishra — an omission that former chief election commissioner S.Y. Quraishi called "baffling".
Even while polling was in progress on Saturday, Verma tweeted: "If the |people of Shaheen Bagh can stand in long queues and shout to vote for AAP, then| the people of Delhi, you too get out of your homes and vote for the patriot party."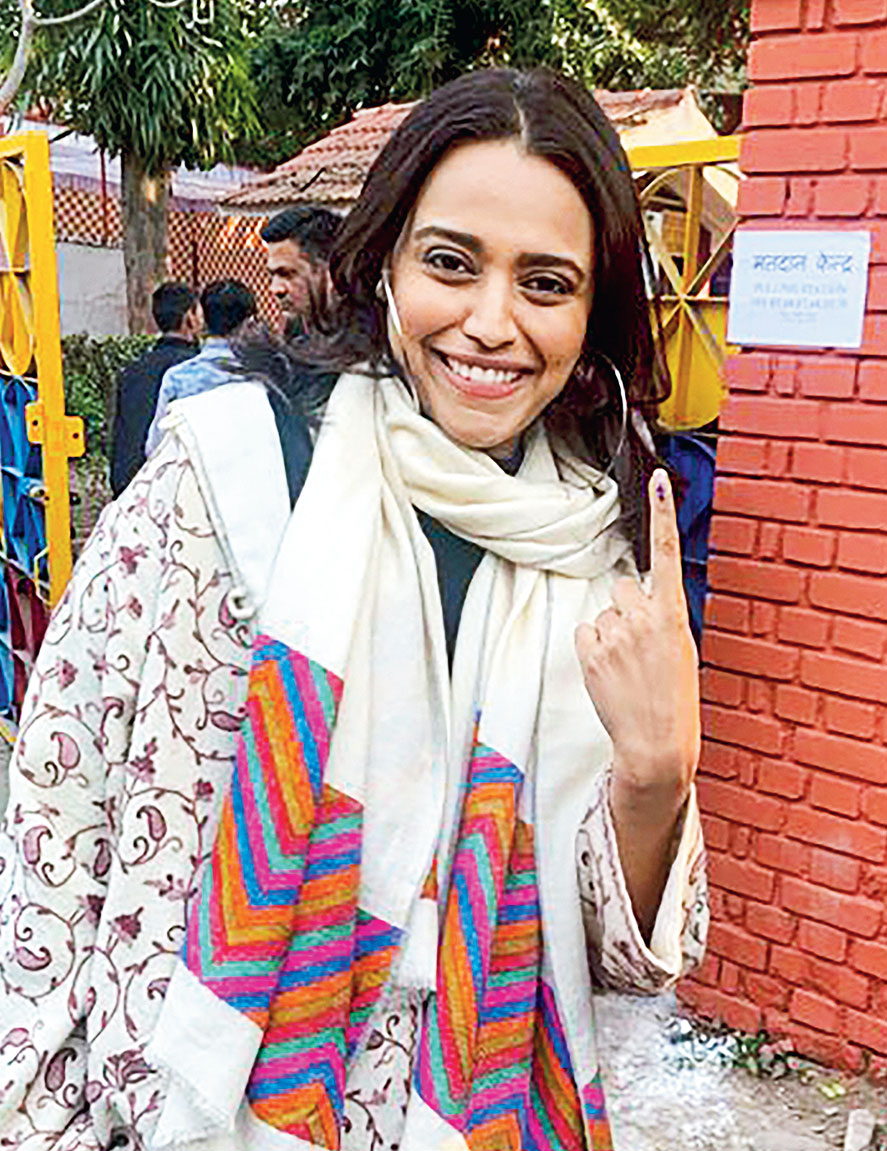 Actress Swara Bhaskar shows her inked finger. (PTI)
Chief electoral officer Ranbir Singh said: "Police are taking legal opinion on other cases (besides Mishra's). Once they get legal opinion they will take action according to law."
Polling was lower in seats the BJP had left to its allies Janata Dal (United) and the Lok Janshakti Party, and higher in North East Delhi where women have been on dharna against the new citizenship matrix.
Shaheen Bagh saw serpentine queues from the morning itself, although the voting was slow. Many voters insisted on staying in the voting compartment till the beep of the ballot cast had ended.
Although VVPAT malfunctions were the lowest ever at less than 1 per cent, an AAP source claimed the new Booth Mobile Application used in 11 seats slowed the process. The app was used, among other things, to scan voter slips twice upon entry and record the turnout.
Scuffles were reported between BJP and AAP workers in Rithala — where the AAP accused Union minister Giriraj Singh of distributing cash on Friday night — and at Chandni Chowk, where Congress candidate Alka Lamba tried to slap an AAP functionary who is alleged to have made a lewd remark.
AAP workers were protesting in Babarpur — the seat of minister and Delhi unit chief Gopal Rai — after reports that two EVMs were missing.
AAP technical teams will camp outside centres where EVMs are stored until counting on February 11 to prevent any tampering.