Varavara Rao's wife urges Supreme Court to grant him bail
Pendyala Hemalatha's petition, not yet listed for hearing, has underlined the 'cruel, degrading and inhuman' treatment of her husband in a Maharashtra jail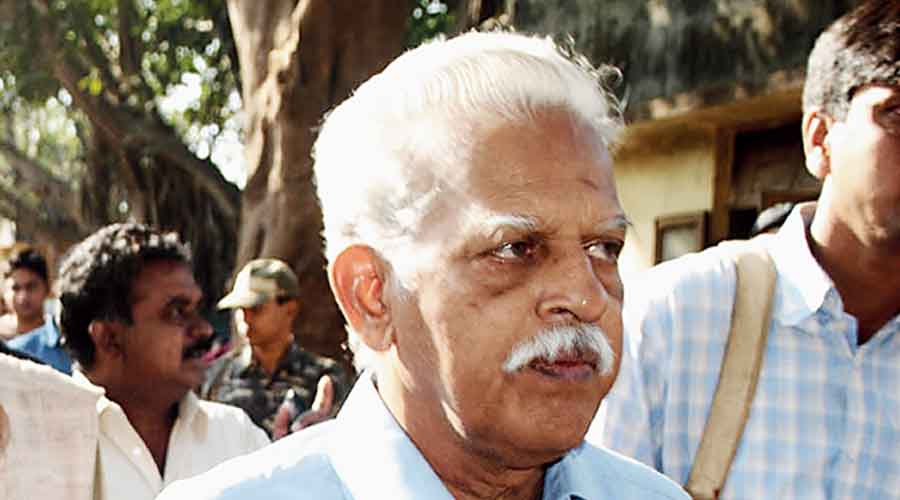 ---
---
Jailed poet P. Varavara Rao's wife has urged the Supreme Court to grant him bail saying the 81-year-old is mentally unwell and has multiple ailments, including neurological disorders triggered presumably by Covid-19, and is being supported with diapers and urinary catheterisation.
Pendyala Hemalatha's petition, not yet listed for hearing, has underlined the "cruel, degrading and inhuman" treatment of her husband in a Maharashtra jail, alleging he is being denied medical tests and that his urine bag is not being changed, causing him infection.
The Telugu revolutionary poet is in such a poor state of mind that in a recent letter to his wife he claimed that she (Hemalatha) was dead, the petition, filed on Thursday through advocate Sunil Fernandes, says.
"The petitioner (Hemalatha) received a letter dated 31.08.2020 from her husband where he claims that the petitioner is dead and her body is at the morgue. Sadly, the letter is written to his wife, the petitioner," the petition says.
"This itself shows the mental status of the petitioner's husband. None of these facts could be brought before the Hon'ble Bombay High Court as the matter was not being listed at all."
Varavara has been in jail for over two years in the Bhima Koregaon case, in which several rights activists, lawyers and writers have been arrested on the charge of Maoist links. Trial has not begun since the National Investigation Agency is yet to frame charges.
According to Hemalatha, she received a letter on September 9 from Vernon Gonsalves, a co-accused and co-prisoner of her husband, that said Varavara was bedridden and lacked bowel or bladder control. So, he had been fitted out with a catheter and diapers while Gonsalves gave him swab baths.
Varavara "has been suffering from urinary infection due to the urine bag which hasn't been changed for the past 40 days", the petition says, adding that he has been "forced to live in inhuman conditions".
"When the petitioner's husband was arrested on August 28, 2018, he had no neurological problems. It is therefore highly likely that Covid-19 and the fall that he had in St George Hospital has led to neurological problems as reflected in the medical report filed by Nanavati Hospital dated 30.07.2020," the petition says.
It adds that Varavara was admitted to hospital on May 27 this year but was prematurely discharged on June 1 lest continued hospitalisation strengthen his case for bail, sought on the ground of illness and the Covid-19 threat.
Although doctors had advised medical tests, the jail authorities failed to carry them out, the petition says, "as a result of which his condition continued to deteriorate and on 13.07.2020 he was again admitted to J.J. hospital".
"He tested positive for Covid-19 on 16.07.2020 and was shifted to St George Hospital, then to Nanavati Hospital. (He) sustained a head injury while he was in St George Hospital after a fall which required stitches," the petition says.
It accuses the authorities of violating Varavara's right to dignity, enshrined under Article 21 (right to life and liberty) of the Constitution, which "implies that no person can be treated in a cruel, degrading and inhuman manner".
"Article 7 of the International Covenant of Civil and Political Rights (ICCPR), which India has ratified and incorporated as a fundamental right, mandates that the State shall not treat anybody with cruel, degrading and inhuman treatment," it says. "Article 10 of the ICCPR also mandates that the States treat all person with dignity and humanity."
Varavara is in no state to stand trial and needs critical medical care that the jail cannot provide, the petition argues. So, no useful purpose is being served by his continued imprisonment except to torture him beyond human endurance, the petition argues.