NIA summons Varavara's sons-in-law to Mumbai
The NIA has also called for Partho Sarothi Ray, who teaches molecular biology at Calcutta's Indian Institute of Science Education and Research, on Thursday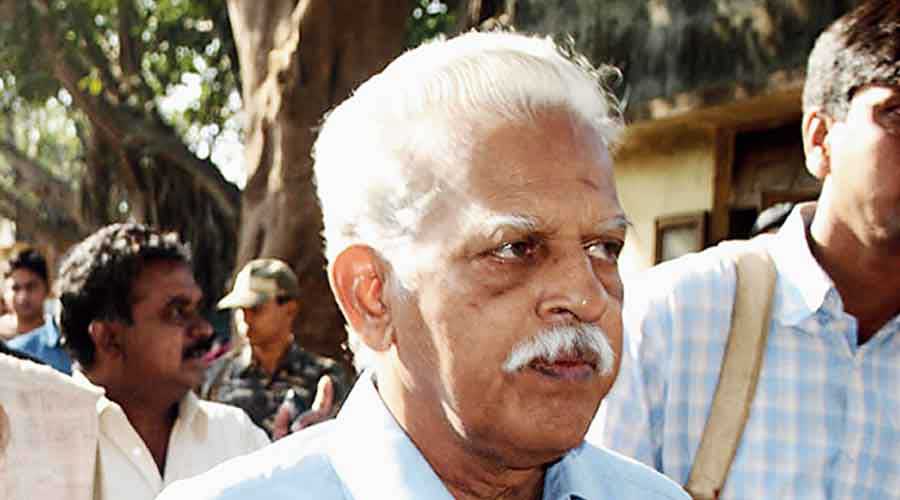 Varavara Rao
File picture
---
New Delhi
|
Published 08.09.20, 01:42 AM
|
---
The National Investigation Agency has summoned both sons-in-law of jailed Telugu poet Varavara Rao from Hyderabad to Mumbai on Wednesday for questioning in the Elgaar Parishad case.
English and Foreign Languages University professor K. Satyanarayana, husband of Rao's daughter Pavana, said that during a search of his campus flat two years ago, Pune police had asked humiliating questions such as why he possessed Dalit literature and why his students wore skimpy clothes and smoked.
K.V. Kurmanath, senior journalist with The Hindu Business Line, is the husband of Rao's daughter Anala.
In an email to several academics, Satyanarayana said: "As you know, my flat was raided by Pune police in August 2018 under the pretext of collecting evidence against my father-in-law and revolutionary poet Varavara Rao. I stated then that I was in no way connected to the Bhima Koregaon case. The fact of Varavara Rao being my father-in-law was used to raid my house and cause mental agony."
The teacher of cultural studies added: "I remember how all of you had strongly condemned the raid on my flat and extended support. I thought it was all over…. NIA notice adds to our family distress at a time when Varavara Rao's health condition is not very good and the pandemic is fast spreading in Mumbai. I am travelling to Mumbai in these terrible times. I need your support and best wishes."
The NIA has summoned Partho Sarothi Ray, who teaches molecular biology at Calcutta's Indian Institute of Science Education and Research, on Thursday.
Ray is also convener of the Bengal unit of the Persecuted Prisoners Solidarity Committee. The World Health Organisation has been consulting him over its Covid-19 studies.
Rao, 79, tested Covid-positive in Mumbai's Taloja prison in July and was sent to several hospitals for treatment. He returned to jail last week, and family members say he seems to be losing his memory.
Lawyer Sudha Bharadwaj, another accused in the case, has developed ischaemic heart disease in jail, where she has spent almost two years now, her daughter Mayshaa has said.
Several other academics, including Nagpur University's Shoma Sen, former Mumbai University lecturer Vernon Gonsalves, Goa Institute of Management's Anand Teltumbde and Delhi University's Hany Babu M.T. are in jail in connection with the case.
Altogether, 12 activists are in jail custody for alleged links with the banned CPI Maoist and their purported role in the Elgaar Parishad meeting held by Ambedkarites in Pune on December 31, 2017.
The event was meant to commemorate the second centenary of the victory of the predominantly Mahar Dalit troops of the East Indian Company against the Peshwa's army in the Battle of Koregaon.
Hindutva mobs attacked a largely Dalit pilgrimage to the Bhima Koregaon victory pillar the next day, the clash claiming the life of a Maratha youth.