UP elections: Rahul Gandhi and Priyanka ask voters to look within
The whole country knows Modi promised to double farmers' income and he brought three farm laws to snatch whatever belonged to the farmers: Congress leader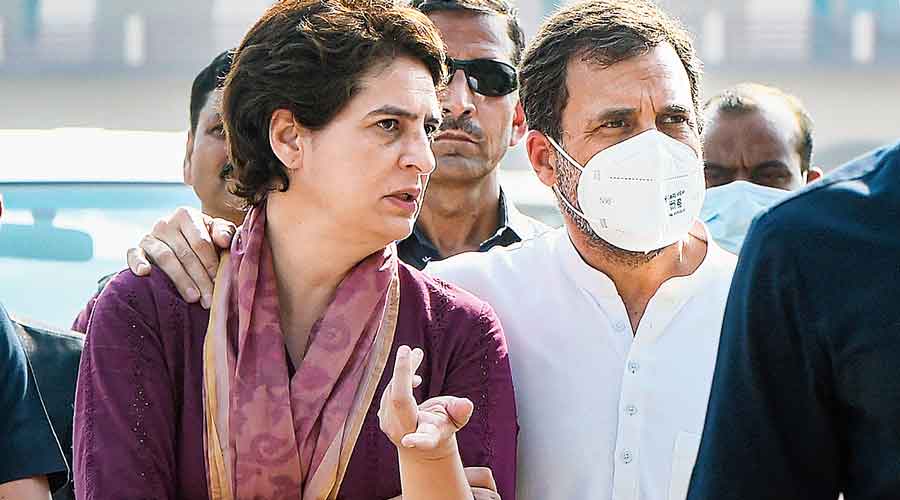 Priyanka and Rahul during the public meeting in Amethi, Uttar Pradesh, on Friday.
PTI Photo
---
New Delhi
|
Published 26.02.22, 01:51 AM
|
---
Rahul Gandhi and Priyanka Gandhi Vadra on Friday swam against the tide to tell the people that they should hold themselves responsible for sustaining the regressive politics based on religion and caste.
Rahul, who campaigned in Uttar Pradesh for the first time in this election, and Priyanka, who has led a vigorous Congress campaign in the state, asked the people to wake up and decide what kind of politics they wanted to build the future of their children. This is a distinct shift from criticising political parties for misusing caste and religion to create vote banks as both the leaders argued that people could change the course of politics with their sagacity and action.
Speaking before Rahul at a public rally in Amethi, Priyanka said: "Leaders come and mislead you on the basis of caste and religion. Who is responsible for this?" As the reply came in a loud chorus — "BJP" — she confronted them: "No, the BJP is not responsible. You are responsible. You have allowed this to happen for far too long. The political parties are only exploiting your weaknesses. You know there are no jobs, no security to women and no development. Criminals are being patronised. But you don't ask questions. You have to decide what kind of politics you want."
Endorsing Priyanka, Rahul said: "Modi came in 2014 and promised to create two crore jobs every year. When he comes now, why don't you ask where are the jobs? Why doesn't he talk of jobs now? He might have addressed over 50 meetings in Uttar Pradesh but he doesn't talk of unemployment. What Priyanka said is right. You never question the governments. You vote on caste and religion. You never vote for your children's future."
Rahul continued: "You hold the key to job creation. Your vote is the ticket to employment. But you never vote for jobs. You voted for the BJP, for the Samajwadi Party, for the BSP… all of them betrayed you. All of them looted you. Nobody spared you. Modi destroyed small and medium businesses by notebandi and that broke the backbone of the job-creation system. International prices of crude kept falling and prices of petrol-diesel-gas in India kept rising. You never questioned Modi."
He added: "The whole country knows Modi promised to double farmers' income and he brought three farm laws to snatch whatever belonged to the farmers. Modi said nothing happened in 70 years and now all the public sector units are being sold to his friends. Everybody in Uttar Pradesh knows Modi lies. Everybody in the country knows the Prime Minister of India can say anything to fetch votes. We, on the contrary, deliver on our promises. We promised farm-loan waiver and delivered. We promised Rs 2,500 for a quintal of paddy in Chhattisgarh and we implemented it."
Confronting the BJP's lies on the coronavirus, he said: "Nobody listened to me when I said the coronavirus will have devastating consequences. They made fun of me. But the truth cannot be hidden. Bodies were floating in the river Ganga or not? You saw the bodies floating or not? Now
I say jobs cannot be created by destroying agriculture, small businesses and medium enterprises. Do whatever you want, send your children to universities but they won't get jobs."
Political scientists often say people get the leaders they deserve but political parties avoid laying the blame at the voters' doors. It is possible that Congress leaders are now frustrated because caste and religion continued to dominate the political scene in Uttar Pradesh. The uncommon reminder by Rahul and Priyanka to the voters has come against this backdrop.
Priyanka said at the meeting on Friday:  "Where was Akhilesh Yadav when horrendous crimes against Dalits and women took place all over the state? Where was the BSP? Less said the better about Modi-Yogi. The Congress fought for you. We stood with you in your distress. But at election time, leaders come and you vote on caste and religious lines."
It is indisputable that Priyanka and Ajay Kumar Lallu led the people's fight in Uttar Pradesh for the last five years but the Congress got squeezed out of the competition because it doesn't have any loyal caste-based support. The BJP's communal polarisation forces even Muslims to drift towards the Samajwadi Party, which commands a strong Yadav vote bank.
 The Congress, without any fixed vote bank, doesn't look winnable and that's the reason Rahul and Priyanka are now appealing to the people to change the nature of politics.