UP arrest, allegations of assault and abuse
'We were singing hymns and the policemen said it could create a law-and-order problem'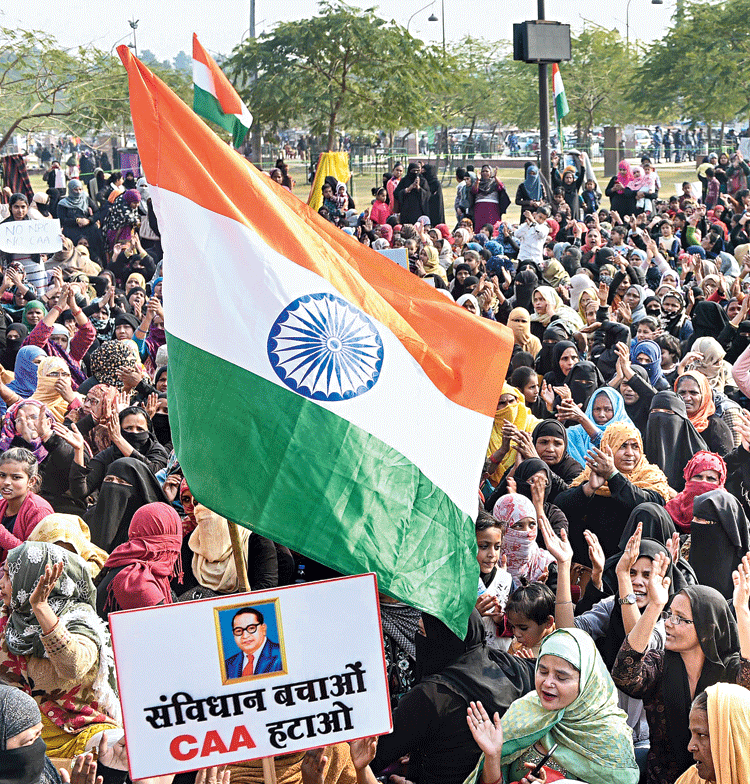 ---
|
Lucknow
|
Published 25.01.20, 08:28 PM
---
A Samajwadi Party student leader has become the first protesting woman at the Ghanta Ghar to be arrested, the Yogi Adityanath government trying to intimidate the agitators ahead of Republic Day or, in another version, getting restless on the ninth day of the battle of nerves.
"Some 20 cops, including about five policewomen, barged into the courtyard, which we had demarcated with a rope from three sides, around (Saturday) noon and pounced on Pooja Shukla and two middle-aged women without provocation. They hurled the foulest abuses against us," one of the protesting women said.
"We were singing Raghupati Raghav Raja Ram and Sare Jahan Se Achchha and the policemen said it could create a law-and-order problem. The male and female cops beat the three women with batons and rifle butts. Then they dragged the trio to a van and whisked them away. Two men who tried to save the women were also thrashed, pushed into the van and taken away."
The eyewitness, who asked not to be identified, added: "Later, the police freed the two other women but we don't know about the two men. We have heard they have sent Pooja to jail."
Since Thursday, most of the women have been requesting not to be named, saying the police were visiting their homes and pressuring their families to persuade them to leave the dharna spot.
Another eyewitness and protester, Samaiya Rana, however, was willing to be named and corroborated everything the first eyewitness said.
Vikas Chandra Tripathi, additional deputy commissioner of police (Lucknow West), denied the police abused or beat anybody and confirmed that Pooja, a student in her 20s, had been arrested for incitement to violence and breach of peace. She has been sent to 14 days' jail custody.
"The activist was arrested because she was misleading the women and instigating them to take the law into their own hands," he said, declining details.
Tripathi would not confirm that the police had picked up two other women and two men or say what happened to them. But a PTI report quoted Thakurganj station house officer Pramod Mishra as saying "seven male volunteers" too had been arrested and 100 women booked for violating a ban on assemblies.
Pooja, national vice-president of the Samajwadi Kshatra Sabha, the Samajwadi student arm, had told The Telegraph on Friday that the police and administration officials had been pressuring her to stay away from the protest.
A police officer told this newspaper that Pooja's arrest was meant as a warning to the protesters not to disturb law and order on Republic Day. But the women saw it differently.
"The government is getting restless. They had thought we wouldn't be able to sustain our protest even for a week but now they have realised that we are stronger and more patient than them," Samaiya said.
Another woman said: "The weak feels insecure and becomes aggressive every now and then. Our peaceful protest has made the government jittery and they may use more force against us."
Pooja had told this newspaper on Friday: "I have joined the protest not because of my association with a political party. Most secular-minded women are agitated at the way the BJP governments are trying to ostracise Muslims in their own country.
"A large number of Hindu women have been participating in the protest in solidarity with the Muslim women. We will not bow before the Adityanath government."
Adityanath, addressing a police event on Saturday, said: "A criminal can be reformed either by the law or by the police baton."
AMU crackdown
Three Aligarh Muslim University students, including students' union leader Faizul Hasan, have been booked for allegedly making "anti-national" statements although the police would not reveal what they had said or when.
"Some people had advised me to apologise although I didn't make any anti-national statement. All I want to say is that I'm not V.D. Savarkar that I would apologise," Hasan told reporters.
Savarkar, freedom fighter and Sangh parivar icon, had sent mercy petitions to the British colonial rulers seeking an early release from the Cellular Jail in Andaman.
Amit Kumar, a police inspector in Aligarh, claimed the police had a video clip showing some AMU students making "anti-national" statements but gave no details.