Patient advocates say many remain excluded
Essential medicine list: Govt adds 34 new drugs, drops 26
Health minister says NLEM 'plays an important role in ensuring accessibility of affordable quality medicines at all levels of healthcare'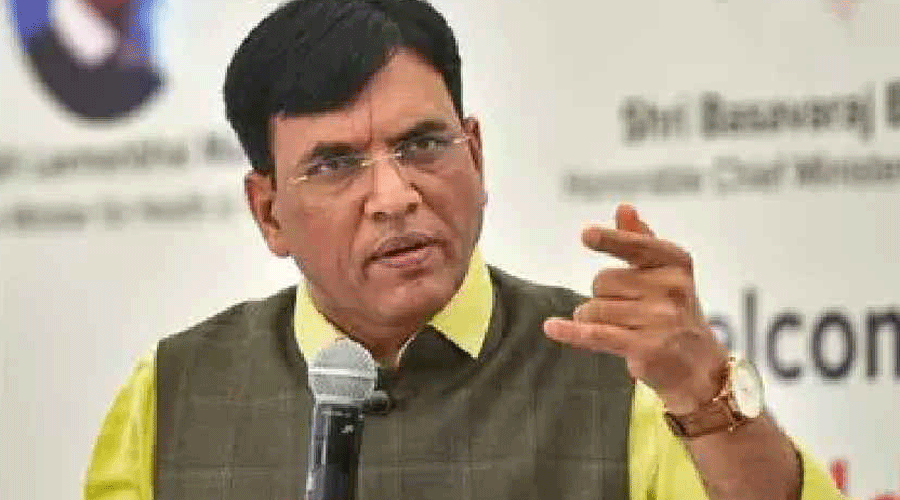 Mansukh Mandaviya.
File photo
---
New Delhi
|
Published 14.09.22, 03:50 AM
|
---
The Union health ministry on Wednesday released an updated National List of Essential Medicines, with 34 new drugs, that it said would enhance access to and affordability of medicines, but patients' rights advocates said many drugs remained excluded.
The 34 additions include two patented anti-tuberculosis medicines, two patented anti-viral medicines and four anti-cancer drugs. But patients' rights advocates invited to participate in consultations for the revisions said the list could have been longer but for "industry pressure".
Health minister Mansukh Mandaviya, launching the revised list, said the National List of Essential Medicines (NLEM) "plays an important role in ensuring accessibility of affordable quality medicines at all levels of healthcare" and contributes to reducing out-of-pocket household expenditure on medicines.
The NLEM 2022 contains 384 medicines, compared with 376 in the previous NLEM of 2015, with 26 deletions from the previous list and 34 additions. The additions include 18 anti-infective drugs, montelukast for respiratory disorders, and insulin glargine and teneligliptin for diabetes.
Health activists said the updated NLEM should have included more drugs.
"It is disappointing that more of the high-priced effective treatments for various cancers have not been included in the list," said Malini Aisola, member of the All India Drug Action Network (Aidan), a consortium of physicians and patients' rights advocates that had joined the consultations.
This is an area where pharma innovation has been fast, Aisola said, and the World Health Organisation has taken steps to expand the cancer section on a model essential medicines list. "India has passed up an opportunity to make additional cancer drugs more affordable and accessible," she said.
The revised list includes drugs considered affordable, safe and effective on the basis of scientific evidence, and is intended to improve prescribing practices, guide drug procurement policies of government and private hospitals, and influence medical training and pharmaceutical policies.
The NLEM 2022 includes four patented drugs — bedaquiline and delamanid, used in treating multi-drug-resistant tuberculosis; dolutegravir, used against HIV; and daclatasvir, used against hepatitis C.
"We welcome the inclusion of these anti-TB drugs — this will strengthen the case for compulsory licences leading to relatively inexpensive generic versions," said Leena Menghaney, a public health lawyer with Medecins Sans Frontieres, the international humanitarian agency.
Bombay High Court is currently hearing a petition filed by survivors of multi-drug-resistant TB seeking central government action to facilitate compulsory licences for these TB medicines.
But, Menghaney said, it is unclear how inclusion in the NLEM will make patented drugs affordable because the Centre has kept patented medicines beyond the scope of price control. "Besides, the current price control formula is not based on actual production costs but on average prices of brands," she said.
The National Pharmaceutical Pricing Authority (NPPA), the Union pharmaceuticals department agency tasked with drug price control, had fixed caps on 890 formulations of medicines under the NLEM 2015 until June 30, 2022.
The NLEM 2022 includes four of 42 anti-cancer drugs for which the NPPA had last year "rationalised" trade margins, resulting in up to 90 per cent reductions in maximum retail prices of 526 brands of those 42 drugs.
Aisola said it was good that the diabetes section had been expanded to include teneligliptin and insulin glargine. "But there also was a need to include more synthetic insulins and other oral anti-diabetics, keeping in view the country's large burden of diabetes," she said.
The NLEM 2022 is the outcome of a series of consultations that involved more than 350 experts and over 140 drafting panel meetings, with non-government groups such as Aidan invited to participate.
Throughout the consultations, the industry had tried hard to prolong the process with some companies lobbying to keep their products outside the list, Aidan said in a statement.
The NLEM expert panel flagged longstanding concerns about many unapproved and irrational fixed-dose combinations of drugs remaining in the market despite having been banned. The panel said it wished to publish such a "negative list" but decided not to because the list could cite only examples and "cannot be exhaustive".
Aashna Mehta, an assistant professor at the Public Health Foundation of India who has analysed irrational fixed-dose combinations in the market, said a negative list would be welcome, but "the end goal should be to remove irrational combinations from the market altogether".