Truth always shines: Rahul Gandhi on BBC film ban
The Congress leader left Jammu on Tuesday on his onward journey to Kashmir in the Bharat Jodo Yatra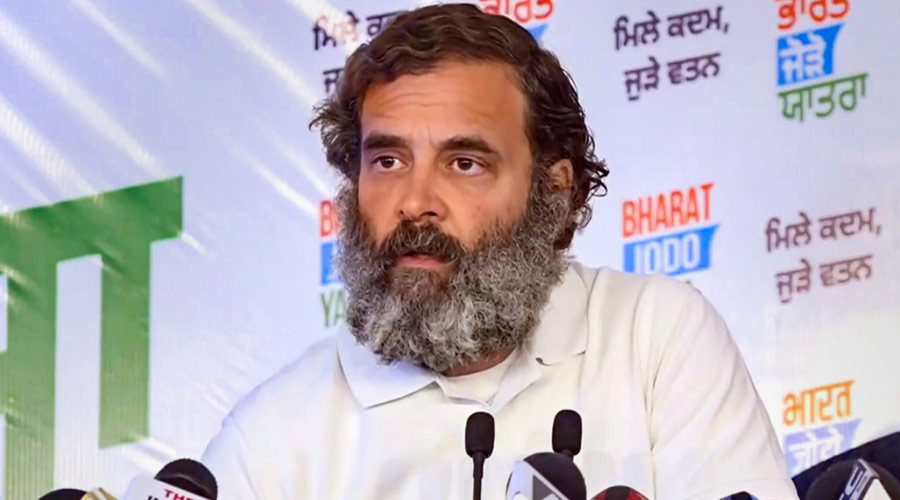 Rahul Gandhi
File picture
---
Jammu
|
Published 25.01.23, 03:32 AM
|
---
Rahul Gandhi, who left Jammu on Tuesday on his onward journey to Kashmir in the Bharat Jodo Yatra, cited the Bhagwad Gita and the Upanishads to argue that the truth cannot be hidden when he was asked about the Centre's move to block access to the BBC documentary on Narendra Modi.
The Centre has directed YouTube and Twitter to block access to links to India: The Modi Question, the two-part documentary, calling it a "propaganda piece designed to push a particular discredited narrative". However, several students' groups have braved the bar by screening it. Rahul was asked at a news conference:
"Regarding the BBC documentary, the Modi Question, the Indian government has banned the documentary. (Students groups of) Kerala University, Hyderabad University and JNU said they will air it. Do you think it is politics of intolerance and it is not fair as a democratic country that we should ban any documentary?"
Rahul responded: "If you read our scriptures; if you read Bhagwad Gita or Upanishads; you will see it is written that the truth cannot be hidden. The truth always comes up.
"You will suppress the press, you can control the institutions, you can use CBI, ED but the truth is the truth. The truth shines bright. It has a nasty habit of coming, so no amount of banning, oppression, frightening people is going to stop the truth from coming up."
Rahul said there were two visions of India,  "one hate-filled, arrogant, cowardly" and another "love-filled, embracing and brave."
His journey, which started from Kanyakumari on September 7, entered its most difficult phase as it left Jammu for Srinagar amid the cloud of militancy and bad weather. He is camping at Ramban, halfway down the 270km highway. It was heavily snowing in Banihal, where a 10km tunnel connects Jammu with Kashmir. Because of the weather and the threat from militancy, he will be driving for much of the journey to Srinagar.
The journey from Kanyakumari to Jammu — a distance of more than 3,000km, was covered entirely on foot.   
Rahul strongly rebuffed the Modi government's allegation that his Yatra was defaming the country.
Asked to react to defence minister Rajnath Singh's claim that he was defaming country and that he was full of hate for BJP leaders, Rahul said: "I don't understand how a Padyatra crossing the country, that is uniting people of India, bringing people of India together, is loving and affectionate to the people of India, is harming the interests of people."