Trump, MEA can't both be right: Yechury
Sitaram Yechury demanded a statement from Modi over Donald Trump's Kashmir mediation remark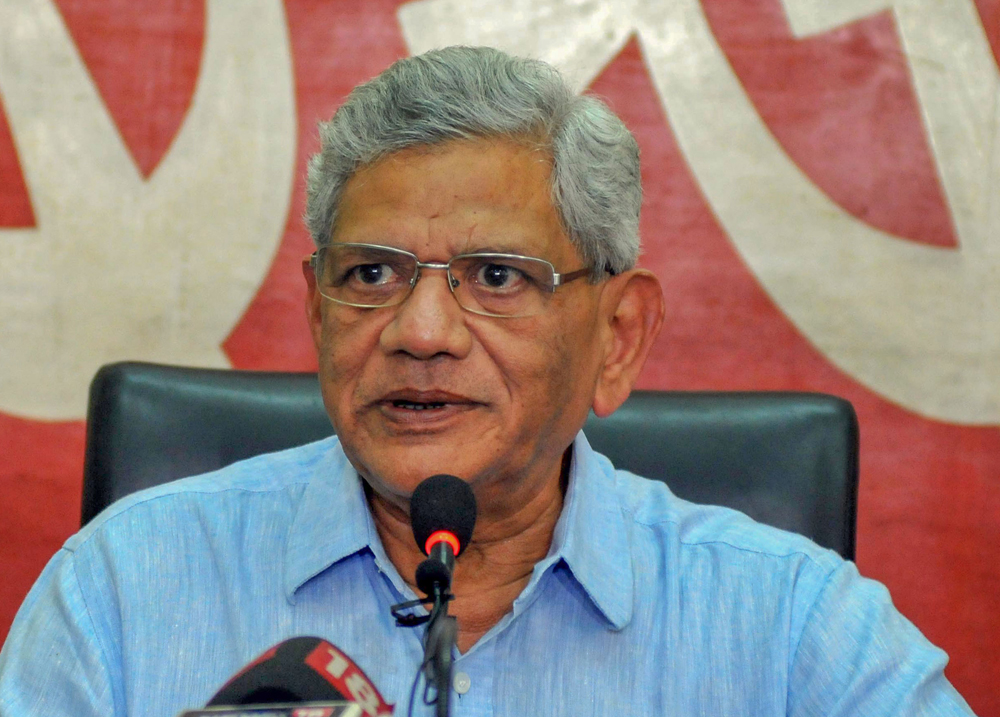 CPM general secretary Sitaram Yechury
(PTI photo)
---
Calcutta
|
Published 23.07.19, 09:22 PM
|
---
CPM general secretary Sitaram Yechury on Tuesday demanded a statement from Prime Minister Narendra Modi over US President Donald Trump's Kashmir mediation remark.
"Trump's statement is official as per the US State Department transcription. Again our external affairs minister has also made an official statement on the floor of the Parliament. Both the statements cannot be true at the same time. The Prime Minister should come clear on this and rebut Trump's claim," Yechury said in a news conference at Alimuddin Street in Calcutta.
During his meeting with Pakistan Prime Minister Imran Khan on Monday, Trump said Modi asked him to "help with disputed Kashmir region" adding he would "move to be a mediator". Trump had said, "Maybe U.S. can intercede in strained India, Pakistan relations".
Yechury asserted reiterating the CPM's official stand that India has always maintained that Kashmir dispute had been a bilateral issue between India and Pakistan, with no scope for third-party interference.
"What does this say about our long-held position of sovereignty over the Indian state of Jammu &Kashmir, as defined in the Shimla Agreement? What is this government up to?" he asked.
The CPM general secretary spoke on a few other issues as well, like the appointment of governors.
Calling that the CPM is also perturbed in the fashion the governors are being appointed during the Modi regime, Yechury said: "We are perturbed with the appointment of the governors. Most of them are RSS pracharaks or pramukhs and are speaking on independent capacities. We condemn what the J&K governor Satya Pal Malik has said instigating the militants to attack political leaders. This is a dangerous trend."
Then, Yechury alleged that as per his party's technical team's report on the electronic voting machine (EVM), there are mismatch of poll results between the EVMs and the VVPAT.
"More than 300 seats out of the 542 that went on polls in April-May this year have mismatch results. ECI in a reply to RTI said that they do not have individual comparison results of EVMs and VVPAT. The ECI's role is under question," the CPM leader said.
He announced that all Opposition parties, including Trinamul, would sit for discussion over the EVM issue once the ongoing Parliament session gets over in Delhi.
"After this session of the Parliament concludes all national Opposition parties and later on regional parties would meet to discuss the EVM issue before approaching to the Election Commission of India," he said.
Asserting that the CPM is not opposed to Trinamul or even for that matter to the BJP joining the platform against the voting with EVMs, he said: "It is not a political alliance with Trinamul. It is just that we all are addressing a common issue of discarding the EVMs. Even the BJP can join us on this issue, if they agree."