Truce hunt after Prashant meeting
Nitish turned down consultant's offer to resign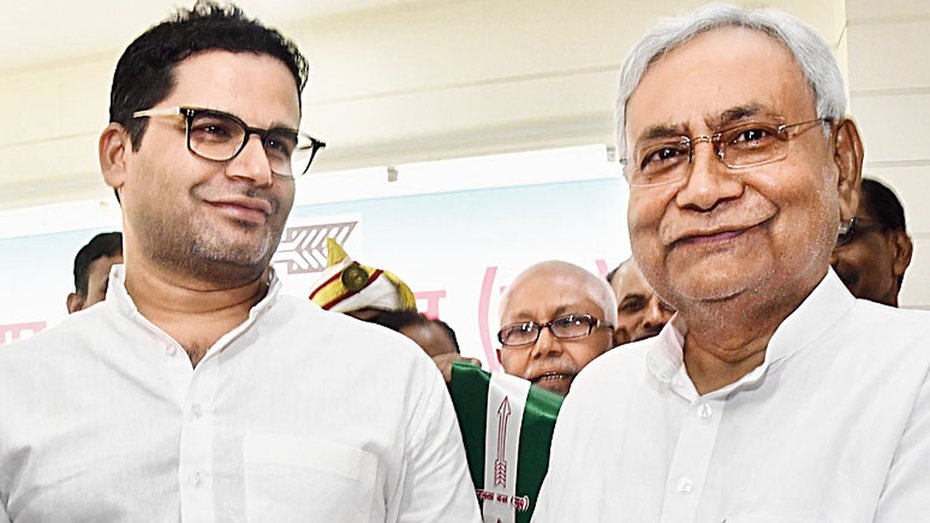 ---
|
Patna
|
Published 14.12.19, 08:36 PM
---
Prashant Kishor, the poll consultant and Janata Dal United leader, met party president and Bihar chief minister Nitish Kumar here for over two hours on Saturday amid differences within the organisation over the Citizenship (Amendment) Act.
The JDU had supported the bill in Parliament but Kishor had opposed the legislation, triggering speculation that he may resign from the party.
At the end of the meeting on Saturday, there was no official word that either Kishor had offered to resign or Nitish had asked him to do so. Sources said Kishor thrice offered to resign but Nitish rejected the proposal.
The statement Kishor made while coming out of Nitish's residence suggested efforts are afoot to find a rapprochement.
"My stance on the CAB (as the amended law was known when it was a bill) is clear. I have said it publicly and it has been for everybody, not just Nitish Kumar. The party has done whatever it had to do, and now he (Nitish) will take further decisions on it," Kishor said.
The sources said the reconciliatory notes suggested Nitish may revise the party stand on the Citizenship (Amendment) Act or refer it for reconsideration to a larger party forum.
Kishor did not give any indication that he is altering his stand. The amended citizenship law, together with the National Register of Citizens (NRC), could turn into a lethal combo in the hands of the government to systematically discriminate on the basis of religion, Kishor said.
He vowed to not give up on the issue and appealed to the 16 non-BJP chief ministers in the country that "the task of saving the soul of India was now in their hands as it were the states who have to operationalise these acts".
Punjab, Kerala and Bengal have already said that they would not implement the Citizenship (Amendment) Act and the NRC, indicating that the issue could turn into a stand-off between the Centre and the states. Kishor said it was "time for others to make their stand clear".
Kishor became a member of the JDU in September 2018 and was elevated to the post of national vice-president a month later, becoming virtually the number two in the party's hierarchy after Nitish.
Asked about the acerbic statements against Kishor by the JDU leader in the Rajya Sabha, R.C.P. Singh, the poll consultant said Singh was a senior leader and what he said should not be amplified.
"Nitishji asked me to leave everything to him with regard to whatever has been said about me as it comes under the jurisdiction of the party president. I am also not bothered about whatever allegations are made against me," Kishor said.
The sources said Nitish reminded Kishor at the meeting that the latter had promised to strategise for the JDU for the Assembly elections due next year as well as the next Lok Sabha polls.