TMC MP Sushmita Dev's car vandalised in Tripura
Leader claims saffron party was behind the attack, BJP rubbishes claim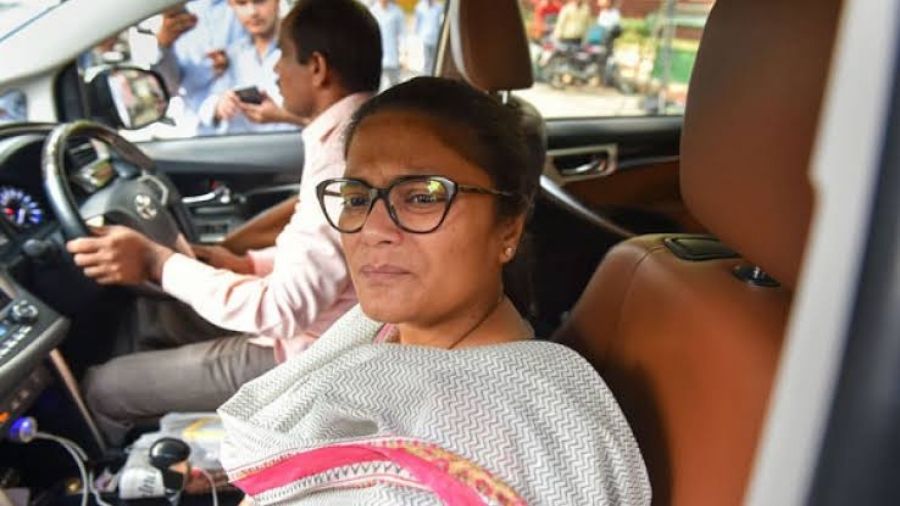 TMC MP Sushmita Dev
Twitter
---
Agartala
|
Published 22.10.21, 04:24 PM
|
---
Trinamul Congress MP Sushmita Dev's car was vandalised by some people in Tripura today, according to NDTV.com.
Some employees of a private firm that is helping TMC in political campaigns were injured in the attack. Sushmita Dev, who is overseeing the Trinamool Congress's activities in Tripura, alleged the BJP was behind the attack.
Dev was with employees of Indian Political Action Committee or I-PAC, a political public relations and consultancy firm, when the attack happened. Political strategist Prashant Kishor and I-PAC had worked with Chief Minister Mamata Banerjee's party for the West Bengal assembly election earlier this year.
Visuals show a blue SUV with the Trinamool Congress's election symbol and loudspeakers on the roof dented with multiple hits.
"Today, when we just sat in our campaign car, four to five men suddenly came from behind, wearing Tilaks on their foreheads. They attacked our workers from behind," Dev was quoted as saying by news18.com after the incident.
"The way they attacked us; it was clear that they were backed by the Bharatiya Janata Party, and the Police. They are scared, that's why they are doing this. Police personnel were standing nearby and did nothing to avert the incident," she said.
Abhishek Banerjee also attacked the saffron party in a tweet, saying "under @BjpBiplab's #DuareGundaRaj, attack on political opponents is setting new records!"
"Physically manhandling a sitting female Rajya Sabha MP, @SushmitaDevAITC is BEYOND SHAMEFUL & POLITICAL TERRORISM by @BJP4Tripura goons!" he said, adding that the people of Tripura would answer, as the "time was near".
However, the BJP rubbished the reports. "Sushmita Dev is seeing the BJP attack everywhere. They do all these things in Bengal," said Bengal BJP MP Arjun Singh.
The TMC is set to contest the upcoming civic body elections in Tripura. Dev is overseeing the party activities in the state, and had said on Thursday that a final strategy will be formulated once the elections are declared.
Dev had announced that the party would on Friday launch a campaign — "Tripurar Jonno Trinamool" (TMC for Tripura) — to reach out to the people of the state.
"The campaign will continue for 10-12 days, covering all 60 assembly constituencies in 58 blocks of eight districts. We will go to the people, interact with them and listen to their problems. Three teams have been formed for the campaign," she had said.