Time has come for farmers to run the country, says KCR at party's first national rally
Why there is scarcity of water in Maharashtra? Who is responsible for it? Think over it: K Chandrasekhar Rao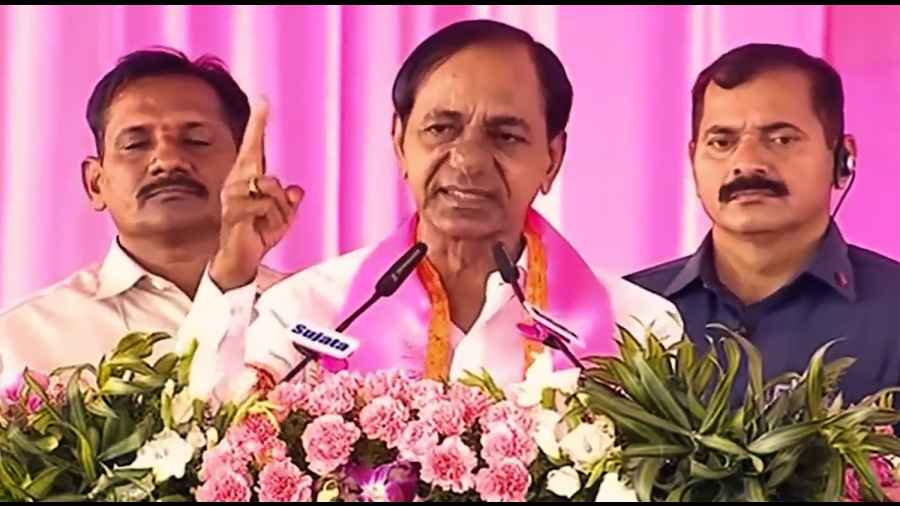 BRS President and Telangana Chief Minister K. Chandrashekar Rao addresses party joining meeting, in Nanded
PTI picture
---
Nanded (Maharashtra)
|
Published 05.02.23, 04:34 PM
|
---
Invoking the prominence of Chhatrapati Shivaji, Telangana Chief Minister and BRS President K Chandrasekhar Rao on Sunday said his party will take a pledge at Shivneri, the erstwhile Maratha ruler's birthplace, to form a government for farmers' welfare in the country.
Addressing Bharat Rashtra Samithi's (BRS) first public meeting outside Telangana at Nanded in Maharashtra, he said within 10 days, the BRS' party vehicles will go to every village in all 288 Assembly constituencies in the western state to form farmers' committees.
"We will visit the birthplace of Chhatrapati Shivaji Maharaj at Shivneri, take blessings and pledge for making a farmers' government. The process to make farmers' committees in entire Maharashtra will begin," he said, delivering his speech in Hindi.
Leaders belonging to various political parties joined BRS and KCR, as Rao is known as, welcomed them by offering pink scarves.
"Within a few days, BRS party work will start in Maharashtra. Within eight to 10 days, BRS vehicles will come to the villages in Maharashtra. All committees will be formed to gather strength to assemble farmers. In order to unite farmers in Maharashtra which has 288 Assembly constituencies, all 288 vehicles will start at once," he further said.
"I request you (farmers) to unite. I will also visit western Maharashtra, Vidarbha and north Maharashtra," Rao added.
Pointing out that Maharashtra has recorded the highest number of farmers' suicides in the country, Rao said that the time has come for peasants to take the reins of the country.
He said political parties and leaders are winning in polls but people are losing. When the next elections happen, Rao opined that the people and the farmers should win as that would be a solution to "our problems".
"That's why BRS slogan is 'Abki ki baar, kisan sarkar' (This time around, a government for the farmers). If we unite, it is not impossible. In our country, farmers constitute more than 42 per cent and if the number of farm labourers is also added to that it will be more than 50 per cent which is sufficient to form government," Rao said.
"India is a country of intellectuals and not fools. When the Emergency was imposed in the country (in 1975), during that time on a call given by 'Loknayak' Jayaprakash Narayan, (socialist leader of the anti-Emergency movement), the entire country got united and rejected the great leaders of that time. Today, the time has come. 75 years is a long period. Farmers should also be able to write and make rules. You have to make 'kisan sarkar'," he said.
There are several rivers like Krishna and Godavari flowing in Maharashtra. Even then, why is there water shortage in Maharashtra, he questioned.
"Why there is scarcity of water in Maharashtra? Who is responsible for it? Think over it. Congress ruled the country for 54 years and BJP ruled for 16 years. These two parties are 'kasooravaar' (guilty). I want farmers' suicides to stop. If a farmers' government is formed then water problem for drinking and irrigation will be solved," Rao, popularly known as KCR, said.
On the BJP-led NDA government's 'Make in India' initiative, Rao said it has become 'Joke in India'.
"There are China bazaars in every street (in the country). Where has Make in India gone? Why China bazaars, there should have been Bharat bazaar. What is happening in the country? Think over it".
He further said if BRS comes to power, the Telangana government's flagship Dalit welfare scheme 'Dalit Bandhu' (grant of Rs 10 lakh to each household) would be implemented across the country with 25 lakh households per year and also Telangana's 'Rythu Bandhu' (for the welfare of farmers) will be implemented throughout the country.
"After learning about the country's situation, we took a decision to work at the national level. BRS party was formed recently. We are getting support from all over the country," he added.
Rao said even after 75 years of the country's independence and after so many governments and Prime Ministers and Chief Ministers at the helm, the country faces drinking water problem, irrigation woes and power shortage, he said.
After his arrival from Hyderabad earlier, Rao along with his daughter and BRS MLC K Kavitha, Telangana Minister for Endowments Indrakaran Reddy and some senior leaders of the party accompanied Rao and offered prayers at a gurudwara in Nanded.