'We won't return until our demands are met'
Tikait issues October 2 deadline as 'chakka jam' ends
Protests at UP, Uttarakhand called off due to tip-off regarding miscreants, says BKU leader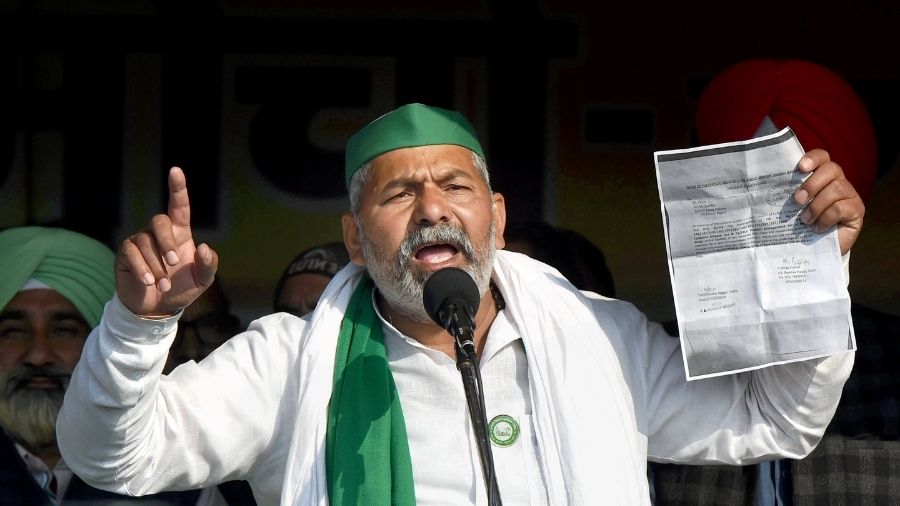 Rakesh Tikait addresses a gathering after the 'chakka jam', on Saturday, at the Ghazipur border.
PTI
---
New Delhi
|
Published 06.02.21, 06:25 PM
|
---
As a three-hour "chakka jam" enforced by farmers came to an end, Bharatiya Kisan Union (BKU) leader Rakesh Tikait declared that peasants protesting against the agri laws would stay put at Delhi's borders until their demands were met, and would not be coerced into holding talks with the Centre.
Addressing a gathering at the Ghazipur border, Tikait issued an ultimatum to the Centre. He said their protest would be extended till October 2, by which time Centre would have to repeal the "black laws". If the government failed to comply, farmers' unions protesting against the three agriculture laws would chalk out further plans.
"We won't return home unless our demands are met," Tikait said, adding, "We have given time to the government till October 2 to repeal the laws. After this, we will do further planning. We won't hold discussions with the government under pressure."
Interacting with the Press, he claimed a few inputs had been received regarding some miscreants trying to disrupt peace during the "chakka jam" that was announced for 12 noon to 3 pm on Saturday.
"Because of these inputs, we had decided to call off the "chakka jam" in Uttar Pradesh and Uttarakhand," the 51-year-old leader, credited with reviving the farmers' stir, said.
Amid a stringent security set up installed around the Ghazipur protest site, the farmer leader, flanked by his supporters, also interacted with Delhi Police officials.
"Nobody can touch our farmland, the farmers will protect it. Both farmers and soldiers should come forward for it," Tikait said.
Interacting with security personnel who were on the other side of the barricades, he said, bowing his head and folded hands, "My pranaam (a respectful salutation) to you all. Now you all will protect my farms."
During Saturday's agitation, farmers parked their tractor-trailers in the middle of roads and raised slogans against the Centre in Punjab and Haryana.
Women took part in the stir in a sizable number at several places.
Police had stepped up security and had made all arrangements for traffic diversions, said officials, adding adequate security personnel were deployed in Punjab and Haryana.
Several highways, including the Chandigarh-Zirakpur, Amritsar-Pathankot, Tarn Taran-Kapurthala, Ferozepur-Fazilka, Muktsar-Kotkapura, Bathinda-Chandigarh, Ludhiana-Jalandhar, Panchkula-Pinjore, Patiala-Kaithal, Jind-Karnal, Karnal-Kaithal, Ambala Chandigarh Highway, Ambala- Hisar and Mansa-Sirsa were blocked by the protesting farmers.
Protests were also held at Shambhu near Ambala and at many toll plazas in both states.
Protesting farmers said ambulances and school buses were allowed during the ''chakka jam''.
Bharti Kisan Union (Ekta Ugrahan) general secretary Sukhdev Singh Kokrikalan said they blocked roads at 33 places in 15 Punjab districts, including Sangrur, Barnala and Bathinda.
Farmers carried placards with slogans Jai Jawan, Jai Kisan and Kisan Ekta Zindabad. They also raised slogans against the Centre for not acceding to their demand of repealing the farm legislations.
"The government should repeal the three laws as they are not in the interest of the farming community," said a protester at the Shambhu border.
From morning, Delhi Police intensified security at all border points of Delhi, deploying thousands of personnel, including paramilitary forces, to deal with any situation emerging out of the nationwide "chakka jam" 
Forces were deployed at important junctions across the national capital, including Red Fort and ITO, which witnessed violence on January 26 during the tractor parade by the protesting farmers. Police also used drone cameras to keep a tight vigil at protest sites. Multilayered barricades, barbed wires and nail-studded roads at the protest sites were also part of the police precautionary measures.
Around 50 people were detained near Shaheedi Park in central Delhi on Saturday for allegedly holding a protest in support of Saturday's movement, police said.
The Delhi Metro Rail Corporation temporarily closed 10 stations on Saturday morning, which were reopened after the protests ended.
In the evening, the DMRC tweeted that entry and exit gates of all 10 metro stations closed in view of "chakka jam" had been reopened, and normal service had resumed.