Theatrics charge as Mehbooba Mufti cries
Mehbooba making a desperate bid to retain her party's hold on south Kashmir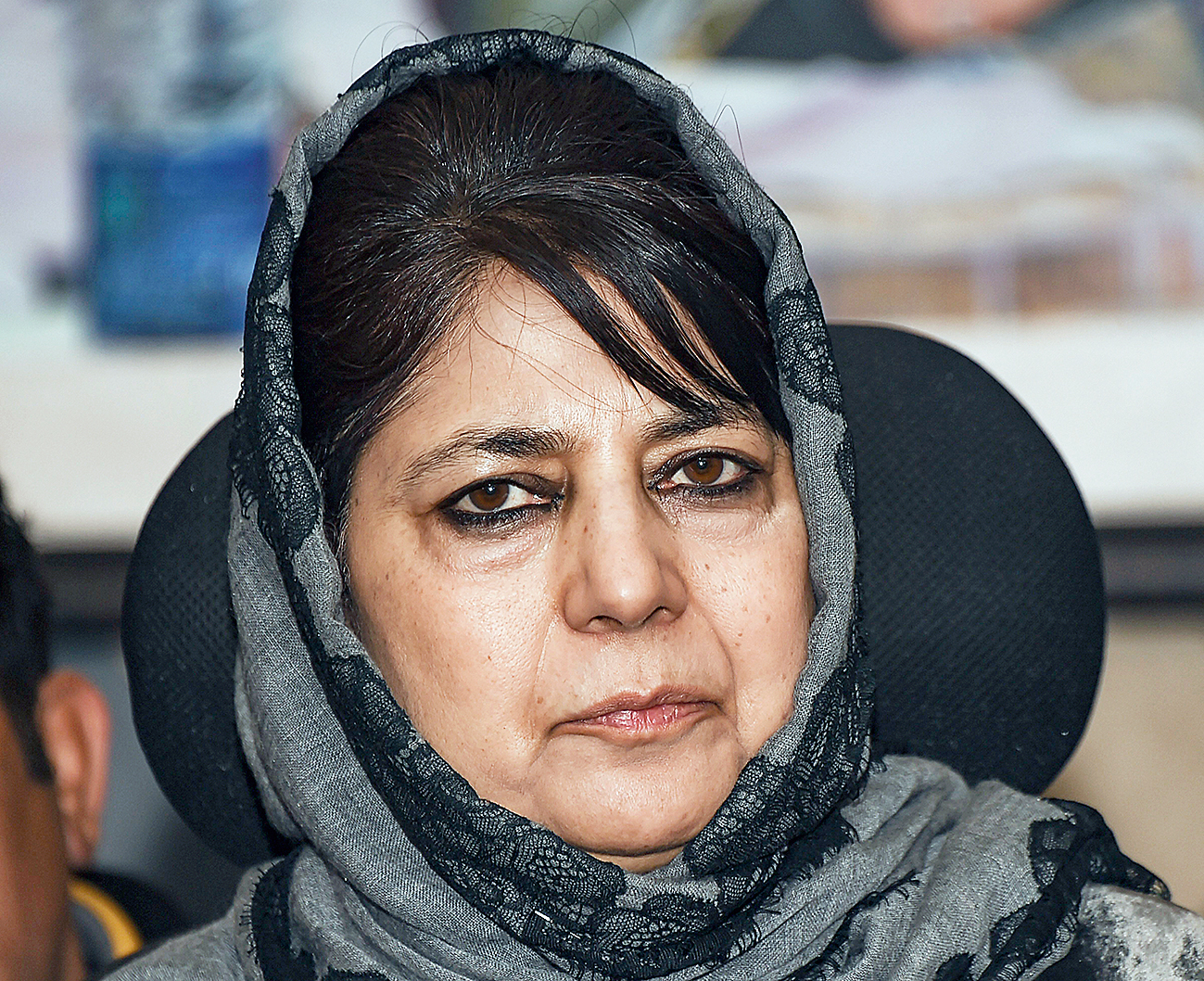 ---
|
Srinagar
|
Published 20.04.19, 02:41 AM
---
Mehbooba Mufti cried inconsolably during a PDP workers' meeting in Pahalgam while claiming that her party's decision to join hands with the BJP was for the good of Kashmir, falling back on what her critics say is theatrics before facing elections from Anantnag in four days.
Tears have been one of People's Democratic Party president Mehbooba's biggest strengths in her ascendancy to power in Jammu and Kashmir, for which many of her baiters have called her Rudaali (professional mourner).
Mehbooba has publicly broken down many times in the past, but never during her tenure as chief minister. As chief minister, Mehbooba followed an iron-fist policy against pro-azadi stone-throwers, once infamously justifying the use of force by suggesting that such protesters were hit by pellets and bullets because they didn't go to army camps to buy milk and toffees but to throw stones. She later apologised.
On Friday, a video surfaced on social media of Mehbooba shedding copious amounts of tears at a closed-door meeting with PDP workers in south Kashmir's Pahalgam.
She is seen lamenting that people did not understand that her party's tie-up with the BJP to run the state government was for the good of Kashmiris.
"Why could people not understand my father? Why could they not understand that he made such a big sacrifice and shook hands with acid, joined hands with the BJP to bring Kashmiri youths out of misery? Why can't people understand that?" she said, crying profusely.
The PDP president said that when her father, Mufti Mohammad Sayeed, passed away in 2016, the only thing on his mind was the Kashmir problem and the interests of Kashmiris.
"(He would ask) what (Prime Minister Narendra) Modi had done with (regard to Pakistan). He would ask whether the Rs 80,000 (crore) package for floods had been released (by the Centre). This was his concern on (death) bed, but unfortunately people here do not understand it," Mehbooba said.
"These are the regrets I have and this is why I (cry)," she added.
Sayeed allied with the BJP in 2015 to form the government in the state, marking a U-turn from his stand that the PDP alone could withstand the BJP onslaught in Jammu and Kashmir.
The decision to side with the BJP angered many in Kashmir, and Mehbooba is now making a desperate bid to retain her party's hold on south Kashmir, which would be the launch pad for the revival of her party's fortunes in the state.
In the video, Mehbooba is seen urging her workers to re-strengthen the party that was founded by Sayeed. She said she was not weak, but people's apathy was making her cry.
"Otherwise I am the daughter of that father who fought Sheikh Mohammad Abdullah with his bare hands. Today you are with me, who was with him then?" she said, crying.
Sayeed spent decades with the Congress and during his association with the party the state saw much of the erosion of the autonomy it enjoyed before 1953. Mehbooba did not explain whose interests Sayeed had been serving while fighting Abdullah, who spearheaded the campaign for azadi from 1953 to 1975.
Mehbooba's supporters, who are not seen in the video, try to console her by raising slogans in her favour.
"In your name Baaji," someone shouted. "We sacrifice our lives," others chorused.
"Mufti sahib has left a party whose sole agenda is to resolve the Kashmir issue. So by strengthening the party, you are giving relief to the soul of Mufti sahib," Mehbooba said.
On social media, many of her critics said Mehbooba had one again taken recourse to theatrics to win the election and asked why she had no words of empathy for Kashmiris when she was in power.
"Please forgive me for getting emotional," she is heard saying in the video while concluding her speech.
Anantnag will vote in three phases from April 23 to May 6.