Anantnag test for Mehbooba
Mehbooba is pitted against the National Conference's Hasnain Masoodi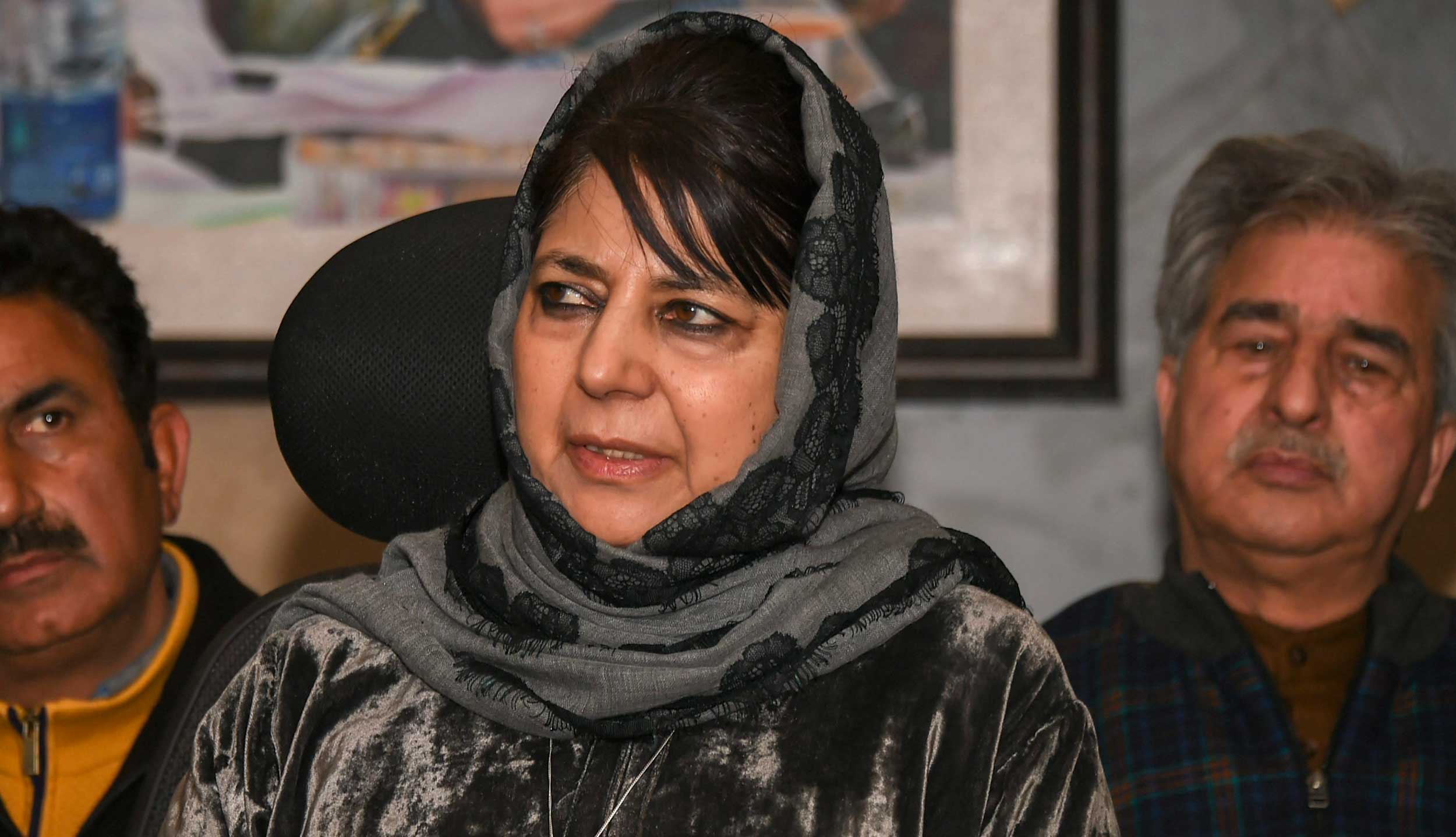 Mehbooba Mufti addresses a press conference, in Srinagar, on Saturday.
(PTI Photo)
---
Srinagar
|
Published 23.03.19, 08:50 PM
|
---
People's Democratic Party president Mehbooba Mufti will contest the general election from the volatile Anantnag parliamentary seat, a decision many view as a desperate attempt to revive her party's fortunes.
The party has left two Jammu seats free for "secular forces" — an obvious reference to the Congress — to keep the chances of any future alliance open.
Mehbooba's popularity is down because of her party's now-revoked alliance with the BJP to form the state government, and her iron-fist policy as chief minister that left dozens of pro-azadi protesters dead and thousands injured.
But since the BJP dumped her last June, Mehbooba has been making the right noises. She hit the streets against the recent ban on the separatist Jamaat-e-Islami, with which her party is believed to have a secret alliance.
Mehbooba is the second senior politician from the state to join the poll fray after National Conference president Farooq Abdullah, who is contesting from Srinagar.
The National Conference has an alliance with the Congress in three of the six parliamentary seats in the state, including Jammu and Udhampur in the Jammu region. The two parties will have "friendly" contests in the three remaining seats.
Mehbooba told reporters on Saturday that her party would not contest from Jammu and Udhampur to avoid dividing the secular vote. The move is being seen largely as a signal to the Congress that the PDP is open to a future alliance.
While the decision gives the Congress an advantage by preventing a further division of Jammu's Muslim vote, it is unlikely to be enough for the party to win the two seats.
Mehbooba had won from the Anantnag parliamentary seat in 2014 but vacated it in 2016 after her father's death so that she could take over the reins of the state.
No by-election could be held in Anantnag, though, because at no time during the past three years did the Election Commission find the situation in the constituency conducive for polls.
Most voters might boycott the upcoming election in the constituency, which will be held in three phases reflecting how volatile south Kashmir remains.
Mehbooba is pitted against the National Conference's Hasnain Masoodi, a former high court judge known for his pro-azadi sympathies.