A reality check on MSMEs, jobs, economy
The business of speaking out when few others do
Out of 7 crore entrepreneurs, MSMEs, 30 per cent are almost dead, K.E. Raghunathan tells Rahul Gandhi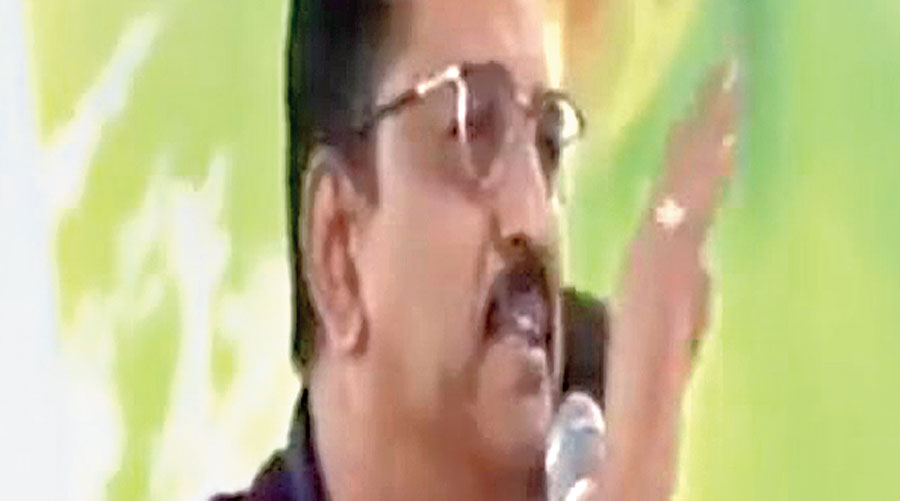 KE Raghunathan
Sourced by The Telegraph
---
Chennai
|
Published 24.01.21, 03:42 AM
|
---
An industrialist has uttered in public what Arnab Goswami would hear out in private but did not dare declare from his TV pulpit. "Out of 7 crore entrepreneurs, MSMEs (micro small and medium enterprises), 30 per cent are almost dead. What is 30 per cent? 2.1 crore…. That 2.1 crore give jobs for almost 20 crore people. They are not bothered," K.E. Raghunathan told Rahul Gandhi at an interaction in Coimbatore, Tamil Nadu, on Saturday. "We are seeing only the balance 60 per cent and saying 'greenshoots'. I am seeing shooting myself as an entrepreneur. How are we progressing?
What answer will I give to my children?" added Raghunathan. "You are the only voice for us. Don't forget it," he told Rahul.
Raghunathan is the convener and spokesperson for the Consortium of Indian Associations that he said represents over 3.5 lakh industrial units.
Since the lockdown was gradually eased, the Modi government has been claiming to have spied "greenshoots" of recovery on an otherwise bleak economic landscape. Few industrialists, barring Rahul Bajaj, have voiced so bluntly the concerns of industry although many businessmen and corporate chiefs are known to be candid, if not withering, in private and all praise for the government in public.
The double standard was on display last week when purported WhatsApp chats between Republic TV managing director Goswami and the then BARC chief Partho Dasgupta became public.
In one set of chats on the eve of the 2019 general election, a purported message from Dasgupta tells Goswami: "NM/AS should first rejig finance ministry in the second term — the economy is screwed — no matter what we tell outside."
Goswami, usually quick on the draw to duel on behalf of the Modi regime, did not only not challenge Dasgupa but agreed "totally" with the ratings boss that Arun Jaitley, the then finance minister, was "their biggest failure".
In Coimbatore on Saturday, Raghunathan, who came from Chennai for the programme, did not pull any punches when his turn to speak came.
"What are we witnessing today in this country? We moved from Skill India to Digital India to Make in India to Atmanirbhar now. And finally ended where? Fund India. What is Fund India? FDI… asking others to give us money," he said, drawing applause from the rest of the audience.
As high as 98 per cent of these industries are micro units, which he defined as small businesses run by groups of self-employed people with an annual turnover of less than Rs 5 crore. But today, the dreams of the start-ups are "shattered", he said, adding: "We are losing them."
Asserting that micro industries were not on an equal footing with small and medium industries, Raghunathan said a separate ministry for micro enterprises was a must.
He put in a nutshell the key problems being faced by entrepreneurs: "3M" or lack of "money, manpower and material".
"Banks are chasing us, the NBFCs (non-banking finance companies) are chasing us," said Raghunathan.
The MSMEs were left high and dry after the economy was rocked by the Covid-19 pandemic as banks were reluctant to lend to borrowers whose fortunes had turned uncertain. The Centre announced a collateral-free loan scheme for MSMEs as part of the Atmanirbhar package  and the initial plan was to limit it to 45 lakh units.
Raghunathan  is basically complaining that the MSME universe has more than 7 crore establishments and the provision of collateral-free credit to 45 lakh borrowers would only scratch the surface of the problem.
The MSMEs provide large-scale employment in the country and their survival is crucial to tackling unemployment  — a problem that the Modi has failed to address in the six and a half years he has been at the helm of the Union government.
Raghunathan later told The Telegraph over the phone that he had taken part in the interaction "to draw the attention of the government to these burning issues".
"Rahul Gandhi is a national leader who can understand the gravity of the situation," he said.
Raghunathan, former president of the All India Manufacturers Organisation, added: "Rahul gave me a patient hearing and, during lunch, told me that he was touched by my statement. Entrepreneurs cannot cry openly, for if they did, nobody will give business. But everybody is crying today."