J&K: Fearing killings, Pandits flee from Valley
Militants shot dead Dalit teacher Rajni Bala at a school in Kulgam on Tuesday, prompting employees from the community to demand relocation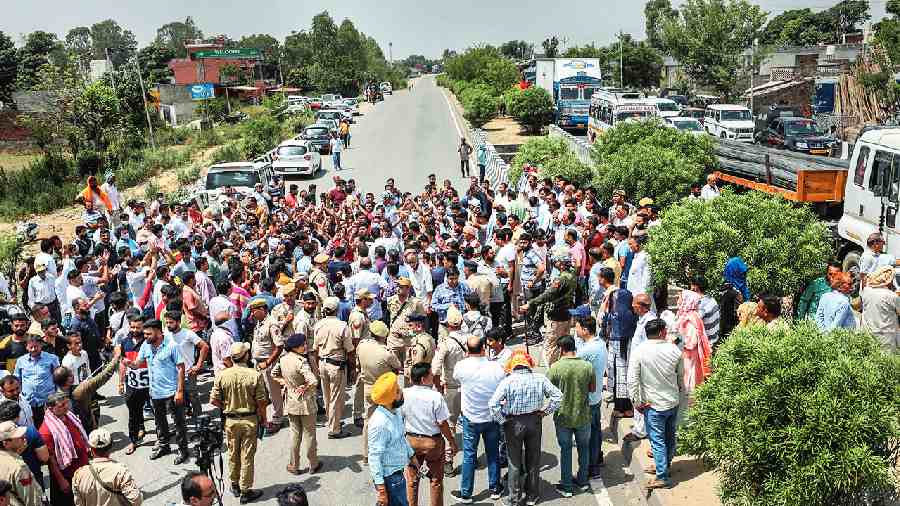 The Teachers Association of Jammu and Kashmir blocks the Jammu-Pathankot highway in Samba to protest the killing of teacher Rajni Bala.
PTI
---
Srinagar
|
Published 02.06.22, 02:27 AM
|
---
Some Kashmiri Pandits have fled the Valley in fear after targeted killings by militants over the past month, with the Jammu and Kashmir administration locking down several Pandit colonies to avert a fresh exodus.
Pandit leader Avtar Krishan Bhat, who lives in the Veervan transit camp in Baramulla, said nearly half of 300 Pandit families had fled to Jammu from the colony and more planned to leave.
"Many of them fled yesterday. There was a curfew-like situation at the camp today to prevent more families fleeing. Some 300 to 350 families are here now," Bhat, member of a body representing migrant Pandit employees, told The Telegraph.
Militants shot dead Rajni Bala, a 36-year-old Dalit teacher, at a school in Kulgam on Tuesday, prompting Pandit employees to demand relocation to Jammu.
A teacher from a government school confirmed to this newspaper that he was among more than a half-dozen teachers who fled from Baramulla to Jammu on Tuesday.
"We jointly decided to leave. Moments after the killing (of Bala) we received distress calls from our children in Jammu saying we should leave. We resisted initially but it was a compulsion rather than a choice," he said.
The teacher said: "We later heard that several others from the camp too had fled."
On Wednesday, the administration confined many Pandit employees to their transit colonies, including the one at Baramulla, by deploying large police and paramilitary contingents at their entrances and setting up barricades. The restrictions were eased later in the day.
The departures are an embarrassment for the government, which has filled 5,928 of the 6,000 posts set aside for Pandit migrants in Kashmir under a rehabilitation package and claims its policies have turned the Valley safe for the community.
But thousands of these Pandit employees are up in arms against the administration for failing to protect them from militant attacks.
The protests began around three weeks ago when militants killed Pandit employee Rahul Bhat at his office in Chadoora, Budgam. Tensions flared again on Tuesday after Bala's murder.
Pandit leader Sanjay Safaya, who lives in the Sheikhpora migrant colony in Budgam, said Pandits were confined to their colonies in Ganderbal, Baramulla and the Indra Nagar locality of Srinagar.
"There were no such restrictions at our colony but some other places were locked. It was done presumably to prevent people leaving," Safaya said.
A video showed some Pandits approaching truckers in south Kashmir to negotiate rates for their transport to Jammu.
A Pandit employee said he and others would leave for Jammu on Thursday morning if the government failed to take a decision by Wednesday evening on relocating them.
People's Democratic Party spokesperson Harbaksh Singh, who lives in the Sheikhpora colony, said the government was trying its best to dissuade the Pandits from leaving.
"I believe they should not leave; this Valley belongs to all. But this can only happen if they are safe, and I cannot guarantee their safety," Singh told this newspaper.
"There is no doubt that all the employees at my colony want to leave. Protests began the day Bhat was killed. People here are too scared to venture out. For around 10 days, parents would not send their children to school; even today, around 30 per cent parents (are not sending their children to school)."
Singh said the killings were a rebuff to those who had claimed the August 2019 scrapping of Article 370 provisions would bring peace and development.
"A narrative was built that Article 370 was a hurdle to the restoration of peace and to development. We always believed this was not the case. They (the BJP) have completely failed," he said.
Bala was the seventh person in Kashmir killed by militants in targeted attacks last month. Three — two Jammu Dogras and a Kashmiri Pandit — were Hindu and the remaining four — three off-duty policemen and TV artiste Ambreen Bhat — were Muslim.
Congress leader Rahul Gandhi posted a tweet on Wednesday criticising the government for the continuing bloodshed in the Valley.
"In Kashmir, 15 security personnel have been martyred and 18 civilians have been killed in the last five months. Yesterday, too, a teacher was murdered," he wrote in Hindi.
"Kashmiri Pandits have been on a dharna for the last 18 days but the BJP is busy celebrating its eight years (in power). Prime Ministerji, this is not a film but it is the truth of Kashmir today."
Delhi chief minister Arvind Kejriwal compared the situation with the early 1990s and claimed Pandits were being killed in their homes and offices and on the roads.
"It's against humanity and the country but no one is doing anything to stop it," he said.
Kejriwal asked whether locking Pandits in their colonies was a just act.