Taj Mahal evacuated after bomb hoax call
Vimal Kumar Singh, who had made the call, told the media that he had come to know from someone that an explosive had been planted at the monument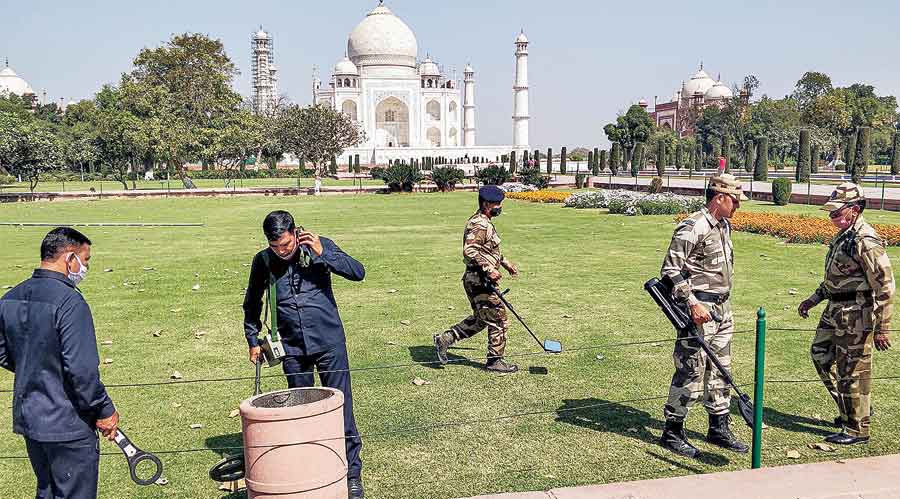 Security personnel scan the premises of the Taj Mahal on Thursday
PTI
---
Lucknow
|
Published 05.03.21, 12:31 AM
|
---
Hundreds of tourists were evacuated from the Taj Mahal premises on Thursday morning after police received a bomb call that later turned out to be a hoax.
"We were in the lawn of the Taj Mahal when a large number of policemen, Central Reserve Police Force personnel and bomb disposal squad members rushed in and announced that the two entry gates of the mausoleum would be closed for some reason and that the tourists were expected to leave the premise immediately," a tourist guide, who didn't want to be named, told reporters.
"We rushed out of the monument and kept waiting outside as CISF officers had told us that we would be allowed
to enter again after sometime. They finally told us around 11.30am that we could reenter the premise," the guide
added.
A. Satish Ganesh, inspector-general of the Agra zone, said: "We traced the caller to the Nakhi area of Firozabad and identified him as Vimal Kumar Singh, age 30. Police teams are interrogating him and trying to find out why he made the hoax call. Initial reports suggest that he is not of sound mind and is under the treatment of a psychiatrist."
Singh, who had made the call on 112, a police emergency number, told the media in Firozabad after his arrest that he had come to know from someone that a bomb had been planted at the Taj.
"I alerted the police after I came to know from somewhere that there was a bomb at the Taj Mahal," Singh said in Firozabad, 45km east of Agra.
However, a relative said on the condition of anonymity that Singh was unhappy with the government because of a delay in recruitment to the Indian Army.
"A recruitment test for the post of jawans in the Indian Army, to be held in Agra, had been postponed. He was angry. He is mentally unwell," the relative said.