Survey to continue at Gyanvapi mosque, orders Varanasi court
The induction of local lawyers raises the membership of the commission from 36 to 38 and gives Hindus a 20-18 majority on the panel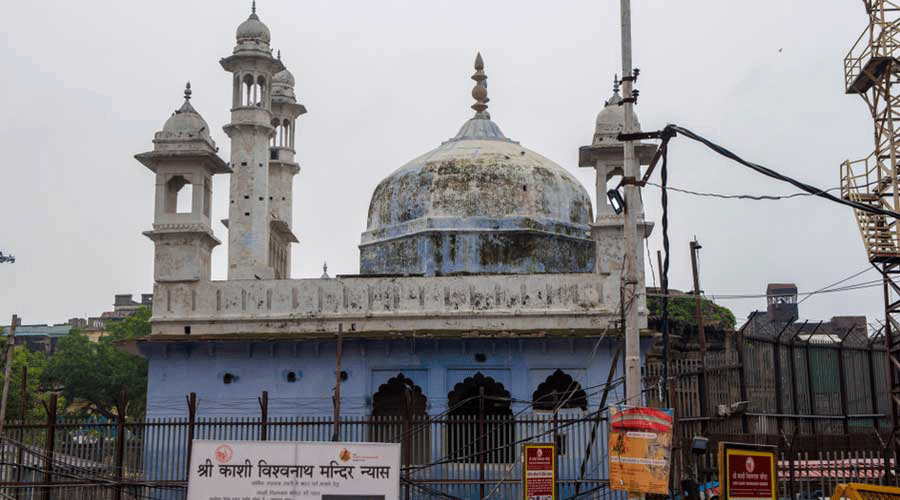 The mosque committee members had said the survey was to be confined only to the Shringar-Gauri.
File photo
---
Lucknow
|
Published 13.05.22, 12:41 AM
|
---
A civil judge in Varanasi on Thursday asked a court-appointed commission to resume its survey and videography of the Gyanvapi mosque premises in connection with Hindu petitioners' plea for round-the-year worshipping rights at a structure called the Shringar-Gauri on the compound.
Civil judge (senior division) Ravi Kumar Diwakar — who had on May 7 dismissed the mosque management committee's plea to remove the survey commission's head, "advocate commissioner" Ajay Mishra, on grounds of bias — on Thursday appointed two more commissioners.
The induction of local lawyers Vishal Singh as special court commissioner and Ajay Pratap Singh as assistant advocate commissioner raises the membership of the commission from 36 to 38 and gives Hindus a 20-18 majority on the panel.
The survey had begun on May 6 but, after the May 7 court order retaining Mishra as panel head, alleged resistance from local Muslims had prevented the continuation of the exercise. The court has now said the survey and report must be completed by May 17 and directed the administration to provide all help.
A lawyer for the mosque committee, speaking on the condition of anonymity, said: "The court didn't ask us anything. Appointing two new commissioners is not going to solve the dispute. Is there any justification for not appointing any Muslim lawyer as one of the court commissioners? We have to read the order properly and take a decision in a day or two."
Members of the mosque committee had accused Mishra and other Hindu members of the commission of damaging the mosque walls and seeking to survey the underground storeroom, apparently to establish a Sangh parivar theory of a temple's ruins lying underneath.
The mosque committee members had said the survey was to be confined only to the Shringar-Gauri. However, the Hindu side claimed the survey and videography was to cover the entire mosque premises.
An independent lawyer told this newspaper that Thursday's court order did not clear the point up.
A Hindu lawyer said the survey might resume on Friday.
Originally, the commission included the six Hindu petitioners and eight of their lawyers, six mosque committee members and eight of their lawyers, and eight independent lawyers, four of them Hindu and four Muslim.