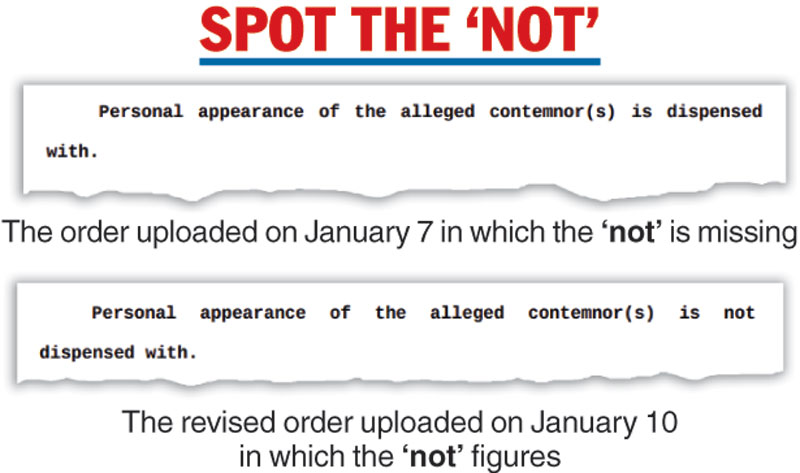 The Telegraph
However, a few hours earlier, a bench of Justices R.F. Nariman and Vineet Saran had directed the personal presence of Ambani in the contempt proceedings. Under the Contempt of Court Act, a person against whom proceedings have been initiated has to appear in person unless the court in its discretion chooses to dispense with the requirement.
On January 10, after Ericsson representatives pointed out the discrepancy, a revised order was uploaded. "Personal appearance of the alleged contemnor(s) is not dispensed with," the revised order said.
Accordingly, Ambani, who is also battling the Rafale controversy, was present in the court on February 12 and on February 13 in connection with the contempt proceedings. He spent over two hours in the court on Tuesday and almost the whole day on Wednesday.
The omission of the crucial "not" in the first order was not viewed as accidental, sources said.
Justice Gogoi, who is also the administrative head of the Supreme Court, and Justice Nariman, who heads the two-judge bench, had taken serious note of the development, the sources added.
The initial order was uploaded without informing the two judges on the bench, the sources said. When lawyers representing Ericsson brought it to the notice of Justice Nariman, the revised order was uploaded.
The sources said the inquiry was being held "to get to the root of the entire issue" and identify all those responsible for the alleged tampering of the judicial order. Some lawyers are also under the scanner.
Ericsson India had entered into an agreement in 2014 to operate RCom's telecom services for a fee.
The Supreme Court on Wednesday summarily dismissed two court officials for allegedly tampering with an uploaded judicial order that erroneously created an impression that industrialist Anil Ambani had been exempted from personal appearance in a contempt case.
The court exercised extraordinary powers under Article 311 of the Constitution to dismiss the court masters, Manav Sharma and Tapan Kumar Chakraborty, who held the rank of assistant registrars. Court masters are responsible for taking down all orders dictated in the open court or in the judges' chambers.
Chief Justice of India Ranjan Gogoi took the decision late on Wednesday evening and signed an official order dismissing the two officials after a preliminary inquiry suggested tampering.
Sources told The Telegraph that the Chief Justice also relied on Section 11(13) of the Supreme Court which empowers the top judge to dismiss an employee under "extraordinary" circumstances without resorting to normal disciplinary proceedings.
On January 7, the order that was uploaded on the Supreme Court website said the "personal appearance of the alleged contemnor(s) is dispensed with", meaning Ambani's presence was not required, in a contempt case filed by Ericsson India. The telecom firm has moved court for dues of Rs 550 crore from Ambani's Reliance Communications (RCom).