Supreme Court plea on Ayodhya land an election ploy, say opposition
Attempt to exploit Ram temple issue to divert attention from govt failures: Congress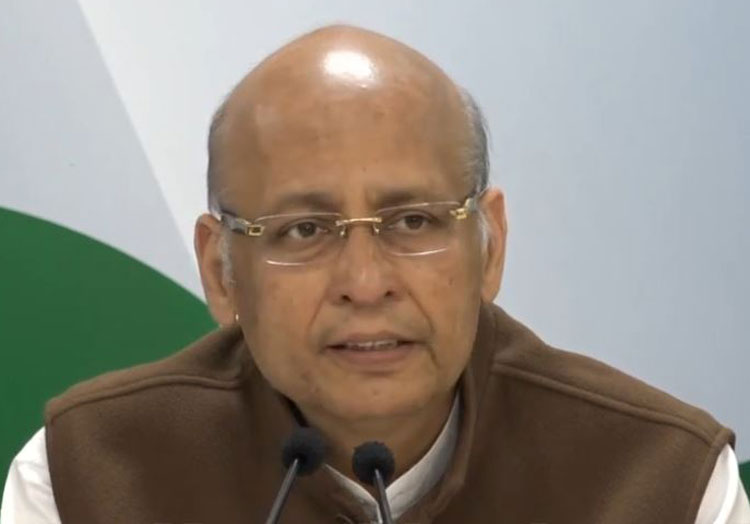 Congress spokesperson Abhishek Singhvi at a press briefing on Tuesday.
Source: @DrAMSinghvi
---
New Delhi
|
Published 29.01.19, 09:43 PM
|
---
The Congress and the CPM on Tuesday described the Modi government's Ayodhya application in the Supreme Court as a move aimed at appeasing the Sangh parivar.
The Congress chose to steer clear of the subject and reacted only when asked by the media, while the CPM politburo issued a statement saying the government's plea was another act "orchestrated keeping the impending Lok Sabha elections in mind".
The Congress, too, saw this as an election-driven effort to exploit the Ram temple issue in every possible manner to divert attention of the voters from the government's failures.
For the record, the Congress was reluctant to get embroiled in the controversy, contending that it is between the Supreme Court and the applicant and there is no need to have an opinion on this.
However, to persistent questions, spokesperson Abhishek Singhvi said: "On January 29, 2019, an application — not even petition — has been moved with a prayer for modifying the order passed by the Supreme Court on March 3, 2003. The SC order says there will be status quo on all the land till the title suit is decided."
He added: "We have nothing to do in the matter. It is for the Supreme Court to take a view why a modification is being sought after 16 years, that too three months before the general election."
In its statement, the CPM said that through the application, the government wants to hand over the land to the Ram Janmabhoomi Nyas that had been set up by the VHP to undertake the construction of a Ram temple at the site.
The CPM too recalled that in 1993, the Supreme Court had ordered that the status quo be maintained on 67 acres that had been acquired.
"This move by the Centre is clearly aimed at appeasing the Sangh parivar which is demanding immediate construction of the temple at all costs. Obviously, all
these moves are being orchestrated keeping the impending Lok Sabha elections in mind," the statement said.
An advocate representing a Muslim body in the Ayodhya land case dubbed the Centre's move as a "political stunt" and questioned the delay of almost 16 years in seeking modification of the apex court's 2003 order.
The advocate said on condition of anonymity: "What was the urgency to file such an application? Why do you want that order to be changed? It is all a political stunt."
He added that there was no need for such an application when the apex court had, on more than one or two occasions, and Allahabad High Court had favoured maintenance of the status quo on and around the disputed site in Ayodhya.