SC stalls plea against anti-CAA resolutions
The apex court said it didn't 'want to create more problems than solving'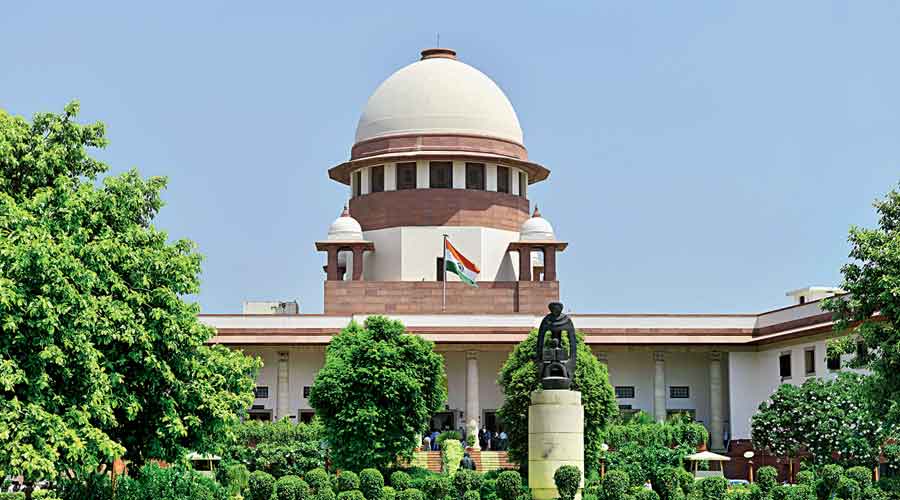 Supreme Court of India
File picture
---
New Delhi
|
Published 20.03.21, 12:48 AM
|
---
The Supreme Court on Friday desisted from entertaining a petition that questioned state Assemblies' right to pass resolutions denouncing central legislation such as the Citizenship Amendment Act, saying it didn't "want to create more problems than solving".
A bench headed by Chief Justice of India S.A. Bobde made the oral observation while asking senior advocate Soumya Chakraborty, appearing for Rajasthan-based NGO Samta Andolan Samiti, to research the subject more deeply and come back with a modified petition.
It said there was currently no authoritative pronouncement on state legislative assemblies' jurisdiction in such matters.
"There must be precedent. Check up and tell us. Do some research and let us know. We don't want to create more problems than solving," the bench, which included Justices A.S. Bopanna and V. Ramasubramanian, said.
However, the bench underlined that the resolutions did not ask people to disobey the law and wondered whether Assemblies could not even express their opinion.
"Create more problems" seemed an allusion to the widespread protests the citizenship amendment had triggered and the crises currently affecting the country, from the pandemic to the farmer protests.
The Assemblies of Kerala, Bengal, Punjab and Rajasthan had passed resolutions demanding repeal of the CAA.
In its petition, the NGO has assailed these Assemblies, singling out the Bengal House for passing another resolution recently denouncing the new farm laws.
The petition says the Assembly resolutions "were intended to incite unrest and disaffection among the citizens of the said states and beyond".
Chakraborty argued that under Article 194 of the Constitution, the state Assemblies had no locus or jurisdiction to pass laws or comment on subjects that fell within the Centre's jurisdiction.
He said the citizenship amendment was one such subject and read out from the Kerala resolution.
Justice Bobde asked: "Why can't such a resolution be passed? This is the opinion of members of Kerala Assembly. They have not asked the people to disobey the law. They have only requested Parliament to abrogate the law."
He added: "It is only an opinion expressed by the Kerala legislative assembly which has no force of law. Don't they have jurisdiction to express their opinion? They are not disobeying any law."
More than 60 petitions challenging the new citizenship act are already pending before the apex court, which has issued notices. But the matter has not come up for the past one year because of the pandemic-induced restrictions on the functioning of the Supreme Court.