Stranded, Delhi's migrant workers want trains not food
Roz kama ke khane wale hain. Ab bhooke thodi marenge yahan, says Harvesh with child in tow and baggage on her head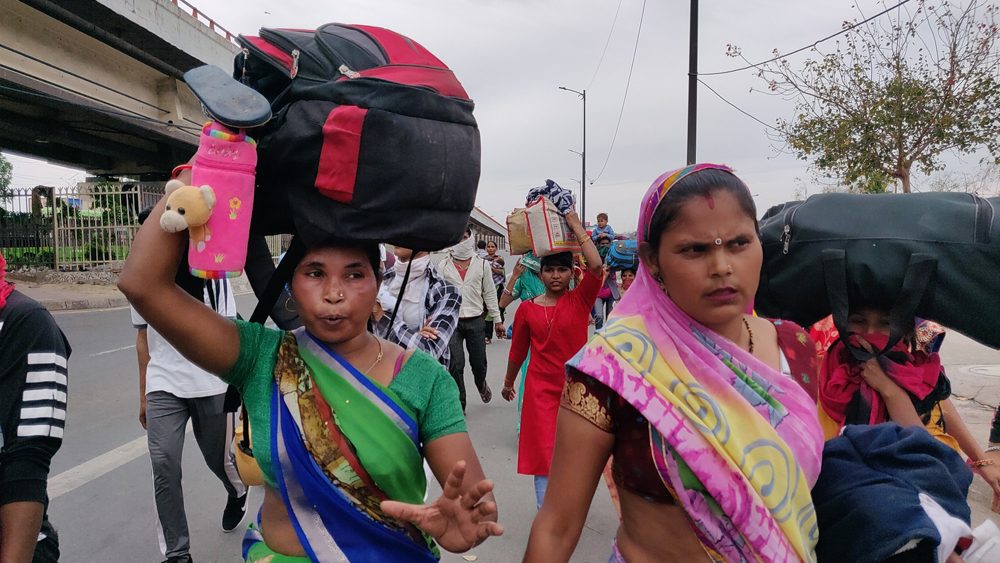 ---
---
Thousands of daily wagers, rendered jobless after the sudden announcement of nationwide lockdown on March 25, are returning to their home states, having been forced to make the perilous journey on foot as there is no public transport because of social distancing measures imposed to fight the coronavirus pandemic.
"Corona na maar rahi hai jo upar se sarkar maar dalegi (As if this coronavirus killing us wasn't enough that the government is killing us on top of that)," said Harvesh as she hurriedly walked with a child in tow and baggage on her head.
She, along with about 50 others, had left their neighbourhood of Garhi in south Delhi for their homes in Uttar Pradesh on Thursday.
"Roz kama ke khane wale hain. Ab bhooke thodi marenge yahan (We are daily wage earners. Now, we don't want to die of hunger here," she said.
Most came from villages near Aligarh, some 150km south-east of Delhi. Some would take a day to reach, while others would take two or three days to make it to their villages.
The men, they said, worked at construction sites while the women were mostly domestic helps.
Harvesh said they were restricted to their rooms for the past few days and alleged their landlords wouldn't let them out on orders from police.
"Corona na maar rahi hai jo upar se sarkar maar dalegi"

A migrant family decided to leave for their village in Aligarh on foot. They said that their landlords locked them up in their rented rooms#coronavirusindia #COVID2019 #21daysLockdown #migrantworkers pic.twitter.com/1buoHVfCsi

— فرقان أمین | furquan ameen (@furquansid) March 26, 2020
Anger over lockdown
On Thursday, the government announced a Rs 1.70-lakh-crore package ("Gareeb Kalyan Yojana") to alleviate the hardship of the poor hit by economic disruption caused by the coronavirus pandemic and the lockdown.
But how will their food requirements be met and direct benefit transfers happen remain to be seen.
On the roadside near Indirapuram in Ghaziabad, where an expressway is being constructed, two old men sat next to each other discussing how far they can make it before nightfall.
Both worked as thekedars (construction contractors) and were on their way to Badaun, about 250km from Delhi.
One of them, Prem Pal, estimated his age to be around 60 years.
"Hum ghar se aaye hain pardes aur yahan khane ko nahi mil raha hai… Modiji ne yeh socha hai, kisi gareeb aadmi ke liye, ki itne din ke liye band kar raha hun khane ka intezam dekhunga (We are here for work but there is nothing to eat… Did Modi think about the food requirements during the lockdown for so many days for the poor?)," said Pal.
He said that he was with his son and some other construction workers who were going to Badaun. Just like him, no one else had anything to eat or drink since morning. Pal said they were carrying onion and chapatti for the night.
60-year-old Prem Pal, a construction thekedaar, was walking to his home earlier today. He will walk more than 200 km to reach his family Badaun, UP because #21daysLockdown #coronavirusindia #COVID2019 #migrantworkers #wahmodijiwah pic.twitter.com/aIBbBz7CBD

— فرقان أمین | furquan ameen (@furquansid) March 26, 2020
Like any other city, migrant workers are the lifeline of Delhi. From market labourers and construction workers to domestic helps, around 20 lakh migrants live in Delhi.
But with the lockdown in force, employment opportunities have dried up, especially for daily wage workers.
Helpless
There are other migrants stuck in Delhi who can't even think of starting out on foot.
Old Delhi areas of Sadar Bazar, Chawri Bazar, Paharganj and many other places are crowded with stranded migrant labourers.
Many made a livelihood with hand carts; others lifted weights or did odd jobs to make ends meet.
Sitting with a group of rickshaw-pullers near the Old Delhi railway station, Sonu Kumar talked about his problems. He comes from Farrukhabad but chose not to go on foot like others.
"Sarkar ne toh curfew laga diya aur bhookhe mar rahe hain ab. Aap toh dekh rahe hain humari halat… do rupaye ka sabun nahi la paa rahe hain (The government has imposed a curfew and we are dying of hunger. Look at our condition… we don't even have two rupees to buy a soap)," said Kumar.
In Old Delhi's Sadar Bazar, the largest wholesale market in Delhi, groups of men idle around on the roadside or outside rows of shut shops. Many of them are from Bihar, Jharkhand and eastern Uttar Pradesh. They don't have an option to pick up their belongings and start for their homes at least a 1000km away.
While one man complains of exhausting all his savings in five days since the "janata curfew" on March 22, the other talks about inflated prices of rice and wheat flour.
Chandu Yadav who belongs to Bihar's Khagaria, punctured claims of enforcing social distancing.
"Ek kamre me 20 aadmi rehte hain, bataiye kahan jayenge? Yeh sauchalaya bhi band kar diya hai (About 20 people live in one room, tell us where should we go? This public toilet was also shut because of the virus)," said Yadav.
Last week, the Delhi government had announced free lunch and dinner for the poor. The arrangements were done in some places but massive crowds, primarily of daily wage workers and the homeless, turned up for the meals.
Workers living in Sadar Bazar said that they did not know of any such arrangement made by the government. Some alleged that even their employers who owned shops in the market were unreachable.
Govt advisory
On Friday, the home ministry issued an advisory to the states and Union territories to provide "adequate support, including food and shelter, to migrant agricultural labourers, industrial workers and other unorganised sector workers" during the remaining days of the lockdown.
The advisory included involving agencies and NGOs to tackle issues of food, shelter, water and sanitation. While saying that the lockdown should be enforced strictly, the ministry advised to ensure that "hotels, rented accommodations, hostels, etc., continue to remain functional and the delivery of essential items is streamlined".
During the daily press briefing on Covid-19 situation in the country, ministry official Punya Salila Srivastava said that the purpose of the lockdown was to make people stay wherever they were. She was responding to a query on whether the government would run special bus or train services to evacuate the migrants.
No faith in govt
Those stranded regret trusting the government and not rushing back home. They said many people were under the impression that this lockdown will be over by March 31 and they'd go to work after. But the lockdown was extended and they had only four hours, until midnight of March 24, to run to home.
"Hum log ko sirf train chahiye hum log Bihar chale jayein. Aap Dilli ka khana Dilli me rakho (We just need trains to go to Bihar. You keep your Delhi's food in Delhi)," said Yadav.