Stiff curbs in Kashmir
Unconfirmed reports suggest that infiltrations by militants have picked up in recent weeks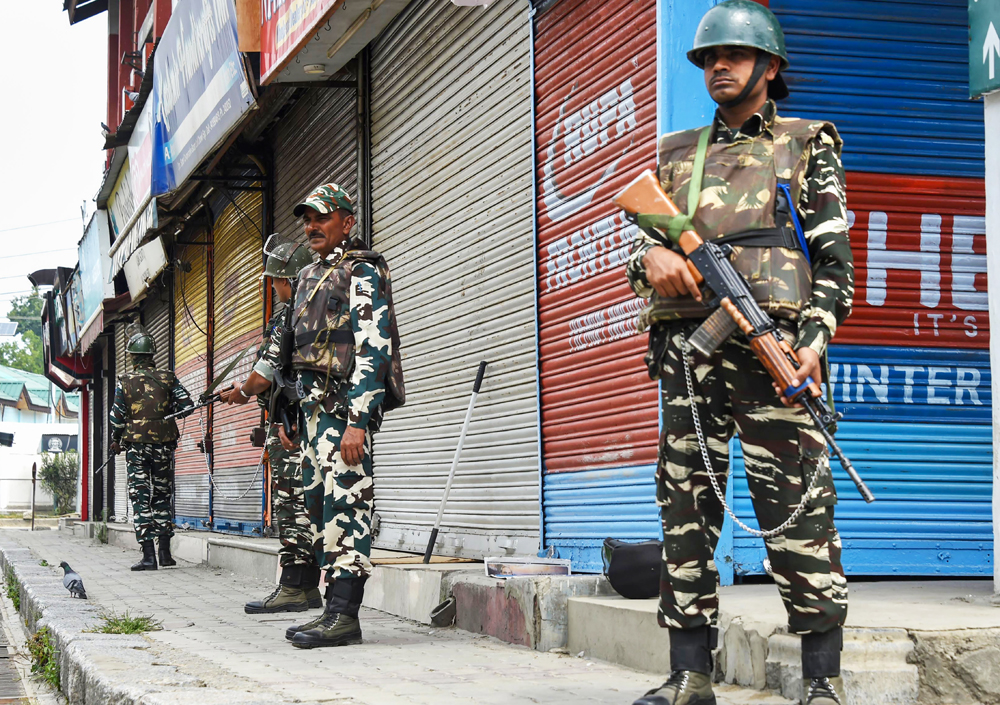 ---
|
Srinagar
|
Published 30.08.19, 09:52 PM
---
The Valley on Friday witnessed one of the most stringent restrictions since the government moved to scrap Jammu and Kashmir's special status under Article 370 nearly a month ago, apparently over fears of a flare-up in response to Pakistan's decision to start a solidarity campaign on Kashmir.
The restrictions were imposed on a day army chief Gen. Bipin Rawat undertook an aerial survey of operational preparedness in the forward areas of Kashmir in the wake of rising tensions between India and Pakistan.
There has been a spurt in cross-border clashes since the Centre altered the state's constitutional arrangement. Unconfirmed reports suggest that infiltrations by militants have picked up in recent weeks.
Thousands of security forces on Friday enforced unprecedented restrictions and put up barricades at hundreds of places to prevent civilian movement.
The forces prevented Friday prayers at important mosques including Jamia Masjid for the fourth consecutive week in the Valley. The restrictions, which came without any prior information, left thousands stranded on roads.
Clashes broke out between forces and protesters at multiple places, including Soura, Rainawari and Batmalloo in the city, leaving several people injured.
The government gave no reasons for re-imposing such restrictions. A police officer said they had directions to enforce the curbs, apparently over apprehensions of a flare-up.
"We were following the orders but have no clue what the reason was. Perhaps, there were indications of a negative fall-out of the happenings across the border over the situation here," the officer said.
Pakistan Prime Minister Imran Khan had asked his fellow countrymen to observe the "Kashmir Hour" from noon to 12:30pm to express solidarity with Kashmiris. It will now be a weekly affair in the neighbouring country.
On this side of the border, local people, most of them on their way to hospitals, or officials engaged in essential services, faced a lot of difficulties.
"I left my home only to land into a maze. You had barriers erected at every place and you did not know where to go," said a Hyderpora resident who was accompanying his sister for treatment at a government hospital in Barzulla, around 4km away.
"I was stopped at multiple places, begged before forces at every place and had to take circuitous alternative routes to reach the hospital. The 10-minute drive took me two hours."
A government officer said the security forces refused to entertain the "movement pass" the district magistrate had issued him and that he, along with other men carrying such passes, were asked to return home. "I never saw such restrictions in a month. We had no prior information about such restrictions but at some places I saw police announcing through loudspeakers fitted to their vehicles that people should stay indoors," he said.
The government had imposed curfew-like restrictions after the August 5 move but the authorities don't call it a curfew to send a positive message outside. Several people have been given movement passes and not curfew passes to allow them to ply on roads.
The authorities claim to have eased restrictions in large parts of the Valley but life is still paralysed as most businesses, educational institutions and offices remain shut.
Suspected militants shot dead a shopkeeper in the city's Parimpora locality, apparently for defying a shutdown. No group has given a call for the shutdown but local people are reluctant to resume normal activities in protest against the move to scrap the state's special status.