Sonia Gandhi slams rising intolerance
'A skewed vision of our history and society is being imposed along with falsehood and unscientific ideas'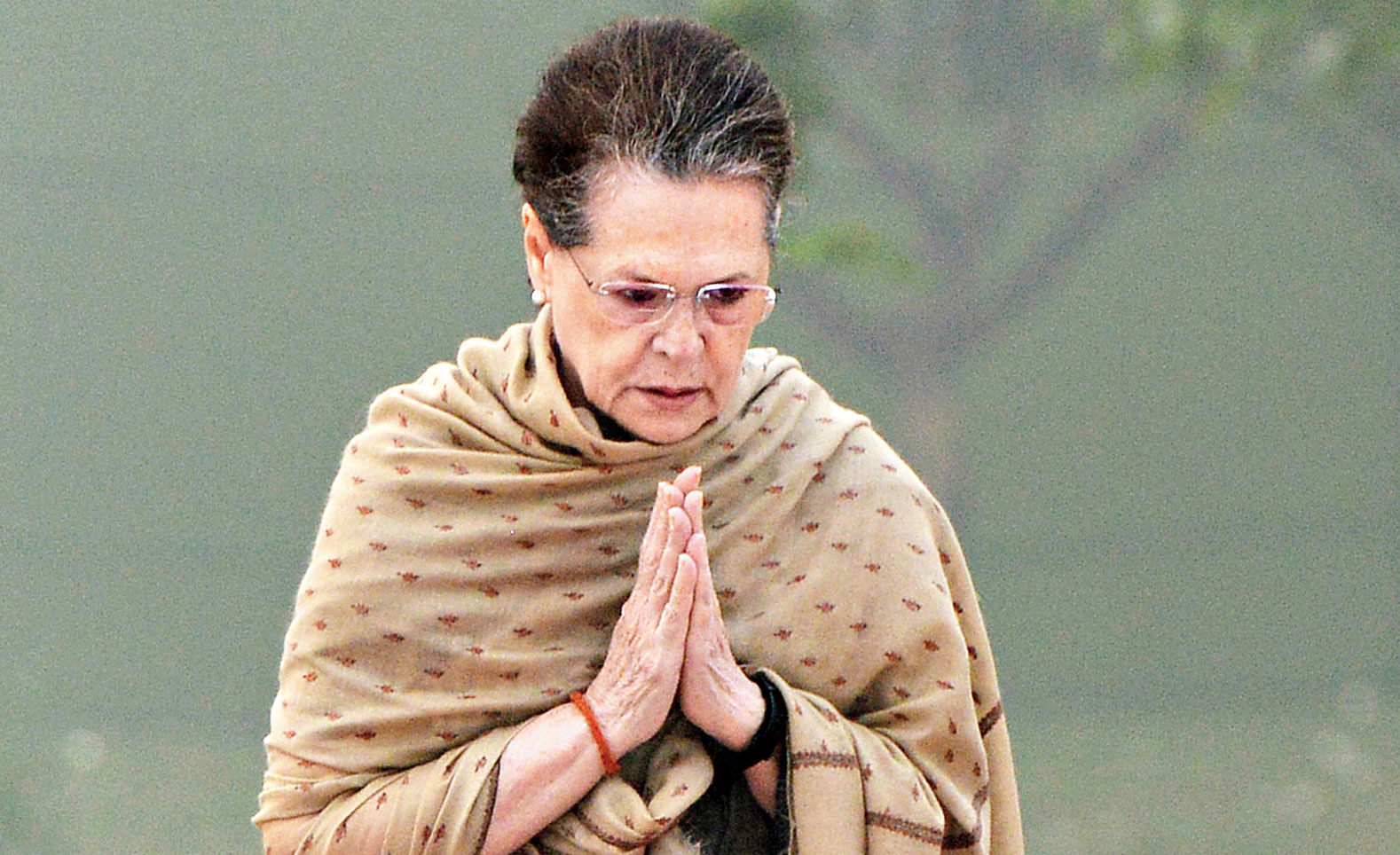 Sonia Gandhi pays tribute to Indira Gandhi on her 35th death anniversary on Thursday.
Picture by Prem Singh
---
New Delhi
|
Published 31.10.19, 08:52 PM
|
---
Intolerance is rising in India and a skewed vision of history is being imposed on its people, Congress president Sonia Gandhi said on Thursday.
"Today, we see rising intolerance, rising violence. A skewed vision of our history and society is being imposed along with falsehood and unscientific ideas. All this is the antithesis of the liberal, secular and democratic foundations of our country," she said.
Sonia said the fundamental assumptions that guided India's freedom struggle and inspired the country after Independence were now being questioned.
She was addressing an event here where the Indira Gandhi Award for National Integration was handed to environmentalist Chandi Prasad Bhatt, founder of the 1970s Chipko Movement for the conservation of trees and forests.
Earlier, Sonia had recalled that national integration was one of the many passions of former Prime Minister Indira Gandhi, whose death anniversary fell on Thursday.
"But unlike those in the ruling establishment now, she did not equate unity with uniformity. On the contrary, she was deeply conscious of and proud of India's many diversities," she said.
Sonia said Indira also had a vision for the preservation of India's rich and wonderful biodiversity that was far ahead of its time.
"Economic growth must not mean the destruction of the environment. So, it's most appropriate that today we honour Bhatt, a true Gandhian, a man whose entire life has been shaped by the Sarvodaya philosophy," she said.
Bhatt has inspired people's movements, of which the Chipko Andolan is perhaps the most famous, Sonia said, adding that this agitation had a huge impact on Indira's thinking and led to the Forest Conservation Act of 1980.
She said that in the mid-1970s, Bhatt had also led a protest against a plan to embellish and modernise the Badrinath temple, thus saving and preserving the architectural style of the temple.
Former Prime Minister Manmohan Singh was at the function along with several other Congress leaders.
"There was a time when the process of industrialisation was making its own demands on forests and on rural society, but Chandi Prasad Bhatt and his dedicated band of fellow activists were relentless in their advocacy that national planners factor in environmental costs in their policy prescriptions," Singh said.
RTI 'assault'
Sonia accused the Narendra Modi government of diluting the information commissioners' powers through amendments to the RTI Act, terming it the "final assault" on the transparency architecture.
"The BJP government has now launched its final assault to decimate RTI. To further erode and dilute its effectiveness, the Modi government has passed amendments which diminish the office of the information commissioner in a manner that it leaves them at the mercy of the very government (they are) required to hold accountable," she said.