Smriti Irani not a graduate, Congress writes a song on it
Party spokesperson Priyanka Chaturvedi sings Kyunki spoof to taunt Irani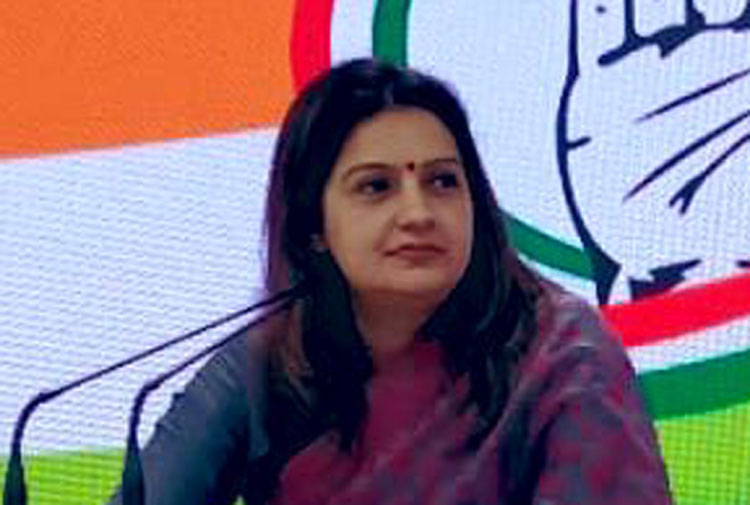 Congress spokesperson Priyanka Chaturvedi at the news conference on Friday.
---
New Delhi
|
Published 12.04.19, 10:21 AM
|
---
Irani's 2014 affidavit had said she had obtained a 'Bachelor of Commerce Part-1, School of Open Learning (Correspondence)' from the University of Delhi in 1994. In her affidavit filed yesterday in Amethi, along with the above information, she mentioned in brackets 'three year degree course not completed'. In her 2004 affidavit, Irani mentioned 'BA in 1996' from Delhi University's School of Correspondence.
It is not necessary to be a graduate to sit in the Lok Sabha. A person needs to be 25 years of age and be a citizen of India to run for the Lok Sabha.
Irani, who is contesting from Amethi and is Congress president Rahul Gandhi's main rival, was India's favourite daughter-in-law on TV before her days in the BJP. She played Tulsi Virani, an ever-smiling homemaker in Kyunki Saas Bhi Kabhi Bahu Thi.
The successive changes in the affidavit reflect that Irani had not disclosed with full clarity the details of her college education, but what was equally telling was the glee with which the Congress highlighted the detail mentioned in parenthesis. In recent times, no party spokesperson has been seen singing at an official news conference to spite a rival.
BJP spokesperson Nalin Kohli was asked about his party's take on Chaturvedi's song. He said he had neither seen the news conference, nor Irani's affidavit and would not comment on the matter without knowing all the details.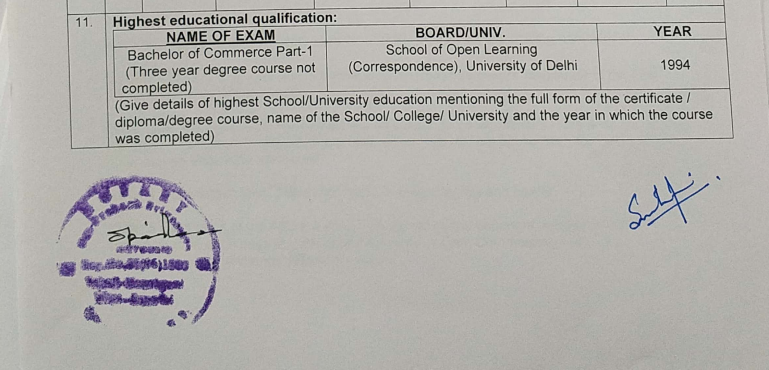 At the news conference Chaturvedi called Irani a 'serial liar'. 
'Union minister Smriti Irani, who had been rubbishing the Opposition's claim that she is not a graduate, yesterday accepted that she enrolled for an undergraduate course in Delhi University but did not complete it,' she said. She should step down and also be disqualified from contesting the polls, the Congress spokesperson said.
'We have no issue with the fact that Smriti Irani is not a graduate. The issue here is that she has lied repeatedly on oath and to the courts. The people of India will see through these lies and give a befitting political reply to a 'serial liar',' Chaturvedi said.
In 2014, a journalist had asked Irani about the affidavit changes between 2004 and 2014 surrounding her college degree. Irani retorted that 'people call her unpadh (unread)'. She then spoke about having a degree from Yale 'in which Yale celebrated my leadership capacity'.  
On Twitter, immediately after the video of Chaturvedi singing at the news conference was uploaded on her handle, some said she was bitter on not being given a Lok Sabha election ticket.
Congress spokesperson Priyanka Chaturvedi on Friday spoofed the title song of Kyunki Saas Bhi Kabhi Bahu Thi and sang it in a news conference to highlight Smriti Irani's affidavit declaration that she wasn't a graduate. 
Chaturvedi said a new serial was coming that was called 'Kyunki Mantri Bhi Kabhi Graduate Thi' and then proceeded to sing. Dear @priyankac19, please don't let your frustration of not getting a ticket come out in this manner. Somewhere in your head you seem to be thinking you're sounding witty. Sorry to let you know that you're sounding like a completely bitter lowlife. This video is repulsive. https://t.co/VGiURLone0

— Aankhi (@AankhiGM) April 12, 2019
'Qualification ke bhi roop badalte hain,
Nayein, nayein sachein mein dhalte hai,
Ek degree aati hai, ek degree jati hai,
Bante affidavit nayein hain.'
(Translation: Qualifications change, 
They take new shape, 
One degree appears, another disappears, 
As new affidavits are made.)