Wife in despair: Yes, yes, it was right
Slain gangster's family defends police action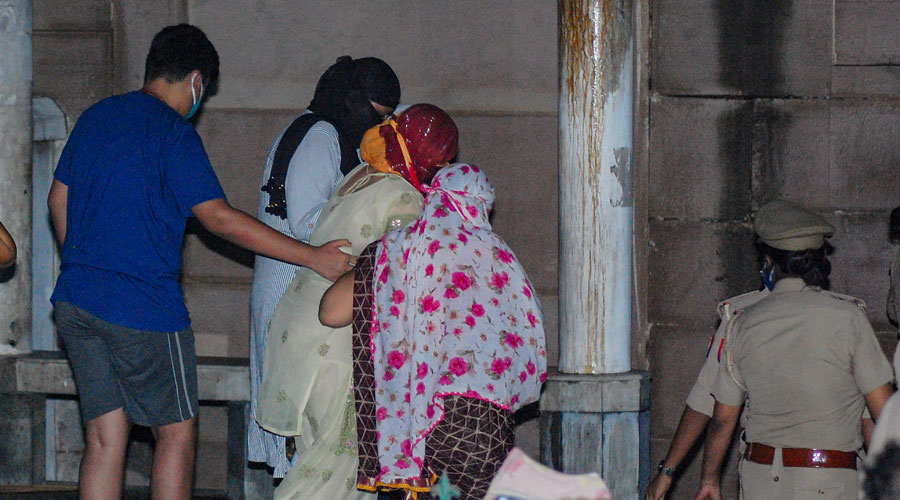 ---
|
Lucknow
|
Published 12.07.20, 01:28 AM
---
Reporters' relentless queries on Friday evening prompted Vikas Dubey's father and wife to cry out in despair that the police had done right by killing the gangster in an encounter.
"Haan, haan, haan, haaaan — sahi hua, sahi hua; chale jao yahan se, tum do kaudi ke... (Yes, yes, yes, yes --- it was right, it was right; get lost you cheap...)," Richa Dubey shouted before breaking into sobs at her husband's funeral in Kanpur city, worn down by a long battle of nerves with the assembled media.
Forty kilometres away at Bikru village, Vikas's bedridden father Ram Kumar Dubey, 70, had told the policemen posted at his home that he did not want to meet the journalists gathered outside, local sources said.
But the police opened the door and a swarm of reporters and camera crew barged in, seeking the father's "reaction" to his son being killed in an "encounter" a week after his men allegedly massacred eight policemen in the village.
Television images show the elderly man lying silently, ignoring the questions while intermittently appearing to let out groans, before eventually giving in.
"Theek kiya, theek kiya, police agar aise tatvon ko badhawa degi to kaise chalega (They did right, they did right, how will things move if the police promote such elements)?" he says.
Yet, sitting just outside the house on July 3 afternoon, hours after the massacre, Ram Kumar had reacted sharply when a TV reporter asked him: "Should your son be killed in a police encounter for his crime?"
"Kaise encounter kar doge? Court me hoga jo hona hoga (How can anyone do an encounter? Whatever happens has to happen through the courts)," he had bristled, before saying he was ill and didn't want to talk.
Vikas, arrested from Ujjain in Madhya Pradesh on Thursday, was shot dead on Friday when he allegedly snatched a police escort's gun and tried to flee after the vehicle ferrying him met with an accident near Kanpur.
The media's encounter with Richa was lengthier and surprisingly abrasive considering the occasion: Vikas's funeral at Bhairav Ghat on the Ganga's banks.
Captured in a video clip being circulated on social media, the exchange makes it clear that the assembled journalists consider extra-judicial killings an acceptable way of handing out justice to people accused of grave crimes.
"Madam, idhar aiye (come here)," a reporter summons Richa, a zilla panchayat member, in a loud voice.
"Chal, bhaag (Get lost)," the 45-year-old mother of two shouts back from under a canopy, where she is standing with family members a short distance from the journalists gathered in the open.
"Hum log chale jayenge par pehle aap bataiye toh (We'll leave all right, but talk to us first)," another reporter says.
"Marwate ho pehle, uske baad news chalate ho (You first get someone killed and then flash the news)," Richa shouts.
"Toh aapka pati kya karta tha (So, what used your husband to do)?" a louder voice from among the journalists censures her.
Richa's reply is not clear but she can be heard hurling two expletives.
"Vikas ne katl nahin kiya tha kya (Didn't Vikas kill)?" a reporter persists.
"Pehle tu bata, tu kaun hota hai *** (First tell me, who the *** are you)?" she shoots back, mouthing an abuse. "Tu bhi chala jayega ek din (You too will die one day)."
"Aap bataiye encounter sahi kiya ki galat kiya (You tell us whether doing an encounter was right or wrong)," the grilling continues.
"Ho gaya, jisne galti ki usko saja mili (It's over, the one who made a mistake has been punished)," Richa gives in.
"Aap manti hain aapke pati ne galti kari thi (So you accept that your husband had committed a crime)," a reporter rubs it in.
"Haan, haan, haan, haaaan..." Richa throws in the towel before ordering the reporters off, hurling another abuse, and breaking down.
The policemen watch silently through the exchange.
"I wonder why the media were silent all these years when Vikas committed his crimes," Chhote Khan, 70, a retired government health worker in Bikru, told reporters on Saturday.
Few in the media had heard of Vikas before the July 3 massacre, partly because crimes committed in the interiors gain little visibility, partly because most political parties supported Vikas and made no issue of his atrocities, and partly because the police never mentioned him in their briefings.
Probe ordered
The Uttar Pradesh government on Saturday formed a three-member special investigation team to ascertain who had patronised Vikas's rise and had protected him in the past.
Led by Sanjay Bhoosreddy, a senior IAS officer, the team will also probe what kind of inquiries and action Vikas had faced in the past and who were in touch with him over the last one year.
It will also probe the circumstances surrounding the July 3 ambush.
Bikru speaks out
In Bikru, many summoned up the courage to speak following Vikas's death.
"Like now, the police were silent 20 years ago when Vikas committed his first crime by beating me mercilessly and parading me just because he wanted me to stay away from village affairs," Chhote Khan said.
"I went to the local police station and registered a complaint. The policemen suggested I shouldn't pursue the case and Vikas threatened to kill my family. So I withdrew the complaint."
Khan alleged that Vikas had killed BJP politician Santosh Shukla --- a corporation chairman with the status of a minister -- inside Shivali police station in 2001 when current defence minister Rajnath Singh was chief minister of Uttar Pradesh.
Leaders of the ruling BJP, Samajwadi Party and the Bahujan Samaj Party had accompanied Vikas to the court when he surrendered. Two dozen police witnesses turned hostile and Vikas was acquitted for lack of evidence.
"We all know how a senior superintendent of police recently removed Vikas's name from a list of Kanpur's 10 most wanted criminals despite there being more than 50 cases of murder, attempt to murder, kidnapping and extortion against him," a Bikru resident said, asking not to be named.
Vinay Tiwari, an inspector, and K.K. Sharma, a sub-inspector, have been arrested on the charge of tipping Vikas off about the July 3 raid, which enabled him to ambush the raiding cops. Both Tiwari and Sharma were attached to Chaubepur police station, the one nearest to Bikru.
"After his arrest, Vikas told the special task force he had been furious to learn that the police planned to raid him despite his proximity to powerful politicians and top policemen," an officer said.
"He said he had never dreamt the police would dare enter his village without his permission."
Television crews who were following the police convoy from Jhansi in Madhya Pradesh claim the police stopped them several kilometres away from the "encounter" site.
Movie parallel
Several Bollywood actors have drawn parallels between the "encounter" and Hindi film plots.
"Wow! We did not expect this at all!!!! And then they say our bollywood stories are far from reality," actress Tapsee Pannu tweeted.
Not everyone in the industry was, however, surprised at an incident that threatens to become the norm in police's dealings with high-profile criminals who cause national outrage.
"Either way we have lost. Those who feel that justice has been delivered.. Yes may be.. But in civilised societies its important that due process of justice is also 'seen' as being done," actor-producer Nikhil Dwivedi tweeted.