Sisodia demands immediate punishment for govt officer arrested in bribery case
BJP slams AAP, says Delhi people 'betrayed'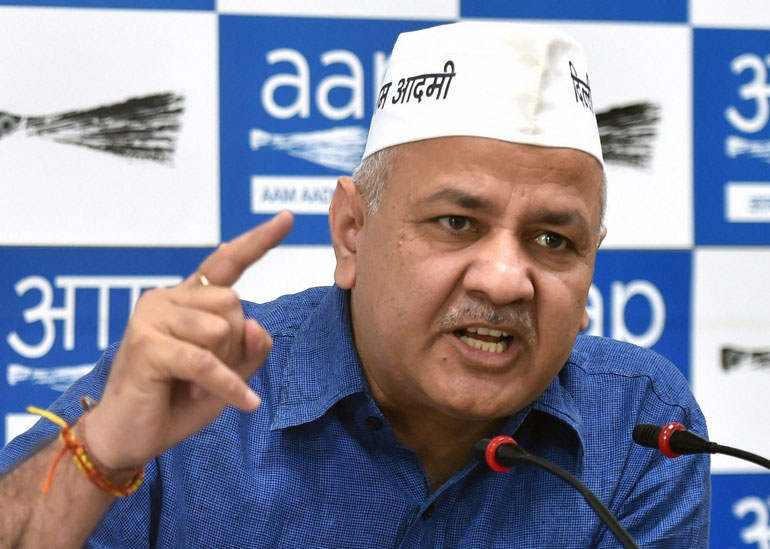 ---
---
Deputy chief minister Manish Sisodia on Friday said Delhi government officer Gopal Krishna Madhav, who was posted as his OSD and arrested in an alleged bribery case, should be punished immediately.
Madhav was arrested by the Central Bureau of Investigation (CBI) in a late night operation on Thursday for allegedly taking a bribe of over Rs 2 lakh in a matter related to the Goods and Services Tax (GST), officials said.
Reacting to the development, Sisodia tweeted, 'I have come to know that the CBI has arrested a GST inspector while taking bribe. This officer was posted as OSD in my office too. CBI should ensure strictest punishment for him. I have got several such officers arrested during last five years.'

मुझे पता चला है कि सीबीआई ने एक GST इन्स्पेक्टर को रिश्वत लेते हुए गिरफ़्तार किया है. यह अधिकारी मेरे ऑफ़िस में बतौर OSD भी तैनात था. सीबीआई को उसे तुरंत सख़्त से सख़्त सजा दिलानी चाहिए. ऐसे कई भ्रष्टाचारी अधिकारी मैंने ख़ुद पिछले 5 साल में पकड़वाए है.

— Manish Sisodia (@msisodia) February 7, 2020
Sisodia's involvement in the case hasn't surfaced so far.

BJP leaders, however, were quick to jump on the opportunity. BJP MP Parvesh Verma told a news agency that the bribe taken used to go in Sisodia's pocket. And then the same money was used to send biryani to Shaheen Bagh. Verma gave this statement without providing any proof. Verma was earlier barred from campaigning by the Election Commission for is hate speech related to protestors at Shaheen Bagh.
Delhi BJP chief, Manoj Tiwari took to Twitter to call it a betrayal of people of Delhi. He said that AAP came into existence with support of Anna Hazare who started the campaign against corruption.
भ्रष्टाचार के ख़िलाफ़..अन्ना जी के सहारे बनायी इस @AamAadmiParty ने दिल्ली से विश्वासघात किया है@msisodia Deputy CM के OSD रँगे हाथ पैसे लेते पकड़ा गया...अब क्या बोलें?

— Manoj Tiwari (@ManojTiwariMP) February 7, 2020