Sibling revelry: Priyanka goes from support to comrade-in-arms
Congress insiders insist that Priyanka's decision to enter politics is dictated more by situational logic than personal ambition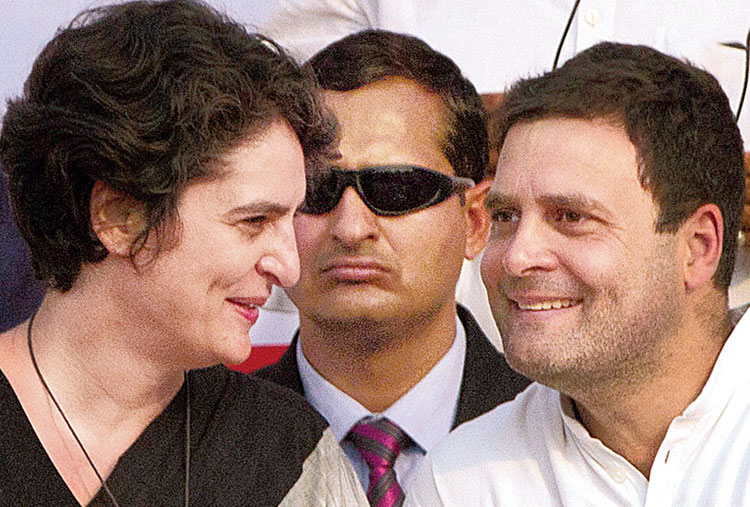 Priyanka Gandhi with her brother, Congress President, Rahul Gandhi
Telegraph picture
---
New Delhi
|
Published 23.01.19, 10:02 PM
|
---
For quite sometime before Rahul Gandhi's entry into politics, the Congress had been pining openly for a particular Indira Gandhi look-alike to nurture the Nehru-Gandhi legacy.
But Priyanka Gandhi Vadra resisted all pressure and quietly propped up her brother, and then deflected the calls for her to take over as Rahul Gandhi initially struggled to prove his mettle.
These acts, more than the glamour and the mystique, perhaps provide a glimpse into Priyanka's soul.
"She was totally devoted," a Congress senior who has observed the Nehru-Gandhis closely for decades told The Telegraph. "She fully supported Rahul during his struggles, ignoring the overwhelming perception among Congress workers and most Indians that she was better cut out for the (party) job." Since 2004, the party has wanted her to campaign throughout the country but she has restricted herself to Amethi and Rae Bareli, that too just so she could lighten the enormous workloads of her mother and brother.
Priyanka had been visiting the family pocket boroughs of Amethi and Rae Bareli since her childhood and had taken care to preserve the relationship. While minding the twin constituencies for her mother and brother, she displayed her natural talent to connect with the masses.
She has since 2004 been taking a keen interest in the party's political affairs and since 2009, participating in strategy sessions on publicity, campaign and planning.
Although she avoided party fixtures and events, including All India Congress Committee sessions, her involvement gradually increased.
Ahead of the March 2017 Uttar Pradesh elections, the standard requests for her to enter the fray were politely turned down again, but she functioned as a key behind-the-scenes manager.
Priyanka was involved in decisions and strategies during all recent elections. Now, she has stepped up from behind the curtain to become a key interface between the party and the wider society.
Whether the Congress wins or loses the next election, and no matter how the "dynasty rule" debate pans out, the latest political entry by a Nehru-Gandhi is a key event in Indian politics.
Priyanka's marriage to businessman Vadra, and the controversies he was implicated in, had raised some misgivings about her political future but she has waited patiently for the right opportunity to step into politics.
While Rahul's acceptability as the principal Opposition leader has created a platform for her, the unease caused by Narendra Modi's politics has diluted the hostility to "dynasty" and the aversion to Vadra that many feel.
Besides, the Congress's plunge to rock bottom in the 2014 election has partially dulled any charges of a sense of entitlement on her part — as though a member of a family of Prime Ministers had stepped up to claim her throne.
Many of those who have known Priyanka since her childhood have welcomed the delayed arrival, for the younger Priyanka was widely seen as too short-tempered and flamboyant for serious politics.
For a Nehru-Gandhi, political education starts from birth and is a matter of unobtrusive, continuous absorption rather than overt training. And Priyanka's development has also been aided by her education and life experience.
She graduated in psychology from Delhi University and got drawn towards philosophy and Buddhism. The focus on her husband from the media and the Congress's rivals has taught her about the pitfalls of politics.
Her children, Raihan and Miraya, have grown up too, freeing her of family responsibilities.
Circumstances and her own performance will determine how the career of the 47-year-old political debutante unfolds, but for the moment her arrival has shaken up national politics.
Amid the periodic whispers about clandestine competition and differences within the family, particularly linked to Priyanka's husband Robert Vadra, Congress insiders have stoutly maintained that the family is "firmly united" and there's no "conflict of interest between brother and sister".
They now insist that Priyanka's decision to enter politics is dictated more by situational logic — the next election being crucial — than personal ambition.
Priyanka has always been clear in her mind about her role in the Congress, repeatedly turning down public requests from party seniors to join active politics.
She has consistently told interviewers that she was already in politics if the term meant serving the people, but that she wasn't interested in contesting elections or occupying party posts. In her own words: "Politics is not a strong pull, the people are."
Contrary to the perception among some that Sonia Gandhi had stifled her possible political career because she wanted the son to rise instead, Priyanka was a willing collaborator in the project to establish Rahul.
In 2005, then Uttar Pradesh Congress chief Salman Khurshid and senior leader Pramod Tiwari had met Sonia with the request to blood Priyanka into politics.
"Approach her directly," Sonia had said. "It's going to be her decision, not mine."