Shiv Sena sees insult to Hindus in Netflix series Sacred Games
Party leader writes to Mumbai police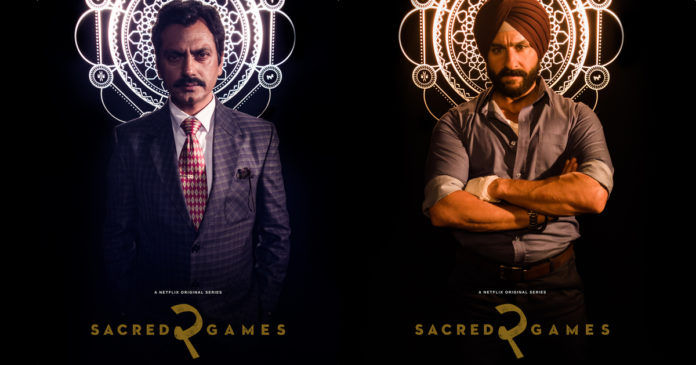 ---
---
At different times, the Shiv Sena has demanded clampdowns or bans on films, works of art or artists, and recently it wanted a ban on the burqa in May this year.
In 2007, the Shiv Sena vandalised an art exhibition in New Delhi that had M.F. Husain's paintings, forcing the exhibition to shut the show.
In 2000, Shiv Sainiks tried to stall the shooting of the film Water by Deepa Mehta.
Just read through it :/ Mumbai is flooding & Shiv Sena members care more about Netflix 😑

— Ankit Sawant (@SatanAtWink) September 6, 2019
A Shiv Sena propaganda wing leader has written to Mumbai police demanding 'necessary legal action' on Netflix, India, because it has tried to 'paint an incorrect picture of Hindus and India globally'.
'Almost, every series on Netflix India is with the intention to defame India globally,' Ramesh Solanki wrote. The four shows that Solanki named in his compliant are Sacred Games, Leila, Ghoul and Patriot Act by Hasan Minhaj.
Solanki describes himself as a social worker, a Hindu activist and a member of the Shiv Sena's IT cell.
After the letter became public, #BanNetflixIndia started trending on Twitter.
While a section came out to support Solanki's concerns, one tweeter pointed out that while Mumbai was battling heavy rains, the Shiv Sena leader seemed to find maligning Netflix a worthwhile thing to do.
Another feature for this would be to show context for what some party or politician is saying.
For example, Shiv Sena talking about Netflix when forests are being cut down and cities are submerged/closed down

2/n

— Anuj Deshpande (@anujdeshpandey) September 6, 2019
Aur koi kaam nahi hain? Bombay is suffering due to rains and a Shiv Sena man is targetting Netflix. Waah!

— P (@thenutoriousp) September 6, 2019