Island nation defaults on debt for first time
India ship with supplies of essentials set to reach Sri Lanka on Sunday
Consignment includes 9,000 MT rice, 200 MT milk powder and 24 MT life-saving medicines valued at Rs 45 crore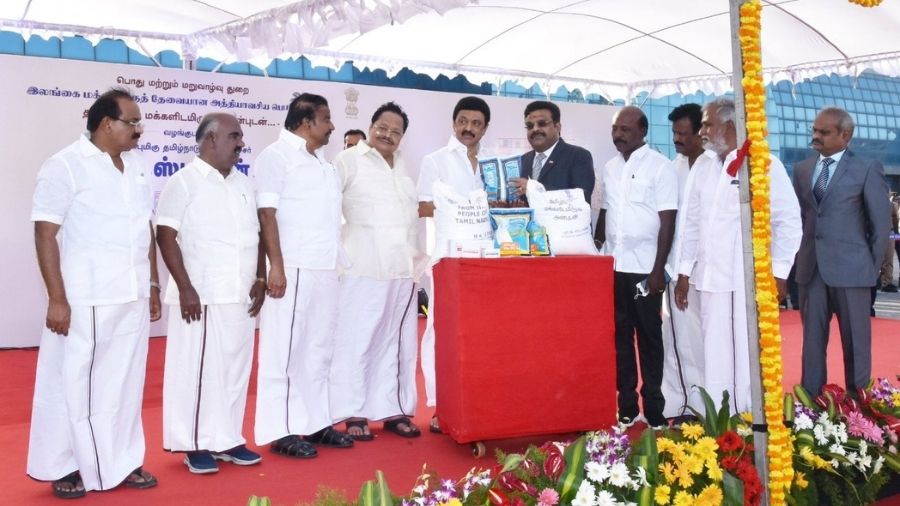 Tamil Nadu CM MK Stalin flagging off the journey
Twitter/@thiruthiruK
---
Colombo
|
Published 21.05.22, 08:44 AM
|
---
An Indian ship laden with urgent relief supplies like rice, medicines and milk powder for the people of crisis-hit Sri Lanka is scheduled to reach Colombo on Sunday, the Indian High Commission has said.

Tamil Nadu Chief Minister M.K. Stalin flagged off a ship laden with relief supplies, the first to be dispatched to Sri Lanka, from Chennai on Wednesday, the high commission said on Friday.

The first consignment comprises 9,000 metric tonne (MT) of rice, 200 MT milk powder and 24 MT life-saving medicines with a combined value of Rs 45 crore.

"People of #India, standing by their brethren in #SriLanka. Rice, milk powder and medicines worth more than SLR 2billion is scheduled to reach #Colombo on Sunday," the Indian mission tweeted.

Chief Minister Stalin flagged off the cargo carrying the relief, from the Chennai Port, in the presence of his cabinet colleagues and senior officials.

Sri Lanka is going through the worst economic crisis since independence in 1948. A crippling shortage of foreign reserves has led to long queues for fuel, cooking gas and other essentials while power cuts and soaring food prices heaped misery on the people.

The economic crisis has also triggered a political crisis in Sri Lanka and a demand for the resignation of the powerful Rajapaksas.

India has said that as an eternal and reliable friend of Sri Lanka, New Delhi is fully supportive of the island nation's democracy, stability and economic recovery.

In keeping with India's Neighbourhood First policy, New Delhi has extended this year alone support worth over USD 3.5 billion to the people of Sri Lanka for helping them overcome their current difficulties, the Ministry of External Affairs said on May 10.
Debt default for the first time
Tourism-dependent Sri Lanka, where India and China jostle for influence, is facing a dire shortage of essentials and economic activity has slowed to a crawl. Days ago, Lanka defaulted on its debt for the first time in the country's history.
Sri Lankan Central bank governor P. Nandalal Weerasinghe said on Thursday that the country had fallen into a "pre-emptive default" on its debts after the expiry of a 30-day grace period for missed interest payments on two of its sovereign bonds, reported Reuters.
It is the first default by an Asia-Pacific nation this century, according to the credit rating agency Moody's.
$78 million unpaid debt
It comes after a 30-day grace period to come up with $78 million of unpaid debt interest payments expired on Wednesday. Later on Thursday, two of the world's biggest credit rating agencies also said Sri Lanka had defaulted, the BBC reported.
Thousands of people queued for cooking gas and petrol in Sri Lanka's commercial capital on Friday and Prime Minister Ranil Wickremesinghe warned of a food shortage.
'Without fuel we will die'
Lines formed in many parts of Colombo, a city of around 900,000 people, as residents tried to stock up on fuel, which is mostly imported and is in extremely short supply with the government running out of foreign exchange.
"Only about 200 cylinders were delivered, even though there were about 500 people," said Mohammad Shazly, a part-time chauffeur in a queue for the third day in the hope of procuring cooking gas for his family of five. Hundreds of others were in line, with empty cylinders by their side.
"Without gas, without kerosene oil, we can't do anything," Shazly said. "Last option what? Without food we are going to die. That will happen hundred per cent."