Sharaab? Then it's OK to slur your speech
Narendra Modi coined an uncomplimentary acronym for the Opposition alliance in Uttar Pradesh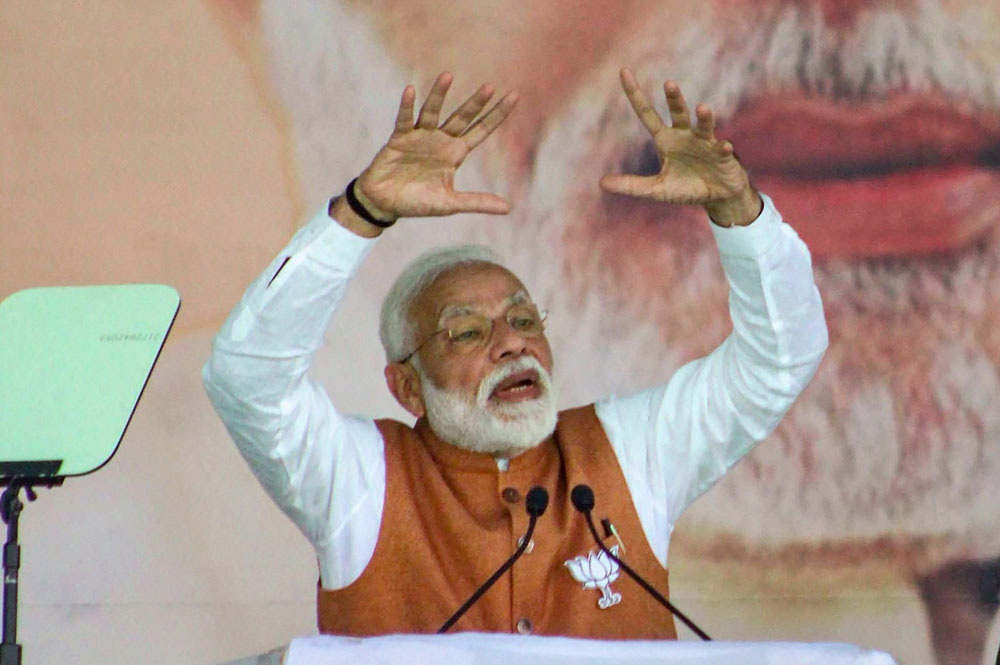 Prime Minister Narendra Modi at the rally in Meerut on Thursday
Picture by PTI
---
Lucknow
|
Published 28.03.19, 10:05 PM
|
---
If a schoolboy had made the same error, a stern schoolmaster might well have handed him this punishment: "Recite 'she sells seashells by the seashore' 50 times after school."
Prime minister Narendra Modi on Thursday coined an uncomplimentary acronym for the Opposition alliance in Uttar Pradesh but mixed up his "sh" and "s", inviting ridicule from Samajwadi Party president Akhilesh Yadav.
"If we club the 'sa' of the Samajwadi Party, 'raa' of the Rashtriya Lok Dal and the 'b' of the Bahujan Samaj Party, it (the acronym) comes to 'saraab'," Modi told an election rally in Meerut.
His next words made it clear he was referring to sharaab — the Hindi word for alcohol.
"Shouldn't we avoid saraab for the good health of Uttar Pradesh? Shouldn't we avoid saraab for a good future of India?" he said.
Akhilesh was quick to pounce on the mistaken pronunciation of "sharaab".
"The teleprompter today exposed those people who promote the intoxicant of hatred but don't understand the difference between saraab and sharaab," Akhilesh tweeted.
He appeared to be suggesting that Modi, an acknowledged orator, reads out his speeches from a hidden teleprompter — a screen displaying prepared text.
"Saraab also means a mirage, the blurry dream that the BJP has been showing (the people) for the last five years. But it can never be realised. Now they are showing (the voters) a new saraab because there is a new election," Akhilesh added.
While "sh" is habitually pronounced as "s" in some eastern parts of the Hindi belt and elsewhere, the western Uttar Pradesh crowd listening to the Prime Minister seemed aware of the distinction.
The audience was cheering as Modi reminded them how Mayawati had once sought to put Samajwadi leaders in jail because their goons had attacked her, but they appeared confused and fell silent when the Prime Minister likened the alliance to "saraab".
Mayawati had been attacked in June 1995 after withdrawing support to Mulayam Singh Yadav's government.