PM's 'one-by-one' warning
Narendra Modi promises to deal with all his rivals one by one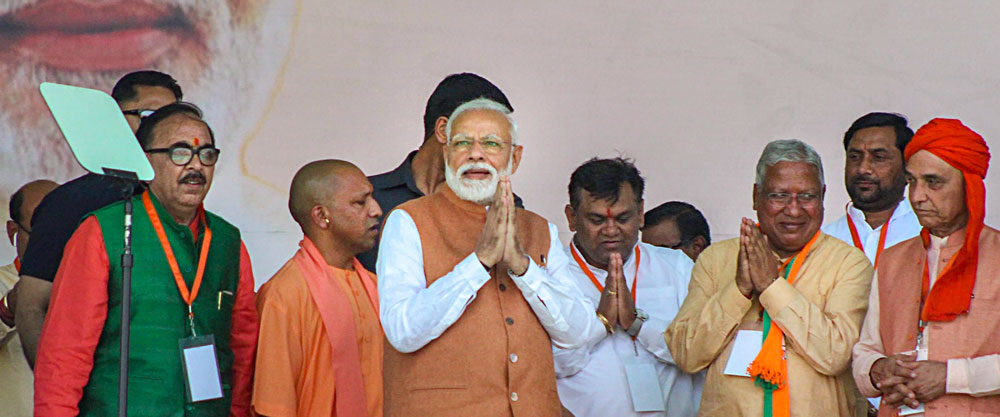 Prime Minister Narendra Modi with senior party leaders in Meerut on Thursday
Picture by PTI
---
Lucknow
|
Published 28.03.19, 08:33 PM
|
---
Prime Minister Narendra Modi on Thursday promised to deal with all his rivals one by one as he kicked off his election campaign in the crucial state of Uttar Pradesh.
"Aapto jaante hain main chowkidar hoon; hisaab hoga, sabka hoga, baari baari se hoga (You know I am a watchman; They will be dealt with, all of them, one by one)," he told a rally in the Daurala area of Meerut, 580km west of Lucknow and 80km north of Delhi.
He asserted that his five years in power had been more productive for the country than the decades of rule by other parties.
Modi claimed that the people had made up their mind to return his government to power and urged the voters of Meerut to support Rajendra Agrawal, the sitting MP from the BJP "because each vote will directly reach Modi".
A large number of local BJP activists have opposed the re-nomination of Agrawal, a two-time MP from Meerut. They have burnt Agrawal's effigies at several places in the past week, accusing him of ignoring Meerut's development.
Modi played on the words "saboot" (evidence) and "sapoot" (worthy or brave sons) to question those who have sought evidence of the casualty figures from India's air strikes on a terror establishment in Balakot, Pakistan.
"They (the Opposition) are crying and asking us why Modi destroyed the terrorist centres," he said. "Hamein saboot chahiye ki hamein sapoot chahiye? Sapoot hi saboot hain (Do we need evidence or do we need brave sons? Our brave sons are the evidence)."
While the air force has refused to comment on the Balakot casualties, a host of BJP leaders have unofficially cited death tolls of 250 to 400. Pakistan says the February 26 air strikes were a failed operation.
"I can stake everything of mine for the country. I don't yield to political or international pressures," Modi said.
Apparently countering Rahul Gandhi's allegation that Modi engaged in corruption in the Rafale deal to benefit an industrialist friend, he said: "I don't have anything for myself; whatever is there belongs to the country. It's those engaged in enriching their family members who should be afraid."
He then asked the crowd to chant: "Main bhi chowkidar hoon (I am a watchman too)."
Modi had projected himself as a chowkidar against corruption during the 2014 campaign. After the Rafale controversy broke, Rahul had coined the slogan "Chowkidar chor hai (The watchman is a thief)" targeting the Prime Minister.
Modi recently began a "Main bhi chowkidar" campaign on social media asking netizens to style themselves chowkidars. Taking the cue, most BJP ministers have prefixed "chowkidar" to their Twitter handles.