Second Kannada actress in drugs net
Police sources say an arrested drug peddler has named both Ragini and Sanjjanaa during interrogation as regular customers of party drugs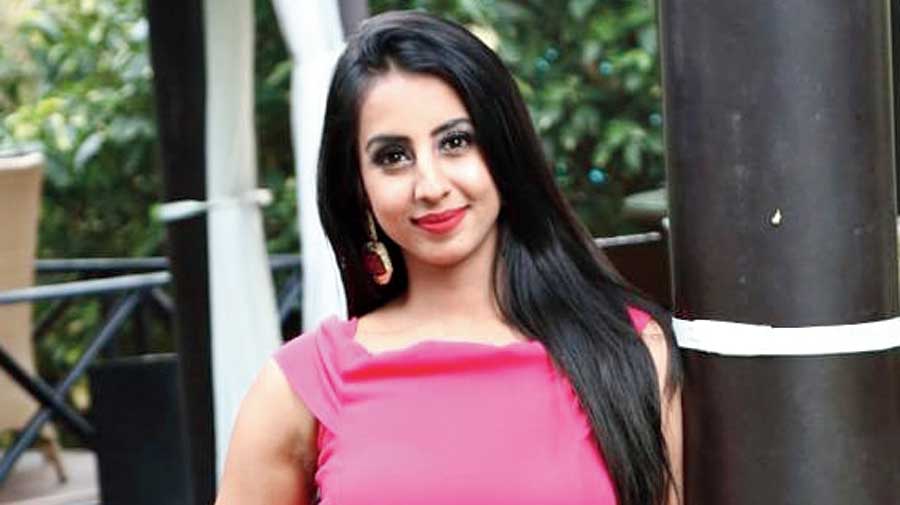 Sanjjanaa Galrani
Sourced by the correspondent
---
Bangalore
|
Published 09.09.20, 01:00 AM
|
---
A second Kannada actress was arrested on Tuesday in connection with a drugs scandal that has straddled the worlds of showbiz and politics.
Sanjjanaa Galrani, who has acted across the southern film industry, was arrested after Karnataka police's central crime branch searched her house in Bangalore early in the morning. Last Friday, leading Kannada actress Ragini Dwivedi had been arrested in the same drugs case.
Police sources said an arrested drug peddler had named both Ragini and Sanjjanaa during interrogation as regular customers of party drugs.
Sanjjanaa — who debuted in 2006 and landed in a controversy the same year by starring in Ganda Hendathi, the Kannada remake of the Hindi film Murder, for excessive erotic content — was a regular at Bangalore's high-profile party circuits where drugs were allegedly consumed.
While the central crime branch was searching Sanjjanaa's house, another team conducted a simultaneous raid at the Bangalore home of Delhi-based party organiser Viren Khanna, who was arrested along with Ragini on Friday.
Joint commissioner of police Sandeep Patil, who heads the central crime branch, told reporters after recording the arrest of Sanjjanaa that it was part of the drugs case in which five others have already been arrested.
Apart from Ragini, the other four are her alleged contact for drugs Ravishankar, Khanna, and suspected drug peddlers Niyaz and Nigerian Loum Pepper Samba.
"We have seized some items from the two premises that were searched today. We also found a uniform of Karnataka police at Viren Khanna's house. We are investigating how he got that," Patil said.
The officer made it clear there was "a lot to be done" in the case although the central crime branch was making good progress. "There is a lot to be done and many more people need to be questioned," Patil said. "The investigation is proceeding in the right direction and we will complete this as soon as possible."
While the use of drugs in the Kannada film industry was being debated for a long time, this is the first time in recent memory that a drug bust has led to actors.
The Narcotics Control Bureau had on August 21 raided two premises of well-known drug peddlers and arrested three persons, including a woman. The NCB had seized large quantities of party drugs from Anikha D, Anoop Mohammed and Rijesh Ravindran.
Among the names of customers purportedly revealed by Anikha were Aditya Alva, son of late politician Jeevaraj Alva, and realtor Prashant Ranka. The two are yet to be arrested.
Veteran actress and BJP-backed Independent Lok Sabha member Sumalatha Ambareesh told reporters that it was not proper to target only the film industry since the use of drugs was rampant "in all areas".
"It is a bitter truth that drug abuse is there in all areas. We cannot deny that. But please don't target the cinema industry alone," she said.
The six arrested before Sanjjanaa have been booked under IPC Section 120B for criminal conspiracy and relevant sections of the Narcotic Drugs and Psychotropic Substances Act, 1985. If convicted, they faced 10 years' rigorous imprisonment.
The arrest of Ragini had triggered a war of words between political parties since she had campaigned for the BJP in the 2019 Lok Sabha polls.
The leader of the Opposition, P.C. Siddaramaiah of the Congress, and JDS leader H.D. Kumaraswamy have accused the BJP government of laxity in handling the case of Ragini since she had campaigned for the ruling party. Kumaraswamy had also accused the BJP of using drug money to topple the Congress-JDS government.
The BJP has said Ragini is not a member of the party.
"There is video evidence (of Ragini campaigning for the BJP). So BJP leaders cannot wash their hands of this," Siddaramaiah said.
Denying the allegations, chief minister and BJP veteran B.S. Yediyurappa had on Monday clarified that the government was not protecting anyone.
"This kind of a crackdown is unprecedented and the government is taking all steps against the drug menace," the chief minister had said.
Municipal administration minister K.C. Narayana Gowda, with whom Ragini had campaigned in the Lok Sabha polls last year, pleaded ignorance about the actress's alleged links with the drugs mafia. "I had not invited her as our star campaigner. But I didn't object when she decided to campaign," Gowda said.