Protest lodged for gross misrepresentation
Saudis keep Jammu and Kashmir out of India and Pakistan in map
The erstwhile undivided state has been shown as a separate entity almost as if Saudi Arabia is batting for its independence from both New Delhi and Islamabad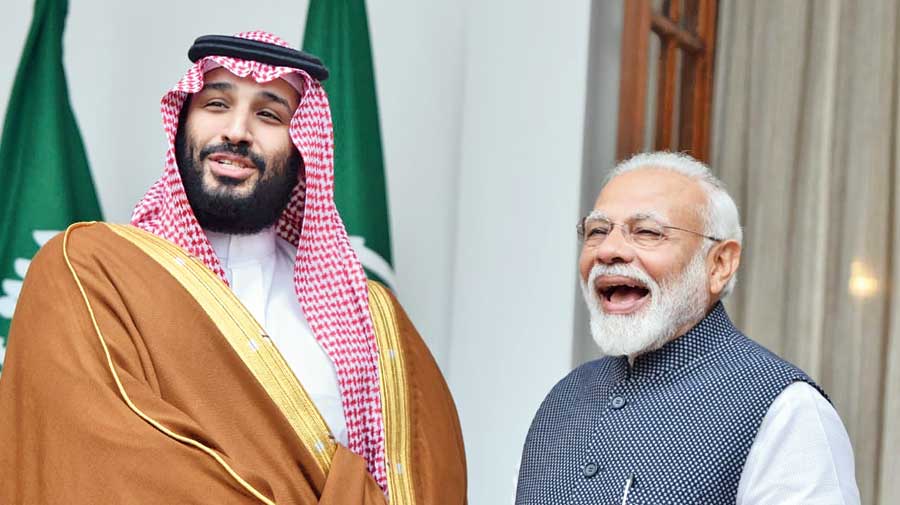 Narendra Modi with Mohammed bin Salman in New Delhi in February 2019.
File picture
---
New Delhi
|
Published 30.10.20, 12:54 AM
|
---
In a move that has left everyone guessing, particularly given the bromance between Prime Minister Narendra Modi and Saudi Crown Prince Mohammed bin Salman, Saudi Arabia has chosen to place the entire state of Jammu and Kashmir outside the territorial contours of both India and Pakistan in the world map imprinted on the new 20 Riyal-note issued earlier this week to commemorate the kingdom's presidency of the G20.
The erstwhile undivided state has been shown as a separate entity almost as if the Kingdom of Saudi Arabia is batting for its independence from both India and Pakistan; drawing a strong protest from New Delhi over the cartographic distortion.
According to external affairs ministry spokesperson Anurag Srivastava, India has conveyed "our serious concern to Saudi Arabia, both through their ambassador in New Delhi as well as in Riyadh, for this gross misrepresentation of India's external territorial boundaries on an official and legal banknote of Saudi Arabia and asked the Saudi side for taking urgent corrective steps in this regard''.
Srivastava was responding to questions at the weekly briefing on the issue of the misrepresentation of India's territorial contours on the banknote issued by the Saudi Arabian Monetary Authority. He, however, sidestepped a specific question on whether Saudi Arabia had explained why it had chosen to distort the map of India and what action New Delhi was contemplating for this cartographic distortion.
MBS is among the chosen few world leaders who was accorded a tarmac welcome by Modi when he visited India last year; the others being US Presidents Barack Obama and Donald Trump, Israeli Prime Minister Benjamin Netanyau, Japanese Prime Minister Shinzo Abe and UAE Crown Prince Mohammed bin Zayed Al Nahyan.
The distortion was first noticed by Pakistanis who saw it as another instance of Saudi Arabia displaying its displeasure with Pakistan for foreign minister Shah Mehmood
Qureshi's criticism of Riyadh's refusal to call a special meeting of the Organisation of Islamic Countries to discuss the situation in Jammu and Kashmir on the first anniversary of the constitutional changes in the erstwhile Indian state.
The Right-wing in India lapped it up with glee as did several of their friendly television channels; seemingly unmindful of the fact that J&K had been removed from Saudi Arabia's depiction of India too on the map.