Salvo in Congress at parachute leaders after Bihar election performance
Several angry middle-rung leaders and workers have been heard saying that anybody coming to state from the high command would be taught a nasty lesson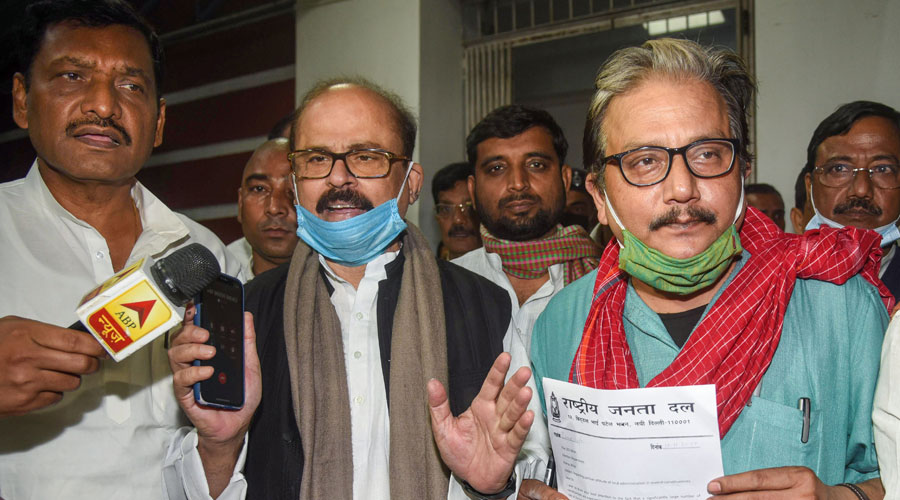 Grand alliance leaders RJD leader Manoj Jha, Congress leader Tariq Anwar and other party leaders arrive at election office during the counting of votes for the Bihar Assembly election in Patna, Tuesday, November 10, 2020.
PTI
---
New Delhi
|
Published 13.11.20, 01:20 AM
|
---
Senior Congress functionary Tariq Anwar created ripples on Thursday by openly airing what was being whispered in political circles: that the NDA had retained power in Bihar because of the Congress's poor showing. 
"We should accept the truth. Bihar was denied a Mahagathbandhan government because of the poor performance of the Congress," Anwar, Congress general secretary in charge of Kerala and a former Union minister, tweeted.
"The Congress should do introspection and find out what went wrong. The entry of AIMIM (Asaduddin Owaisi's party) in Bihar is not a good omen."
Anwar is not only one of the Congress's senior-most leaders in Bihar, he comes from Katihar, part of the region where Owaisi's party made deep inroads into the Congress support base.
His call for introspection implies he is unsure what went wrong — which can be a clever way of saying he did not play a decisive role in election management, if he was involved at all.
Asked why he had posted such a tweet despite being a key office-bearer, Anwar told The Telegraph: "I have only said that our performance was weak and we will have to examine the reasons."
He added: "Who can say that we are satisfied with 19 seats, less than the 27 we won last time despite contesting more seats?"
Anwar refused to discuss other issues publicly, asserting that the post-mortem can happen only at a party forum.
Another senior Congress leader, asking not to be quoted, said: "None of us were involved. The level of contact with us was about mere formality, to create the excuse that everybody had been consulted.
"We were treated as though we had all been infected with the coronavirus. While two or three leaders from Bihar were indeed part of election management, around a dozen seniors were deliberately kept out. A team was sent from Delhi — it managed the show from a hotel and a rented accommodation in a posh colony."
The politician added: "We used to watch on television individuals who had never come to Bihar in the past landing and taking off in helicopters at places whose names they didn't know.
"We campaigned for a few candidates on our own, only to create an impression that we were involved in the election. Rahul Gandhi speaks against parachute candidates; we saw in Bihar not only parachute candidates but parachute politics and parachute culture. We all knew that at least 35 candidates would not win under any circumstances."
The Congress contested 70 of Bihar's 243 seats and won 19.
A Muslim leader said: "We are criticising Owaisi for encroaching on (the Congress's) Muslim votes. Should he sit at home to facilitate our victory? He is right when he says that non-Congress Muslim leaders are not there only for mushaira (poetry sessions) and biryani parties.
"We had got an early warning when the AIMIM won a by-election in Kishanganj. What did we do to counter his (Owaisi's) influence? How many meetings did we hold in the past two years with Muslims in Katihar, Kishanganj or Purnea to explain Owaisi's politics?"
The anger is so widespread in the Bihar Congress that several middle-rung leaders and workers have been heard saying that anybody coming from the high command would be taught a nasty lesson.
"There was no PCC (state Congress committee) executive and the party operated through a clique," an All India Congress Committee member said.
"The local leaders were not involved; no discussion took place in the state units. We demand that Rahul Gandhi call 200 important party workers and leaders from Bihar and honestly discuss the murky affairs for two days."
Asked about the party's performance in Bihar, P. Chidambaram told a news conference: "I agree the result is disappointing. The Congress Working Committee will review the performance."
Asked why the people had rejected the Congress's charges about the sliding economy, job losses, unplanned lockdown and mismanagement of the Covid crisis, Chidambaram said: "I don't think the result is a rejection of these issues."
He added: "Bihar is the poorest state and it almost voted for a change. We will anyway continue to raise those issues and talk about the plight of the bottom half of the population, which is very bad."