Salaried J&K lieutenant governor Manoj Sinha draws MP's pension
The list also names several serving state-level ministers and lawmakers, some of them in Bihar and Jharkhand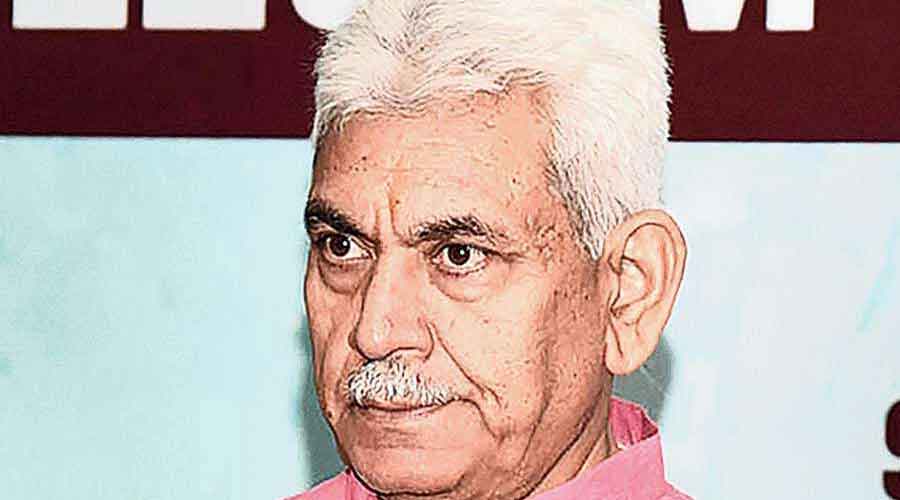 ---
Patna
|
Published 29.11.21, 02:39 AM
|
---
Jammu and Kashmir lieutenant governor Manoj Sinha holds a salaried post but an RTI reply from a central government arm shows he also figures on a list of former lawmakers who are drawing MPs' pension.
The list, provided by the central pension accounting office under the department of expenditure in the Union finance ministry, also names several serving state-level ministers and lawmakers, some of them in Bihar and Jharkhand. Most of them said they would return the pension amount.
Section 8A(2) of the Salary, Allowances and Pension of Members of Parliament Act, 1954, and Rules Made Thereunder (including the amendments up to April 2020) says a former MP will not be entitled to pension for the period he is elected to the office of the President or Vice-President, or is appointed governor of any state or administrator of any Union Territory, or gets elected to any state legislature, or is employed on a salary under the central government or any state government or their corporations, or under any local authority.
An IAS officer told this newspaper that a lieutenant governor qualifies as administrator of a Union Territory.
Emails sent by The Telegraph to two official accounts of Sinha on Thursday remain unanswered. Sinha's mobile number, provided by a source in the BJP, was switched off when this newspaper called multiple times on Sunday.
The RTI reply to Bihar-based activist Shiv Prakash Rai is dated October 12, 2021. Sinha was sworn in as lieutenant governor in August 2020.
Sinha had earlier been elected three times to the Lok Sabha from Ghazipur, Uttar Pradesh, on a BJP ticket — in 1996, 1999 and 2014.
A lieutenant governor is entitled to Rs 2.25 lakh as monthly salary apart from dearness allowance, and sumptuary and other local allowances as applicable to central government officers of the rank of secretary.
Former Lok Sabha members receive a monthly pension of Rs 25,000 plus an additional Rs 2,000 per month for every year served in excess of five years.
All former MPs have to furnish a declaration every November to their erstwhile Houses saying they have not been elected or appointed to any of the offices or Houses mentioned in Section 8A(2).
According to the RTI reply, some 2,722 former MPs or their dependants — 1,981 from the Lok Sabha and 741 from the Rajya Sabha — are drawing pension.
One of them is Bihar industry minister Syed Shahnawaz Hussain of the BJP who became a Member of Legislative Council (MLC) on January 22 this year and a minister on February 9.
Hussain had twice been elected to the Lok Sabha and was Union civil aviation and textile minister in the Atal Bihari Vajpayee government.
"I know the rules. I have not taken out a single rupee from the Lok Sabha pension sent to my bank account. I have informed the pension department in Parliament," Hussain told this newspaper.
He added that the money was "being returned".
Another BJP leader and former Union minister, Sanjay Paswan, who is now an MLC, figures on the list.
"I shall return the pension money if Parliament wants it back. In fact, I have already started the process to return the money," Paswan said.
Bihar mines and geology minister Janak Ram of the BJP expressed ignorance about the pension rules and said he was "going to inform" the Lok Sabha about it.
The list includes Jharkhand finance minister and Congress leader Rameshwar Oraon, who was Lok Sabha member from 2004 to 2014 and junior tribal affairs minister from 2004 to 2009 in the Manmohan Singh government.
Oraon, a former IPS officer, told this newspaper: "I will not stop the Lok Sabha pension because restarting it is a big hassle and involves much running around. I have personally experienced this problem. I am willing to get an amount equal to the Lok Sabha pension deducted from my current salary."
Rashtriya Janata Dal MLA Surendra Prasad Yadav, who was Lok Sabha member from Jehanabad, and Janata Dal United MLC Upendra Kushwaha, a former Union minister, are also on the list. Calls to Yadav's mobile number remained unanswered while an aide to Kushwaha said the lawmaker would get back later. He had not till Sunday night.
Rai, the RTI activist, said the government should trace all the ex-MPs who are violating the pension rules "and recover the money from them".
The office of Jammu and Kashmir lieutenant governor said Sinha, a former MP, had requested the Lok Sabha to stop his pension a day before assuming his current charge in August last year.
However, it added, the pension kept coming till December 2020 and that efforts were now being made to return the money.
The reply from the central pension accounting office, which functions under the department of expenditure in the Union finance ministry, to Bi­har-based activist Shiv Pra­kash Rai was dated October 12, 2021.
Sinha's media adviser Yatish Yadav told this newspaper over the phone that the lieutenant governor was not drawing pension from the Lok Sabha any more and that the RTI reply could be based on old information. An email that Yadav later sent said: "The Hon'ble LG's office had requested for the stoppage of pension on August 6, 2020."
Sinha, a former BJP politician who was thrice elected MP from Ghazipur in Uttar Pradesh, assumed his current office on August 7 last year.
"The stop pension order was issued on September 15, 2020, by the pay and account officer of the Lok Sabha with effect from August 7, 2020. The process, it appears, was delayed and pension was credited till December 2020," Yadav's email said. It added that the Lok Sabha "pay and account office has been informed about it and has been requested to recover the excess pension from the bank".
This newspaper had tried to elicit Sinha's reactions via email and phone before publishing the report but received no responses.
Yadav said the National Informatics Centre manned the lieutenant governor's official email accounts, and that he had asked the officials to ensure they were regularly monitored.