Sadhus organise Ganga puja to 'free Shivalinga' at Gyanvapi
Sangh parivar supporters have filed petitions in several courts seeking worshipping rights for Hindus on mosque premises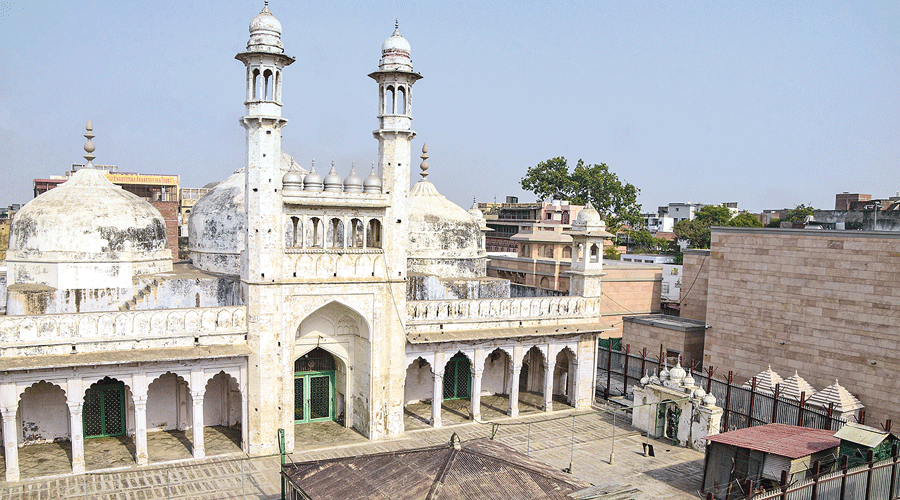 Gyanvapi mosque.
File photo
---
Lucknow
|
Published 10.06.22, 01:11 AM
|
---
Over two dozen sadhus organised a Ganga puja on Thursday seeking "freedom of the Shivalinga at Gyanvapi", days after the mahant of the Kashi Vishwanath temple announced a "boat procession" of sadhus on the Ganga after June 15 on the same issue.
The programmes appear part of a concerted move to pressure the government and the Muslim community to come to a negotiated settlement if the outcomes of the court cases filed on the Gyanvapi controversy don't favour the Hindu side.
"According to Hindu belief, the Ganga originated on this day. We call it Ganga Dussehra and worship the holy river every year on this occasion," said Jitendranand Saraswati, general secretary of the Ganga Mahasabha and the Akhil Bharatiya Sant Samiti, two organisations of sadhus with their head offices at Assi Ghat.
"But this year, the occasion is more important because Lord Shiva (Shivalinga) has appeared in the Gyanvapi. While the Ganga is free, we want freedom for the Shivalinga so that Hindus can worship it."
Jitendranand added: "We performed Shodopchar Pujan of the Ganga and prayed that Lord Shiva is liberated from the clutches of the Gyanvapi mosque."
A civil court-appointed commission had during a survey of the Gyanvapi premises last month found a cylindrical structure inside a shallow tank that some of its Hindu members claim is a Shivalinga. The mosque management committee says the structure is part of a defunct fountain.
"We shall organise programmes like today's more frequently in the next few months," Jitendranand said.
Sangh parivar supporters have filed petitions in several courts seeking worshipping rights for Hindus on the Gyanvapi premises — or a handover of the entire compound on the ground that the mosque was built after demolishing a temple.
Three such cases are pending while the court of the special chief judicial magistrate in Varanasi, Sarvottama Nagesh Sharma, on Wednesday threw out a related petition from local lawyer Raja Anand Jyoti Singh.
Singh had sought the registration of a case against S.M. Yasin, joint secretary of the mosque committee, and another unidentified 1,000 people for doing wuzu (a cleansing ritual) near the purported Shivalinga.
"It appears that the applicant moved this petition in the court for personal gain and to stay in limelight, which can't be called appropriate. This application is not maintainable and it qualifies (as) rejection," the court order said.
The court observed that a similar plea from Jitendra Singh Visen, head of a Sangh-linked outfit, had earlier been rejected.