Sadhu plans death on pyre for Ayodhya temple
Mahant Paramahans Das Maharaj protests political 'gimmicry', even as Shiv Sena chief Uddhav Thackeray meets local sadhus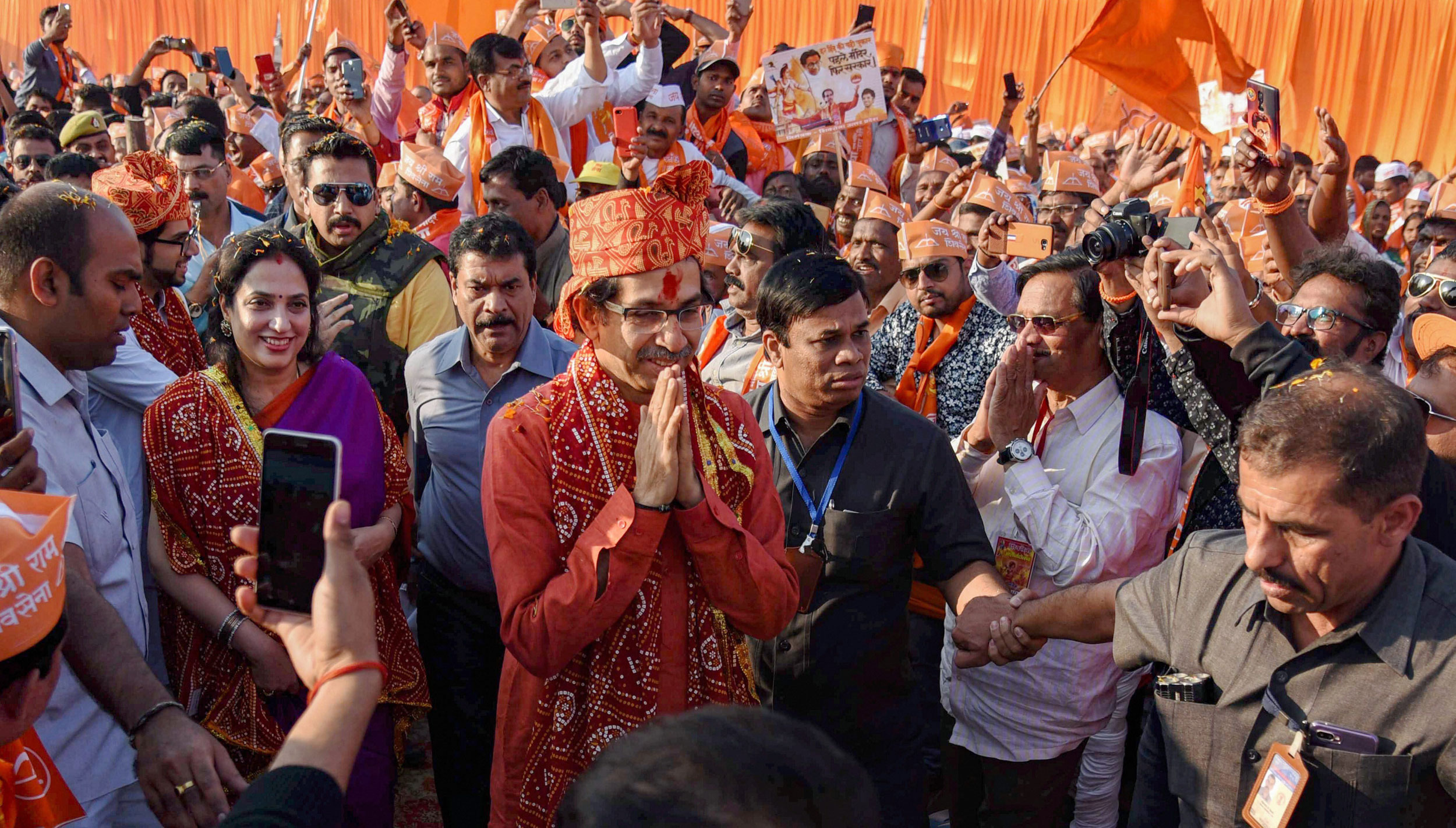 ---
|
Lucknow
|
Published 24.11.18, 09:34 PM
---
A sadhu in Ayodhya said on Saturday he would light his own pyre and "sit on it" on December 6, hoping it would not only pave the way for a Ram temple but also open people's eyes to political "gimmickry".
Mahant Paramahans Das Maharaj was speaking to reporters at his ashram, Tapasvi-Ji-Ki-Chhavani, a day before the Vishwa Hindu Parishad's dharm sabha on Sunday, a mega event for sadhus to build support for a temple.
The sadhu's ashram is barely 2km from Bada-Bhakt-Mall-Ki-Bagiya, where the VHP event is scheduled.
Saturday also saw Shiv Sena chief Uddhav Thackeray hold a meeting with local sadhus at the Laxman Quila ground, 2.5km from the ashram.
All three want a permanent Ram temple at the disputed plot where the Babri Masjid once stood and where a makeshift temple to Ramlala, or infant Ram, now stands.
But Paramahans, 48, believes the VHP and the Sena are trying to cheat the masses and get their votes in the November-December Assembly elections in Madhya Pradesh, Rajasthan, Telangana and Mizoram and in the Lok Sabha polls next year.
"Fed up with their cheating people before every election in the name of Lord Ram, I am preparing to die on December 6. I will light the pyre and sit on it. My death will be an eye-opener for the people who have the misconception that the Narendra Modi government at the Centre and the Yogi Adityanath government in Uttar Pradesh are honest about the Ram temple," Paramahans told reporters at his ashram, about 5km from the disputed Ayodhya site.
"Maybe, my tapasya has been overshadowed by the glitter of the VHP and the Shiv Sena's political gimmickry, but my death will awaken the country and pave the way for a Ram temple," he added.
Paramahans had announced early this month he would start a hunger strike from December 6 for the Ram temple but changed his plan for the day, apparently upset with the VHP's and the Sena's programmes.
Asked what would prevent him from immolating himself, Paramahans said: "I want a concrete step by the Modi government before December 6 to construct a Ram temple. I will not settle for anything less."
Paramahans accused the VHP and the Sena of planning to disrupt peace in Ayodhya. "The VHP and Shiv Sena workers have again assembled in Ayodhya after 26 years (since the Babri Mosque was brought down) to disturb law and order," he said.
"Their government is there at the Centre and in Uttar Pradesh. I know that not a single leader or worker of the VHP or Sena will die in case of any disturbance and police firing, only the local innocent people will die. So I oppose political activities in my town."
A mob had demolished the mosque on December 6, 1992, claiming that it had been built over a Ram temple. The dispute is pending in the Supreme Court.
Sharad Sharma, VHP media-in-charge for Ayodhya, said the outfit had no intention of disrupting peace. "We are making arrangement for more than one lakh sadhus who are reaching here from different parts of the country to attend the Dharma Sabha to build support for the Ram temple. But we are not going to disturb law and order in the temple town."
Maharashtra public works minister Eknath Shinde, in Ayodhya to organise his party leader Uddhav's programme, said: "The fear of some people that we will take law and order in hand is baseless. Uddhavji is here only because the Modi government didn't do anything for the Ram temple during more than four years of its rule."