S.P. Balasubrahmanyam: music titan & good man who loved life
Admitted to MGM Hospital in Chennai on August 5 with mild Covid, his health deteriorated, then showed signs of improvement for weeks before suddenly turning 'extremely critical'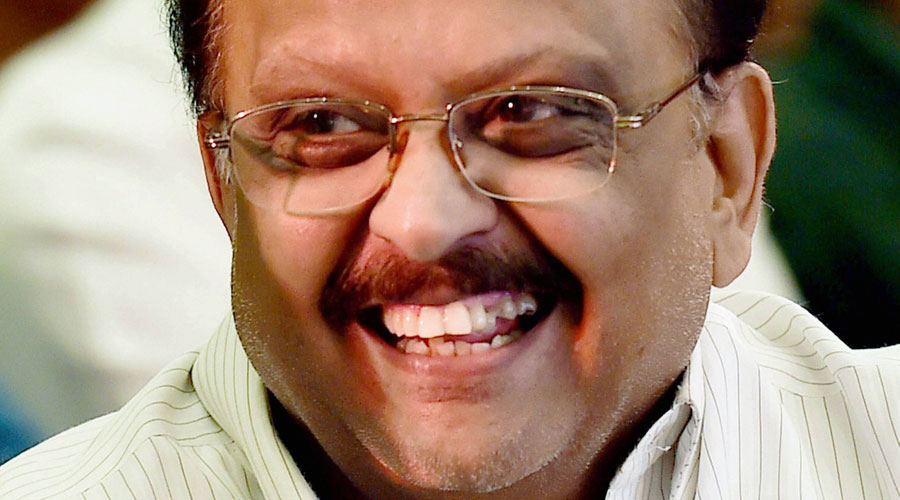 ---
|
Chennai
|
Published 26.09.20, 03:33 AM
---
Veteran playback singer S.P. Balasubrahmanyam, who lent his mellifluous voice to over 41,000 songs in 16 languages, mesmerised millions for half a decade with his range and versatility without a formal classical training and had become the voice of superstar Salman Khan in the 90s, passed away on Friday. He was 74.
SPB, as he was fondly called, had been admitted to MGM Hospital in Chennai on August 5 with mild Covid-19 and had expressed hope in a video message to his well-wishers that he would be released in a couple of days. His health, however, deteriorated, then showed signs of improvement for weeks before suddenly turning "extremely critical" on Thursday night. SPB breathed his last at 1.04pm on Friday, according to the hospital.
He is survived by his wife Savithri, daughter Pallavi and son Charan, a singer and film director.
Announcing SPB's death, Charan told reporters that his father's songs would live forever in the hearts of his fans.
MGM Healthcare said in a statement: "In a further setback this morning, despite maximal life support measures and the best efforts of the clinical team, his condition deteriorated further and he suffered a cardio-respiratory arrest. With profound grief, we regret to inform that he passed away at 13.04 hours."
Born in an orthodox Telugu Brahmin family in a village near Nellore in Andhra Pradesh on June 4, 1946, Sripathi Panditharadhyula Balasubrahmanyam was the second son in a family of three sons and five daughters who included S.P. Sailaja, a famed Telugu movie star and singer. His father S.P. Sambamurthy was an exponent of Harikatha, an art form composed of storytelling, poetry, music, drama, dance and philosophy.
After completing school and graduation, SPB had enrolled for an engineering course in Anantapur in keeping with his father's wishes. A typhoid attack, however, changed the course of SPB's life. He dropped out and in 1964 travelled to Chennai to join an Associate Member of the Institution of Engineers course. But his heart was set on singing from an early age and he kept winning many competitions.
SPB's melodious voice caught the attention of composer S.P. Kodandapani at a music competition organised by the Telugu Cultural Organisation in Chennai, then Madras, in 1964. Kodandapani gave SPB his first break two years later in the 1966 Telugu film Sri Sri Sri Maryada Ramana. SPB followed it up with a song in the Tamil film Shanthi Nilayam.
Thus began a musical journey that spanned over 50 years during which SPB recorded 41,000-plus songs in 16 languages, including Tamil, Telugu, Malayalam, Kannada, Hindi, Bengali, Marathi and Tulu.
The evergreen song Ayiram Nilave Vaa (Come, thousand moons), in which SPB lent his voice to superstar M.G. Ramachandran in the 1969 Tamil film Adimai Penn, catapulted the singer to fame and there was no looking back since then. The song also launched a new genre in Tamil film music and SPB became a household name.
"It was never my desire to enter the film industry. I wanted to become a gazetted-rank engineer which could fetch a salary of Rs 250 and a jeep with a chauffeur in the 1960s," he said in interviews later.
During his long and illustrious career, SPB won six National Film Awards, including for Telugu filmmaker K. Vishwanath's Sankarabharanam in 1979. SPB was also conferred the Padma Shri in 2001 and the Padma Bhushan in 2011, besides the Tamil Nadu government's Kalaimamani Award in 1981.
An ardent admirer of Mohammad Rafi and K.J. Yesudas, SPB could also whistle, mimic any sound or voice and had the uncanny ability to seamlessly blend stammer, laughter, cough or give a voice form to any emotion in songs.
A gifted singer with a soft timbre who could straddle the high notes with consummate ease, SPB composed music for films and acted in over 50 movies. He was a regular dubbing artiste, too, for top actors like Kamal Haasan and Rajinikanth when their movies were dubbed in Telugu.
"I am proud of him," Kamal said in a moving condolence message on Friday. "I have had the privilege of having been the image on screen to several songs that he has sung. In several languages, he has been the voice of four generations of heroes."
Kamal, for whom SPB sang many songs including Tere mere beech mein from Ek Duje Ke Liye and O Maria and Sach mere yaar hain from Sagar, had visited MGM Hospital late on Thursday night.
SPB, who was known for self-ridicule, loved ice creams and was a self-proclaimed smoker for 35 years, had recently gifted his ancestral house in Nellore to the Kanchi Kamakoti Mutt.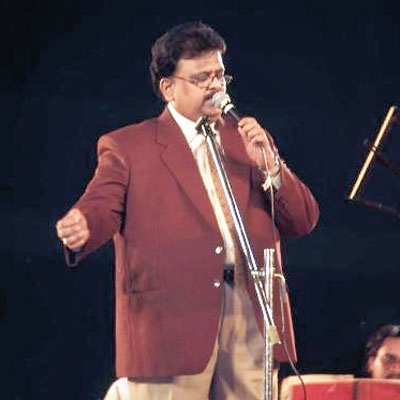 Shortly before testing positive, SPB had composed and recorded a song to raise awareness about the coronavirus.
Singer Lata Mangeshkar said: "I am extremely saddened by the passing of SP Balasubrahmanyam ji, who was a talented singer, sweet-speaker and a very good human being…."
Salman, for whom SPB had sung many hit numbers, tweeted: "Heartbroken to hear about S.P. Balasubrahmanyam sir... you will forever live on in your undisputed legacy of music! Condolence to the family."
"Devastated," said music composer A.R. Rahman.
Musician-author T.M. Krishna said: "SPB is a music titan, a natural singer; nobody has rendered such a variety of songs in Indian cinema like him, accommodative of all musical genres, a natural actor in films and above all a good man with a good heart."
Prime Minister Narendra Modi tweeted: "With the unfortunate demise of Shri S.P. Balasubrahmanyam, our cultural world is a lot poorer."
Thousands of people thronged Paadum Nila (Singing Moon), SPB's residence at Nungambakkam in Chennai, to pay their last respects. The last rites will be conducted at his farmhouse near Chennai on Saturday.
"I love my life. If possible I don't want to die. I have a passion for life," SPB had once said.
Additional reporting by PTI