Rupee reminder to Modi who coined a PM theory
Is PM aiming a century for the currency against US dollars, asks Congress spokesperson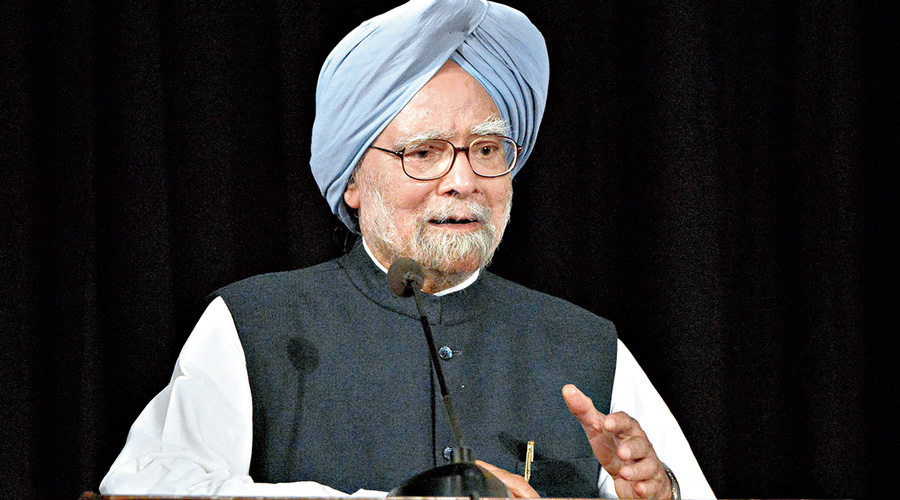 Manmohan Singh
File picture
---
New Delhi
|
Published 28.09.22, 01:49 AM
|
---
The rupee has lost Rs 23 to a dollar in the eight years that Narendra Modi has been in power, the Congress pointed out on Tuesday and countered the government's bid to blame global issues by referring to the crisis-management record of Manmohan Singh when he was Prime Minister.
Congress spokesperson Supriya Shrinate said: "With Modi's blessings, the rupee has become the weakest in history. He spoke about the fall in the rupee earlier (when in the Opposition), linking it directly to the fall in the Prime Minister's credibility. He should now realise his own credibility is in a bottomless pit. On May 26, 2014, when Modi took oath as Prime Minister, the value of the rupee against the dollar was 58.62…."
On Tuesday, the rupee consolidated in a narrow range and settled 4 paise higher at 81.58 against the dollar. (See Business)
Shrinate highlighted the sharp fall in the rupee's value against the dollar in the last eight years.
"Is the Prime Minister aiming a century for the rupee? Tools of mass distraction are being used to shift focus from the real issue. It is repeatedly pointed out that the rupee fell in 2013, too," Shrinate said.
"Yes it did, but the reality is that in 2013, the international reasons were even more frightening — taper tantrum made the rupee weak — and then the Congress government strengthened the rupee," Shrinate added, referring to the US Federal Reserve's gradual brake on the quantitative easing programme, which had led to the flight of capital to safe-haven markets and driven the rupee down.
Contesting the government's logic, Shrinate said: "In June 2013, when foreign investors started leaving the country due to taper tantrum, the rupee fell from 58 to a dollar to 69 to a dollar between May and August. But the Manmohan Singh government took care of the rupee — not only did we bring it back to 58 per dollar within four months, but within one year, we increased GDP growth from 5.1 per cent to 6.9 per cent. Also, $35 billion worth of foreign funds were pulled back into India against the $12 billion that had fled."
Shrinate added: "India's foreign exchange reserves, which were at $642 billion in September 2021, now stand at $545.65 billion. Not only this, just a month ago, the country's foreign exchange reserves were $571 billion, which have now fallen to $545 billion. That is a decline of $26 billion in one single month. The Modi government has failed to stabilise the rupee despite pumping in precious forex reserves."
She said: "Due to the failed policies of the Modi government, the confidence of investors has been shaken in the market. A completely disrupted cycle of consumption, investment and employment, saddled with high prices, is weakening the rupee further. That's why foreign funds are fleeing India."