Bhagwat names neighbour over border standoff
RSS: China has intruded. Oops!
Modi had on June 19 denied any intrusion at an all-party meeting four days after 20 Indian soldiers had died during a clash in the Galwan Valley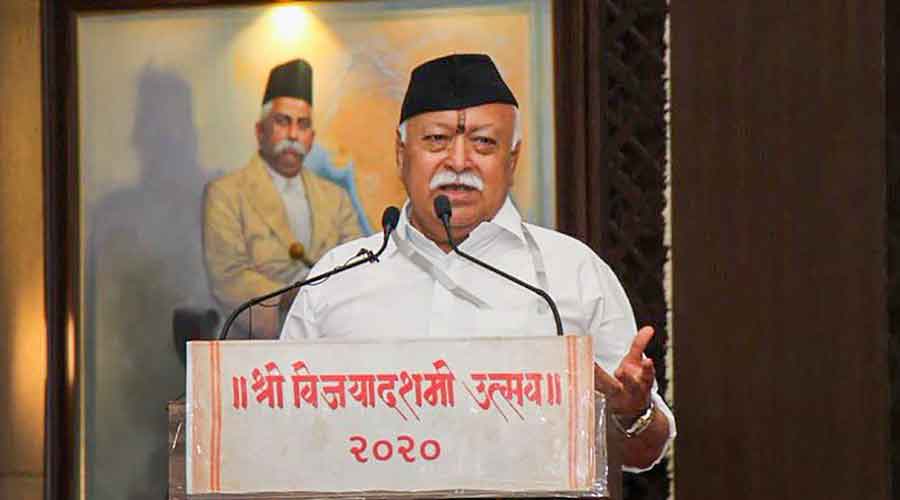 RSS chief Mohan Bhagwat speaks on the occasion of Dussehra in Nagpur
PTI
---
New Delhi
|
Published 26.10.20, 12:34 AM
|
---
RSS chief Mohan Bhagwat on Sunday named China in connection with the border standoff, something Prime Minister Narenda Modi has shied off so far, and acknowledged Chinese intrusion into Indian territory, which the Prime Minister has denied.
Shortly afterwards, however, the RSS tweeted an edited text of Bhagwat's Dussehra address that changed "hamari seemaon ka jo atikraman kiya (intruded across our borders)" to "atikraman ka prayas kiya (attempted to intrude)".
"Corona mahamari me Chin ka naam aata hai. Pata nahi kya hai. Lekin uski bhumika sandigdha hai. Lekin Chin ne iss kaalawadhi me, apne aur samarik bal ke garv me, abhimaan me hamari seemaon ka jo atikraman kiya aur jis prakar ka vyavahar kiya aur kar raha hai (China's name has come up in connection with the coronavirus pandemic. Don't know what it is, but its role is doubtful. But during this period, the way China has intruded across our borders out of military pride, and the kind of behaviour it has shown and is still showing)..." Bhagwat said at the start of a long sentence on Beijing's expansionist policies.
The RSS tweet did not edit out the reference to China, but tweaked the intrusion part to quote Bhagwat as saying: "Parantu, Bharat ki seemaon par jis prakar se atikraman ka prayas apne aarthik samarik bal ke karan madandh hokar usne kiya (Besides, the way it attempted to intrude across India's borders, intoxicated by its economic and military might)...."
The RSS chief is seen as the guardian of the entire Sangh parivar, which considers his annual Dussehra speech an address to the nation. The sarsanghchalak dwells on the various challenges before the country and lays down the Sangh's line on key issues.
Modi had on June 19 denied any Chinese intrusion as he addressed an all-party meeting four days after 20 Indian soldiers had died during a clash with Chinese troops in the Galwan Valley. He has not retracted or added to the statement since.
"Na wahan koi hamari seema me ghus aya hai aur na hi koi ghusa hua hai, na hi hamari koi post kisi dusre ke kabje me hai (Neither has anyone intruded across our frontiers there, nor is any intruder there, nor is any of our posts occupied by someone else)," he had said.
Modi has avoided naming China all along.
On the Galwan Valley clash, the Modi government has maintained that Chinese troops had tried to cross the Line of Actual Control but were thwarted by the brave Indian soldiers.
Bhagwat, while acknowledging Chinese intrusion, credited not just India's soldiers but also its government with a firm and bold response, although he gave no specifics.
He claimed that India's bold response had "stunned" China and inspired other countries to stand up to Beijing.
"Iss baar Bharat ne jo uski pratikriya di uske karan woh saham gaya, dhakka mila usko kyonki Bharat tan-ke khada ho gaya (This time, India's response stunned China; it received a blow because India had stood firm)," Bhagwat said.
He said that while the world was aware of China's expansionist policies earlier too, it saw it clearly this time with China picking on Taiwan, Vietnam, America, Japan and India simultaneously.
Bhagwat said that to counter China, India needed to grow not only in "shakti" (power) but also in "vyapti" (scope). He said that while India wanted friendly relations with all its neighbours, its benevolence shouldn't be seen as weakness.