Rs 13 clue to why farmers want minimum support prices for crops
Bappu Kavade of Solapur was paid Rs 1,665.50 for his onions — at Rs 1.48 a kilo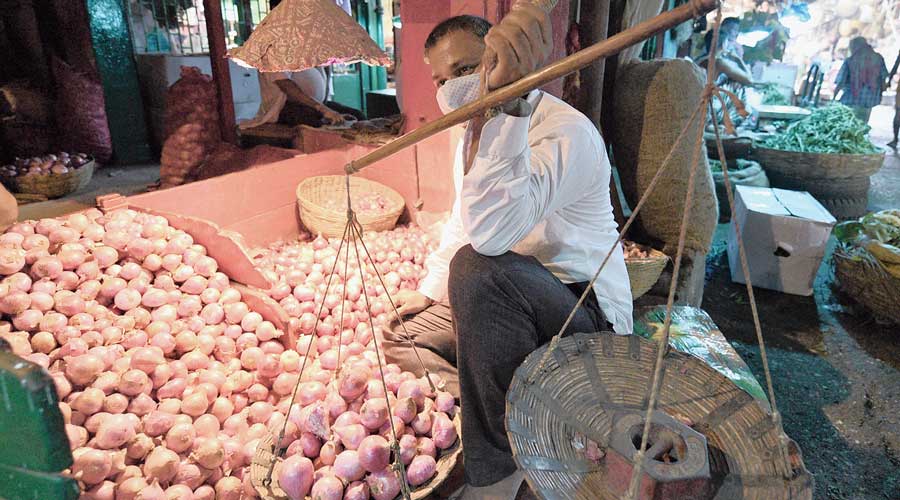 ---
Mumbai
|
Published 04.12.21, 02:26 AM
|
---
A Maharashtra farmer sold 1,123kg onion to a commission agent and was left with an earning of just Rs 13.52 after subtracting immediate expenses.
The plight of Bappu Kavade of Solapur underlines the importance of the demand by the nationwide farmers' movement for minimum support prices for all crops.
A state farmer leader has termed Kavade's situation "unacceptable" while the agent who bought the onions has blamed the quality of the consignment.
The sale receipt shows Kavade was paid Rs 1,665.50 for his onions — at Rs 1.48 a kilo.
A calculation has shown that his expenses — including labour costs, weighing charges and transportation fee but excluding the cost of production — amounted to Rs 1,651.98. This means he earned just Rs 13.52 from the sale.
Swabhimani Shetkari Sanghatana leader and former Lok Sabha MP Raju Shetti, who tweeted Kavade's sale receipt, said: "This is unacceptable. The farmer supplied 24 bags of onion from his farm to the commission agent's shop, and he earned only Rs 13 from it."
Shetti added: "How will he repay the production cost, which includes preparation of soil for cultivation, procurement of onion seeds, fertilisers and harvesting charges?"
There's no MSP for onions now. While private agents tend to buy crops at prices lower than the MSP, the government-fixed minimum price gives the farmer more bargaining power and can help avert situations like Kavade's.
Shetti said Kavade's transportation cost alone came to Rs 1,512.
Commission agent Rudresh Patil said: "I did buy the onions at such a low rate, but it's mainly because of the poor quality of the produce. The onions were wet and damaged because of unseasonal rain in the last few days."