Rohingya refugee sells last piece of gold to fund relief materials for Turkey earthquake survivors
The contribution is bound to pinch Amina, 56, and her family, who fled Myanmar 18 years ago, more than most of the donors at the Turkish embassy in Delhi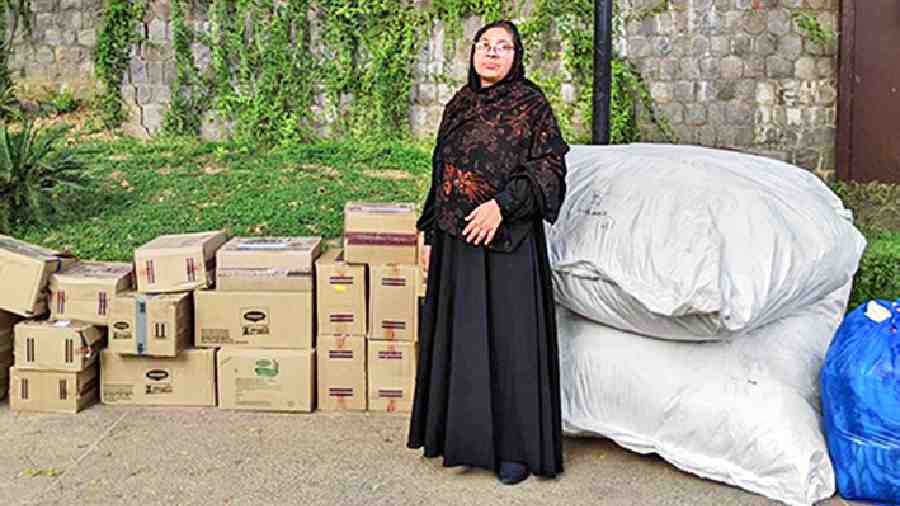 Amina Khatoon with her donations at the Turkish embassy in New Delhi
---
New Delhi
|
Published 12.02.23, 03:20 AM
|
---
When Amina Khatoon saw news footage of a Turkish woman and her children stuck under the rubble of a devastating earthquake and crying out for help, the Rohingya refugee in Delhi did not think twice before selling her last piece of jewellery to buy relief material for donation.
The contribution is bound to pinch Amina, 56, and her family, who fled Myanmar 18 years ago, more than most of the donors at the Turkish embassy here.
Their hut in a slum on the banks of the Yamuna was lost to a fire in 2018. She bought a pair of gold bangles with four years' savings in 2021 as insurance for a calamity. The same year she had to sell one of them for a surgery she needed.
"This is a big calamity. Had I been back home in Myanmar, we would have sold some of our land and donated. I feel good that I am able to do something because I had this bangle. We have faced what people there are facing after the earthquake — to be without a home and support," Amina told The Telegraph in Rohingya and halting Hindi with her son Hussain translating.
With Rs 65,000 from the sale of the bangle, and some more money from their savings, Amina's family bought cookies, jackets, milk powder, women's clothes and blankets; filled two taxis with it and drove to the embassy from their dwelling in South East Delhi's Zakir Nagar.
In the video, a woman is seen screaming from a gap in the rubble and rescue workers unable to break through. The news anchor says that the woman was begging for her children to be rescued and for which she would be indebted for life to the rescuers.
"My mother came in the middle of the night (between Thursday and Friday) and showed us the video, saying that we must help. I said we don't have anything to give. Then she took off her bangle and said sell this," Hussain said.
Amina's husband Aman Ullah ran a boat service from their hometown Buthidaung down the Mayu river to Sittwe, the capital of Rakhine state in Myanmar.
He also owned two trucks, a hotel and one of the only two telephones in Buthidaung, until he fled to Bangladesh's Cox's Bazar with his wife and seven children in 2005.
Later, they followed their son Abdullah, who got married to a Rohingya refugee in Delhi, to India in 2012. The family travelled on a bus from Chittagong to the India-Bangladesh border somewhere close to Calcutta and walked across with local guides.
They took a train to Delhi and first settled in a tent opposite the United Nations High Commissioner for Refugees' office before moving from slum to slum.
"We know Turkey. In Bangladesh, they had built a hospital near our camp. When our camp (thatched huts on the Yamuna floodplains in Kanchan Kunj) was gutted in a fire (in 2018), kits with essential items came with the Turkish flag on them," Amina said.
Aman Ullah now runs a grocery store with Hussain. Amina's three sons are married, and another, Ali Johar, is a key functionary of India's main Rohingya group — the Rohingya Human Rights Initiative.
The family survives on the earnings from the grocery store and a research fellowship that Ali has. His sister Tasmida was the first girl of their community in Delhi to attend college.
Ali now has a visa to go to Canada but India doesn't issue exit visas to "illegal immigrants"— which Rohingyas are classified as. The demand for exit visas for Rohingyas is now under litigation in Delhi High Court.
"She didn't want us to tell anyone about this, but Ali told her that if people read about this, more may come forward to help. We would have contributed to Syria also but we could only afford this much, so we thought of giving to Turkey first as the video she saw was from Turkey," Hussain said.
Several families and groups of students arrived throughout the day to donate at the embassy at Nyaya Marg.
"Their plight breaks my heart. This can happen to any of us. Giving to them is the best use of my bangle," Amina said when asked if she had contributed more than she could afford.
Donations
Cash donations to the Turkish government can be sent to the account name "Turkish Embassy — Earthquake INR Account", the account number being 409001919272 and the IFSC code RATN0000400. The bank name is RBL Bank, Malcha Marg branch, New Delhi.