Randeep Surjewala, AAP unable to halt BJP in Jind bypoll
Digvijay of the AAP-backed Jannayak Janta Party came second, while Surjewala of the Congress was third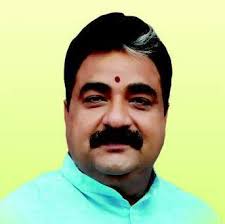 ---
---
The BJP won the Jind Assembly bypoll in Haryana on Thursday, trouncing the Congress's Randeep Surjewala and the AAP-backed candidate.
The loss of jailed former chief minister O. P. Chautala's estranged grandson Digvijay has dealt a blow to the AAP's efforts to establish a footprint in Haryana, from where its chief Arvind Kejriwal hails.
AAP-backed Jannayak Janta Party's Digvijay came second, while Surjewala was third. The BJP's Krishan Lal Middha emerged victorious. The Jannayak Janta Party is a splinter group of the Indian National Lok Dal (INLD).
The AAP's Haryana convenor, Naveen Jaihind, blamed the loss on a "deal" between the INLD and former Congress chief minister Bhupinder Hooda on one side and the BJP on the other.
"Hooda and Chautala shifted their votes to the BJP for fear of going to jail. The BJP polarised the electorate between Jats and non-Jats.
For us, the poor state of education and health facilities in Haryana was more important than the caste arithmetic," Jaihind told The Telegraph.
Kejriwal tweeted: "The results of the Jind bypoll has proved that Congress can't defeat the BJP in Haryana. Only new political alternative can uproot the BJP." The BJP is in power in Haryana, where the AAP and the Congress failed to seal a deal.
Political analyst and former economics professor of Chaudhary Charan Singh Haryana Agricultural University, Ram Kanwar, said the AAP was unlikely to make inroads in Haryana in the Lok Sabha polls.
Rajasthan Cong 100
The Congress's tally in the Rajasthan Assembly increased to 100 on Thursday with the victory of Shafia Zubair in the Ramgarh bypoll.